---
Paul,
Again-welcome to the dark side of Hobie pedal craft! I have two-a Outback and a Sport. It has been a blast getting them rigged, and I still have a ways to go! Here are a couple of ideas that I have found to be very helpful that relate to your post.

1. RAM ball and tube forward-excellent. I mounted two forward on my (wife's) Sport, one on each side. This way I can mount my outriggers for sailing, one on each side. I can also mount an outrigger on the port side and the RAM tube on the starboard, or the RAM tube on one side and the fish finder on the other, or whatever.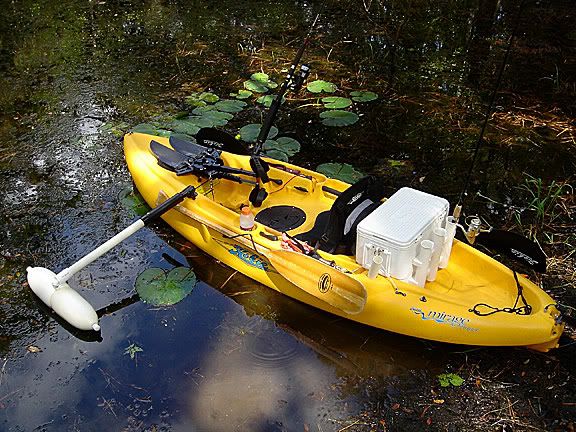 Here is one of my recent posts on rigging the newer Hobies for fishing:
http://www.hobiecat.com/community/viewtopic.php?t=2428

2. Mirage drive tether/leash-definitely a good idea. Several ways to go on this. I added a small 1-inch shackle to the aft Mirage drive adjustment hole. I then used either an old cell phone cord, or a length of parachute cord from the port eyestrap to the shackle.




Here is a link to the post:
http://www.hobiecat.com/community/viewtopic.php?t=2530

3. Tackle storage-On my 2004 Outback, there was a shelf just forward of the seat with a bungee and lip to secure your tackle box or boxes. Very handy. However, on the 2005 and 2006 boats, this bungee and shelf was replaced by the 8 inch round hatch. Now I have also come to like and use the 8-inch hatch, especially for storing all my small stuff (knife, pliers, lip gripper, etc.) prior to a surf transit. I missed this tackle box set-up on my (wife's) Sport. So why not combine the two?? Turns out that it was an easy matter to rig a new tackle box bungee, and I have been using it since very successfully.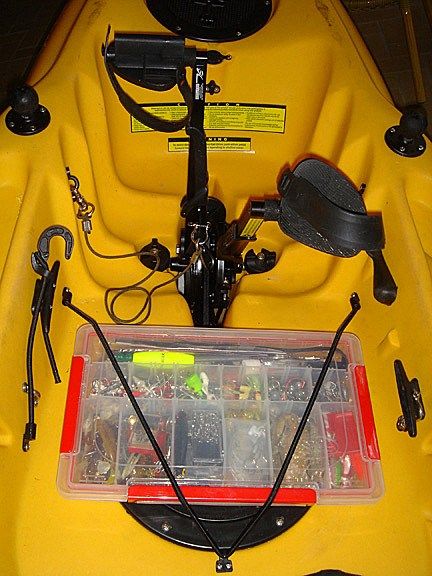 Here is a link to setting this up:
http://www.hobiecat.com/community/viewtopic.php?t=2668

Best wishes and have a blast rigging the new boat!
Dick