---
I was interested in mounting a small compass that could be easily removed for storage, as well as easily transferred between my two yaks-a Hobie Outback and my wife's Hobie Sport. I had just finished mounting two new RAM ball mounts forward on my OB, and thus had two spare, forward built-in rodholders that I probably was not going to use all that much. Aha-why not use one of these to mount my small Optronics marine Compass from W-M, but how? I decided to use a combination of a 1 1/4 inch wooden dowel inserted in a piece of 1 1/4 inch Schedule 40 PVC.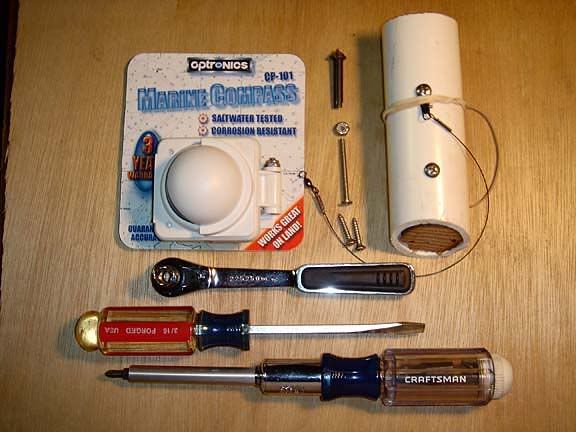 At upper left we have the Optronics CP-101 Marine Compass from W-M (about $10). Upper center is a countersink that I used on the PVC to insert the #8 x 3/4 inch SS oval head sheet metal screws into the PVC and wooden dowel.

At top right is the 5 inch length of PVC with the wooden dowel secured inside. Note the piece of 6 inch steel leader attached to the lower SS screw. This is for one reason only--to be able to easily pull the PVC/dowel compass mount out of the rodholder. Middle center is the 6-32 1 1/2 inch SS pan head slotted screw that I used to replace the non-SS hinge screw in the compass. Unfortunately, Lowe's had only this length so I had to use a pair of small bolt cutters to snip off the screw end after attaching the Nylock nut. Third down (center) are the two #6 x 3/4 oval head SS screws that will be used to attach the compass to the upper part of the PVC/dowel mount.

This shows the compass folded back to reveal the two #6 x 3/4 SS sheet metal screws used to attach the compass to the wooden dowel inside the PVC pipe.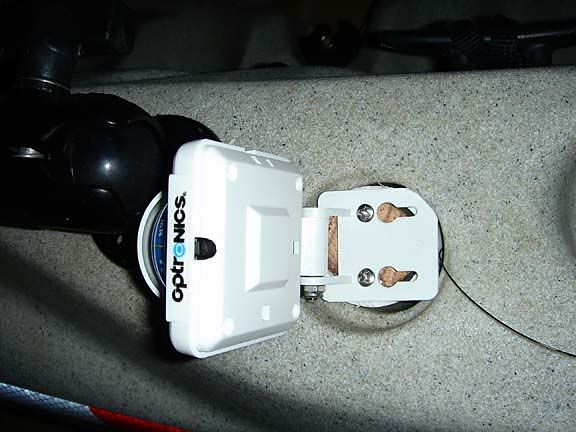 Here is the rig, ready to be inserted into the built-in Hobie forward port-side rodholder.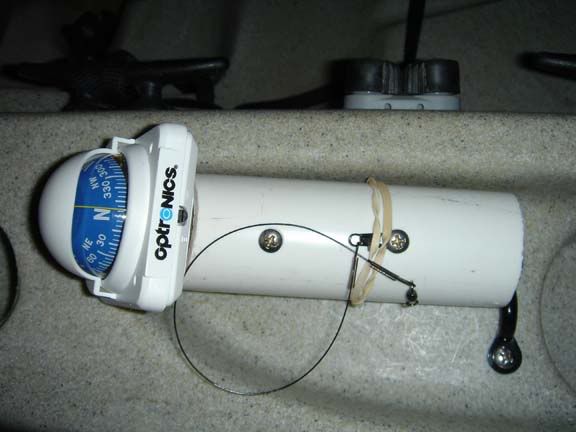 Finally, here is the completed installation just behind the RAM rocket launcher rodholder on the port side.