---
I was going through some old photos and came across these kayak fishing photos from 1998. The photos in this kayak fishing trip are probably one of the first times we took camera gear with us.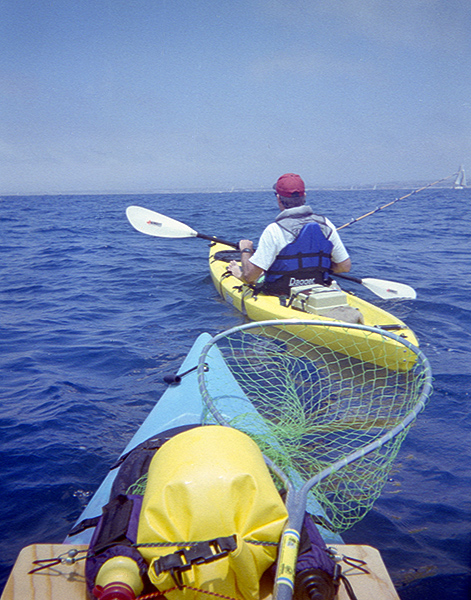 We still had a landing net, which we discarded for gaffs after a few kayak fishing trips. My friend Mike did a few primitive modifications to his kayak including the wood "table" just behind the front hatch. My yellow Dagger Cayman kayak is pretty much stock. The tackle box strapped behind the seat did not last long either. Tackle was reduced to a few lures, hooks and sinkers once we got the hang of what kayak fishing was all about. This was probably the last trip for the burlap fish sack as well.




In this photo of Mike doing some fast trolling for barracuda, you can see that he's got the whole tackle box behind the seat as well. Mike made the platform in front of him as well as the rod holders behind the seat out of plywood and PVC pipe, bunjeed to the kayak padeyes. He may have been one of the first fishing kayak modders. On this trip, we paddled out of a harbor, which was rare. Most of the time we paddled out to the fishing spots from the beach and through the breaking surf. All the gear had to fit through the hatch and below deck or it didn't go. Even as surfers, the Dagger kayaks were a handful to get through waves of any size.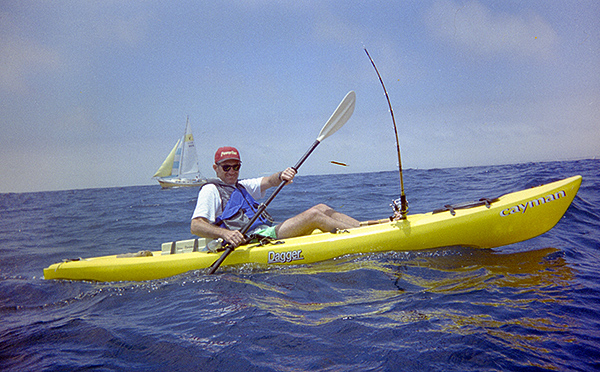 The Dagger Cayman kayaks were not fishing kayaks, or meant to be open ocean kayaks, but they were all we had. Mike and I were experienced surfers and ocean boaters, Mike was also an expert sailor, so we were OK with the narrow and tipsy Dagger kayaks a few miles out. They were not too stable, but compared to paddleboards and surfing longboards, they were easier to fish out of. Once the wind picked up and it got choppy, it could be Mr. Toad's Wild Ride. Unsure of the Dagger Cayman's ability to function out in the ocean, we wore our PFDs all the time. Safety immersion gear consisting of a T-shirt and boardshorts were also worn.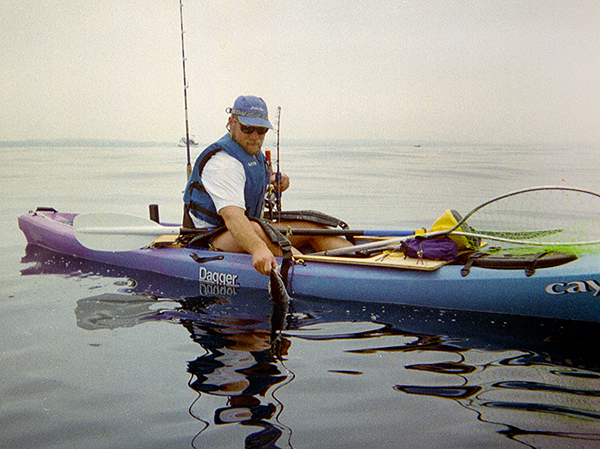 We knew where the fishing spots were and we knew how to catch them. All we had to do was make the kayaks work to do the same things our boats did, only without the trailers, launching and considerable expense of boat ownership. Kayak fishing was a great way to get out on the ocean when the surf was flat for almost no cost. This is how it all started for us and we still enjoy kayak fishing as much today as we did on our first kayak fishing adventure.