Since we're on the topic of front crossbar corrosion, I thought I'd add some info about the dolphin striker. If you've ever tried to adjust or remove the dolphin striker post on a H17 and couldn't understand why it wouldn't budge, the reason is almost certainly galvanic corrosion...a lot of it.
There is an aluminum sleeve that slips over the stainless steel dolphin striker post inside the front crossbar. The purpose of this sleeve is to transmit the force from the upper dolphin striker post nut down to the bottom of the crossbar extrusion. This holds the post firmly to the crossbar and also prevents over-tightening the nuts and crushing the crossbar. The hole in the bottom of the crossbar is slightly larger than the diameter of the dolphin striker post, and the hole in the top of the crossbar is slightly larger than the outside diameter of the sleeve. The problem is that, if you've ever sailed your boat in salt water or if your crossbar has been assembled for any significant period of time, galvanic corrosion between the sleeve and the post will seize the two together.
Since the bottom hole of the crossbar is too small for the sleeve to pass through and the bottom nut on the post prevents the post from being lifted upward out of the crossbar, the post will be stuck on the crossbar. The only way to remove the post is to cut off the bottom nut. Then the post and sleeve can pass through the upper hole in the crossbar. This is what I did and here's what I found when I cut the sleeve off of the post...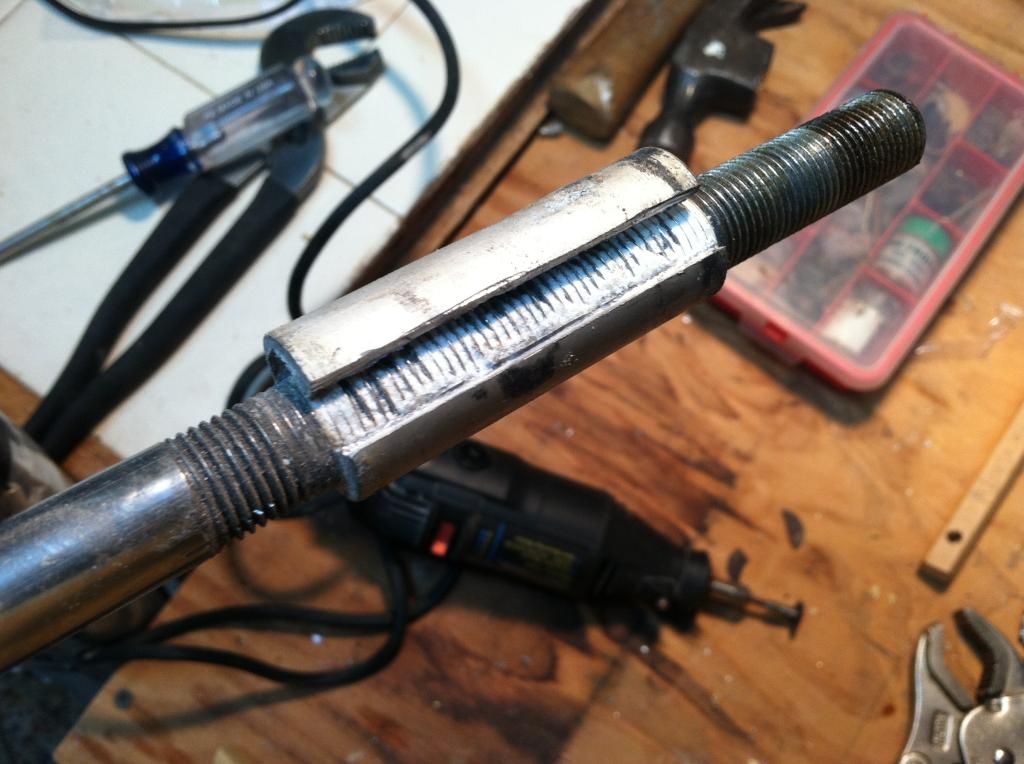 The post had a continuous band of corrosion residue all around the contact area of the sleeve. My plan when I reassemble the dolphin striker is to coat the post in a generous amount of tef-gel antiseize. I may also use a piece of thin walled heat shrink tubing over the section of the dolphin striker post that contacts the compression sleeve to act as an additional galvanic barrier and hopefully allow for easier disassembly in the future if necessary.
sm