---
Hello everyone! My name is Matt and I currently live in Baltimore. I've been in the Navy for almost 8 years now and I've been chugging along on getting my bachelors degree. Finally I just ended my last class and my wife asks me "Would you like to go on a trip somewhere?" After doing some thinking I said "Naw honey, I don't want to waste the money on a trip that's only going to last a few days...but could I get an i14t instead?" We've never owned a kayak before, and I've only just recently become a Hobie forum addict. For the past couple of months I've been reading just about every possible post I could on here. So after much reading I couldn't take it anymore. A couple weeks ago I pulled the trigger and went buck wild on a laundry list of Hobie gear. Everyone (for the most part) seemed to rave about the turbo fins and the rudder so I went ahead and made those upgrades. I wanted to protect my investment so I got the mirage drive bags and leashes. Then I thought well hell let's throw in the electric 12v inflator and the carrying wheels. I have to thank everyone that has posted their helpful input on hobie's forums, I feel like even though I racked up quite a bill, it has been the best decision and graduation present ever.

So the weather was beautiful this past Friday (74 degrees...freakishly hot for this time of year) and my wife and I decided to take out the i14 for a shakedown cruise. The weather the weekend before was great but the wifey wasn't feeling well so we canceled. Needless to say I was chomping at the bit to launch the kayak, I was even starting to dream about it for god-sake. Nuff said, her maiden voyage was absolutely glorious and she handled like a champ! All I have to say about Hobie engineers...GENIUS! If anyone is reading this post like I once did saying to themselves "Gee should I do it?" Answer: DO IT!

Anyway, one thing I love to see on here is a good ol' picture and video so I posted pictures from her shakedown cruise.



Here we are out in the harbor peddling towards the Lehigh Cement silos.



Here is a photo of Ft. McHenry (birthplace of the Star Spangled Banner). It was pretty sweet to look at those cannons from the water and imagine how the War of 1812 went down with the rockets red glare and bombs bursting in air. The pictures don't do justice to the size of these cannons. I probably would've crapped my pants if I were the British!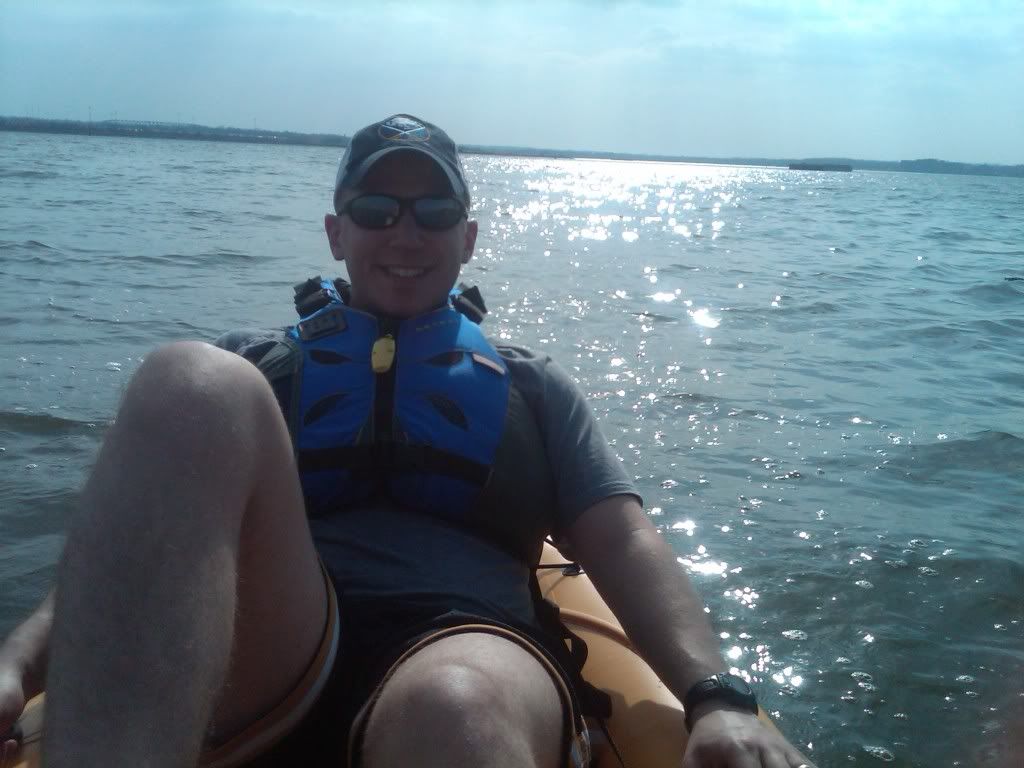 This is the face of a happy new Hobie i14t owner.

Ok, now that I've released my excitement let me give you my battle damage assessment. First, the paddle holders are inadequate for actually keeping the paddles from going adrift. If you're not paying attention, one good wave could carry your paddle away. I've noticed that many people have actually posted about this and I realized how correct you all were on my first time out. Fear not though, I've come up with a solution that I'll be posting very soon, so stay tuned. Next, for some odd reason my scupper plug strap ripped.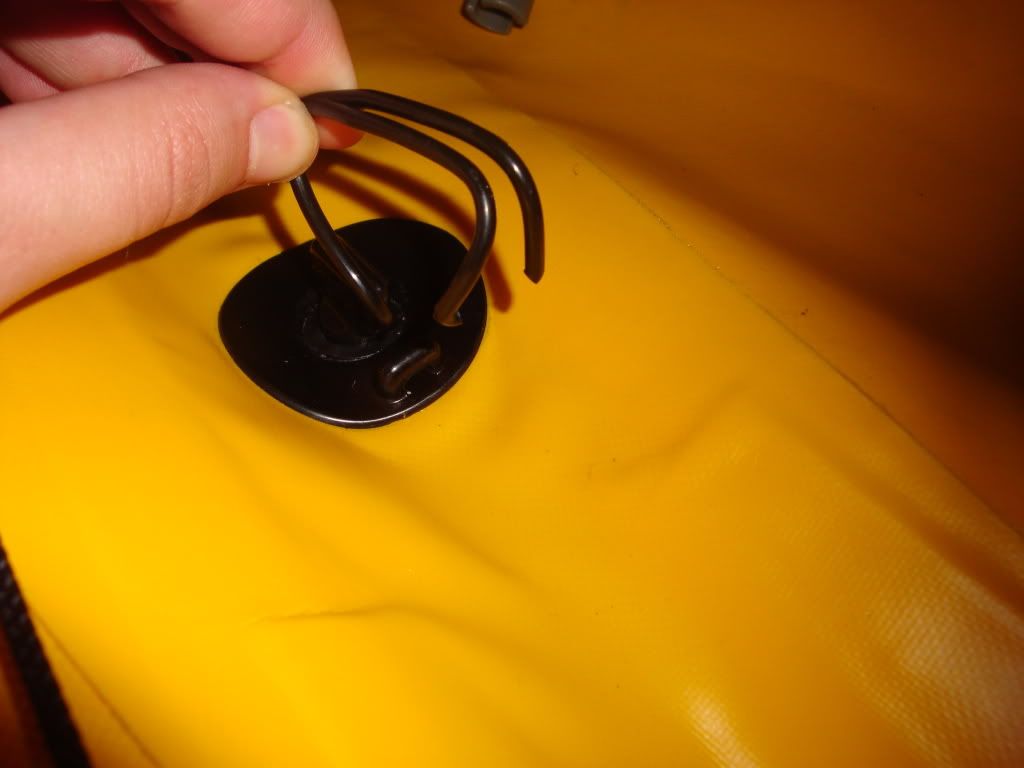 Not exactly sure how it ripped but the plastic strap seems like a poor design. I would've been upset if I lost that puppy on the first voyage. Another thing I noticed was that the paddle holders for the rear starboard side mounted paddle seem to be mounted too far back.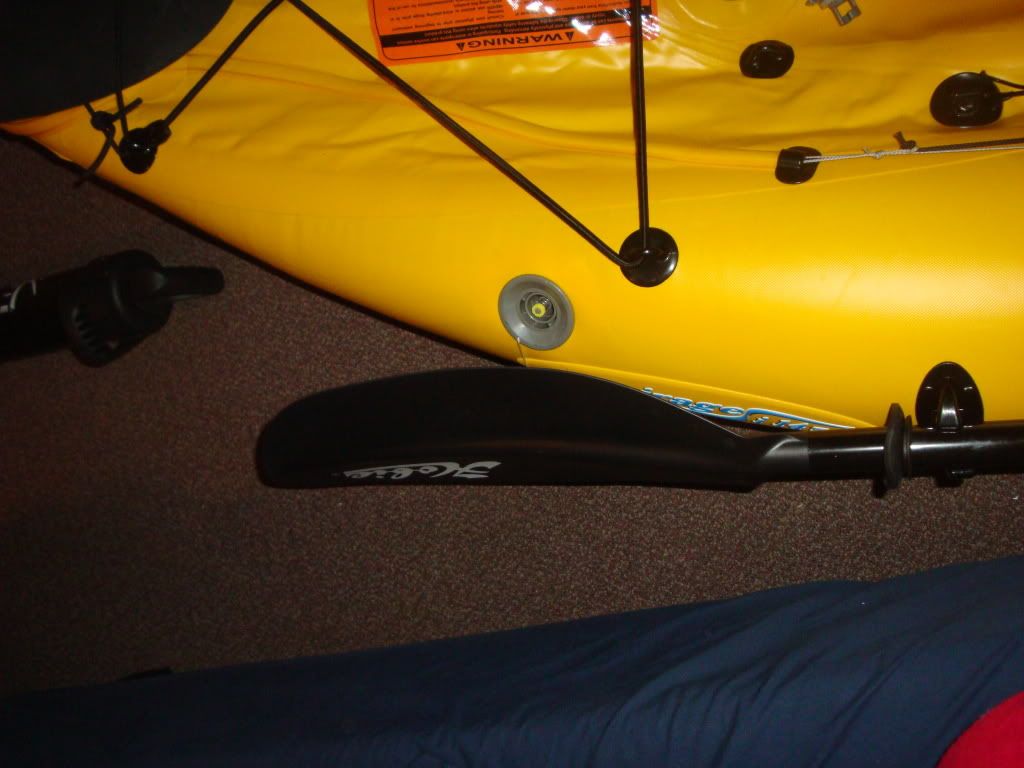 As you can see in the above photo, the paddle is as far forward as it can go but when you're on the water the paddle is slightly submerged which creates drag. Probably not a significant amount of drag but it's just my observation...take it for what it's worth.

One last issue I had was the hook for the mirage drive stays (I believe that's what it's called). Anyway, when you open up the i14t bag and take out your brand spankin' new kayak this is what the mirage drive stays will look like: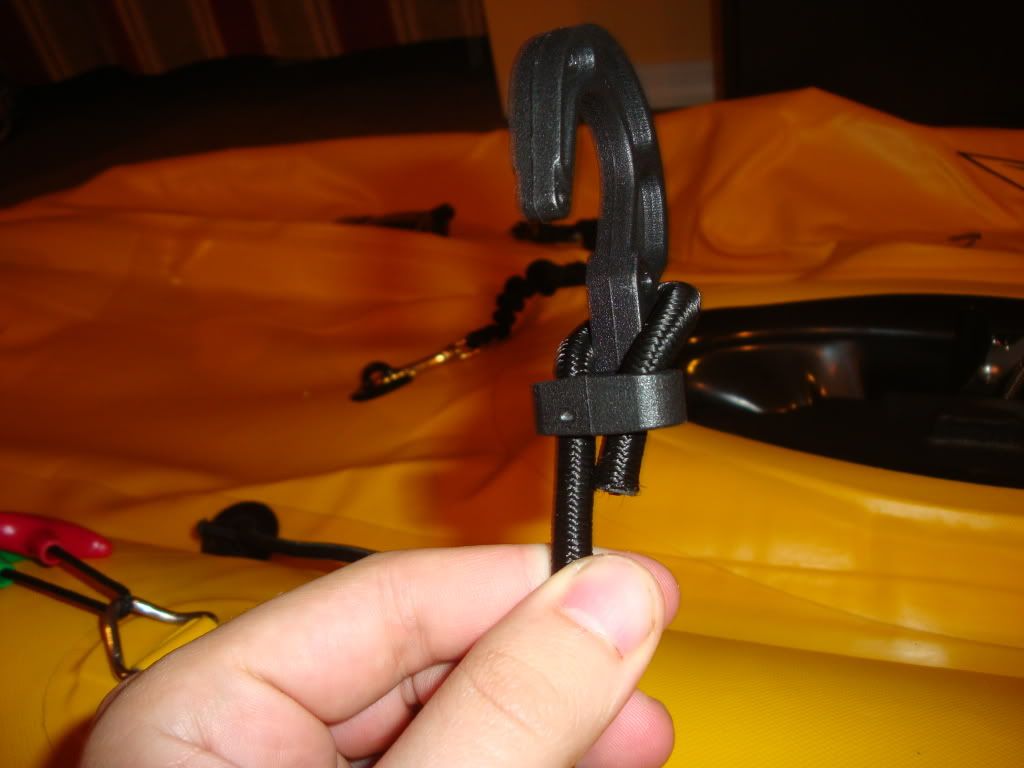 and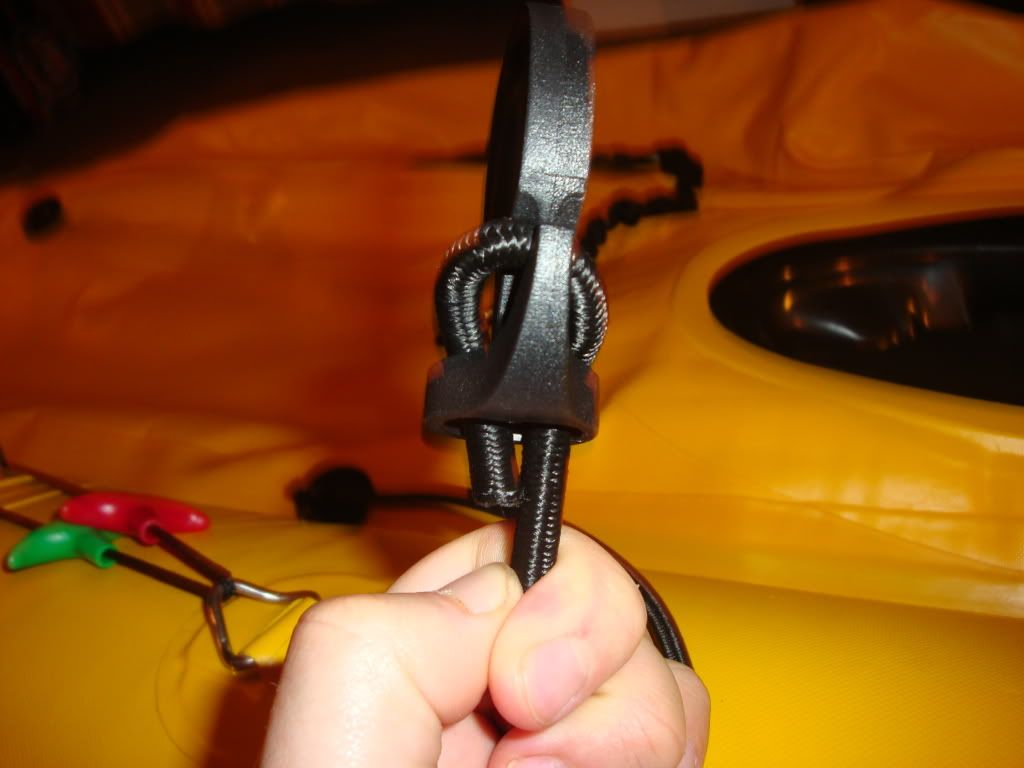 After we came back in, deflated the kayak, cleaned it off, etc, etc, my wife noticed a plastic hook on the ground and asked if it was part of the kayak. Yup, you guess it... I almost lost the hook for the mirage drive stay. So I just did a simple double not on the bottom and that hook...well it's not going anywhere anymore!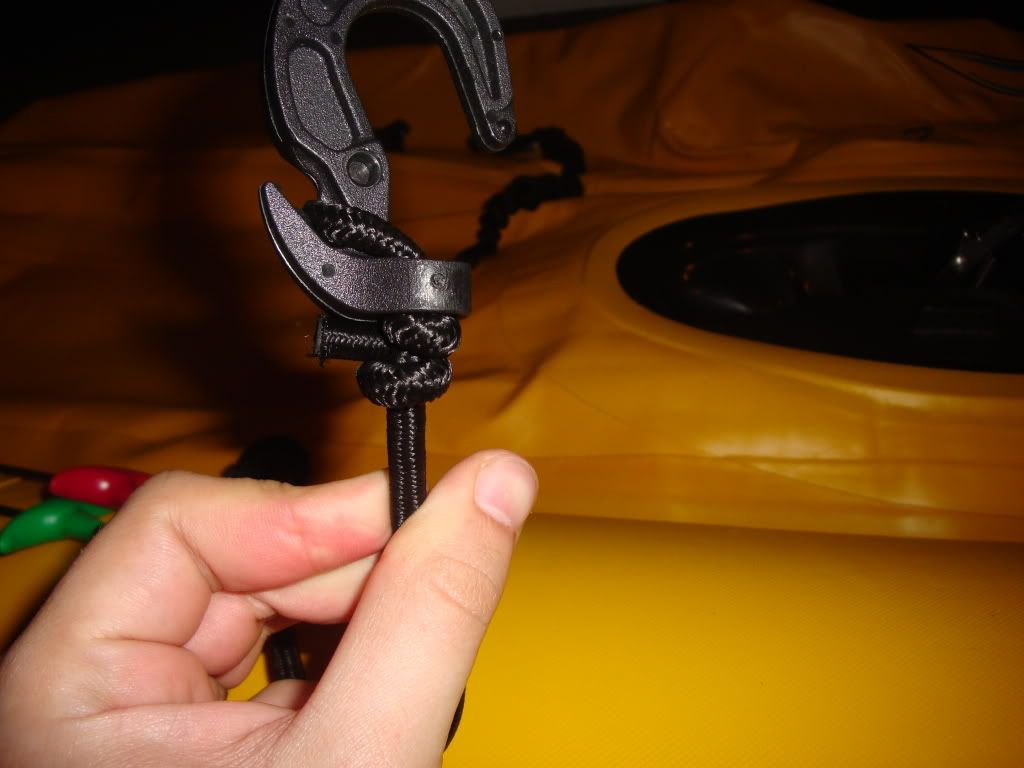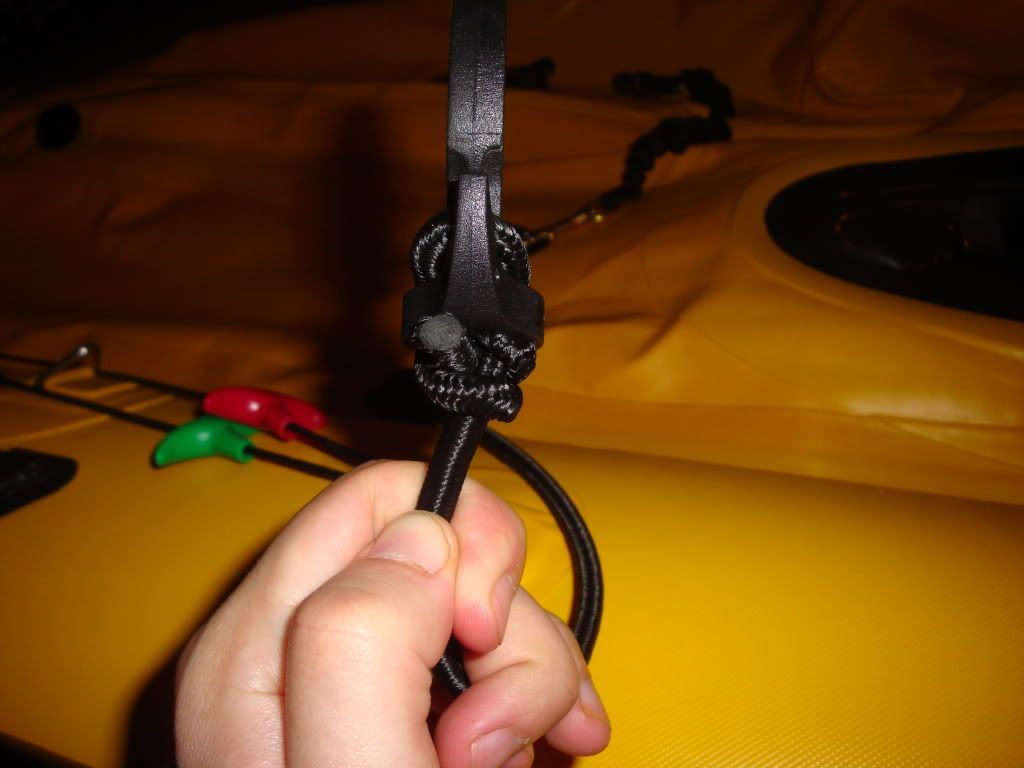 Hobie should definitely consider doing the double knot at the factory. It only takes a couple seconds extra and guarantees that the new owner won't lose the hook.

Ok, I've given you some of the trivial problems I ran across but believe me...these are nothing in comparison to how sturdy the mighty i14t truly is! Let me leave you on a positive note. The front hatch of the i14t is nothing to bat an eye at. I was surprised at how much I could fit in that thing!




Yeah that's right... I fit a dry bag (with 2 fleece jackets & two pairs of shorts), a first aid bottle, survival bottle, and maintenance bottle (all packed tight), a patch kit (that we didn't need but my wife threw in), a generic otter box (with phones and wallet), battery operated "chem" lights, NOAA map of Baltimore, and plastic bags. If I wanted to I could have probably fit some more things in there if I negotiated it right.

I'm glad to be part of the community. Can't wait to learn more from these posts and also provide my input too.