---
So it looks like I've got a weekend or two this summer to take my AI out and do some solo kayak camping. We often car camp with our Hobie's but I have yet to kayak camp from it. This isn't really a post to brag about my great trip, or my fantastic plan, because it may not be a great trip, and I probably haven't planned enough, but this trip, and

this post should show someone unfamiliar with the Adventure Island exactly how versatile this boat really is

. I know it's a long post!

I plan to leave my home in Toronto, Ontario, and head about 250 kilometres (155 Miles) to Algonquin Park. For those of you unfamiliar with Algonquin Park, it's a MASSIVE, mostly wild park. For comparison, it's about 7,653 Square Kilometres (4,755 square miles) or as Wikipedia says, it's about one and a half times the size of the U.S. state of Delaware. It's known as a top destination for canoe trips and backpackers. It has 2,400 lakes, and about 1200 kilometres of rivers (745 miles). It has a number of car camping sites, but the vast majority of campsites in this park are only accessible by canoe, or by foot.

Here's a picture to show it's size and location: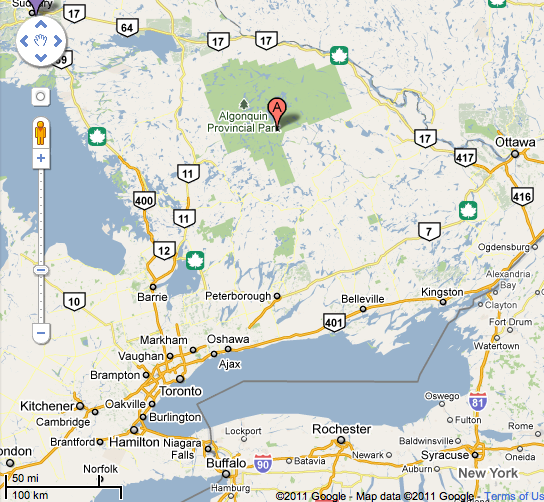 It's not a hugely popular kayaking location in Ontario because there are so many portages if you really want to experience the park, but I've planned out one trip that I believe is made for the Adventure Island.

The largest lake in Algonquin Park is called Lake Opeongo, and it's a paddlers dream. Here is a picture of the Canoe Routes and campsites. Each tiny red triangle, is a designated campsite.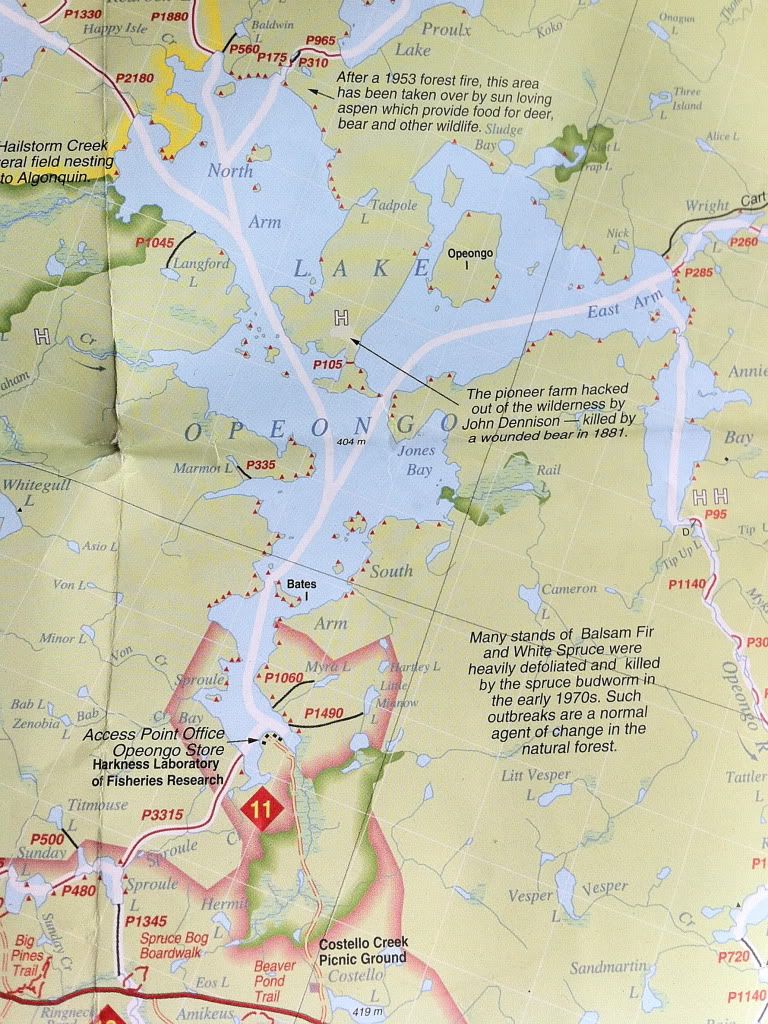 The winds can really get going on this lake, and they predominantly come from the west. I plan to sail from the Access point on the bottom of the map, (notice the large number 11 in red) and make my way up to a campsite in the North Arm.

Here is an approximate route that I could take.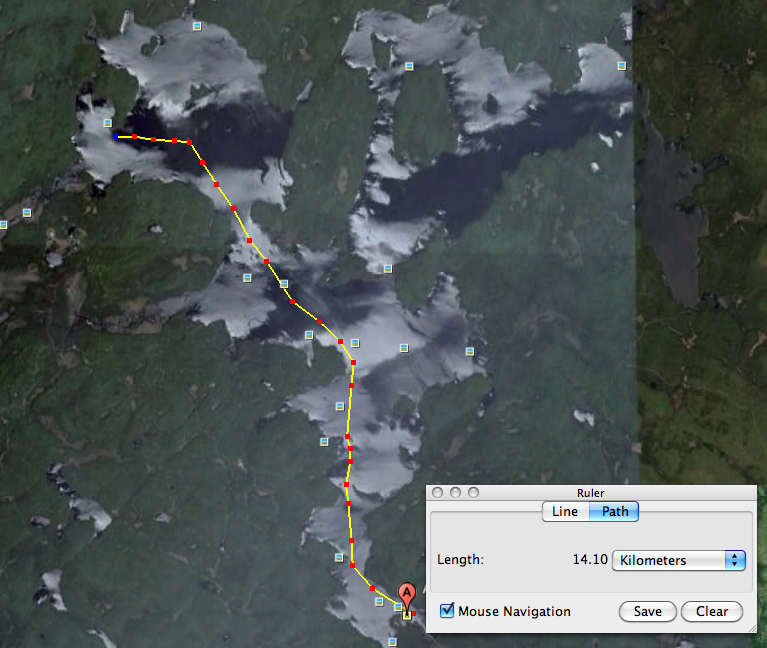 As you can see, the route would be just over 14 kilometres (8.75 miles) Not at all an impossible trip after driving to the park, registering, driving another bunch of kilometres to the lake, checking in, unloading the boat, and assembling it with my gear for a weekend.

But here's where it gets interesting. Once arriving at a campsite in the North Arm, I'll be very close to one of the Gems of Algonquin park. It's called Hailstorm Creek.

Hailstorm Creek is teeming with wildlife, and it boasts the highest concentration of Moose in Algonquin park. If you visit Hailstorm Creek on a spring morning, you are almost guaranteed to see moose. You can also see all kinds of other wildlife including Beavers.

Here is a picture of the route including the Hailstorm Creek Portion.



This is where the Adventure Island will really shine. With the AI set up in full sailing mode and the trampolines on, I've got a luggage carrying capacity that no touring kayak could match. I've also got the ability to use the wind, instead of being slowed down by the wind. So I'll be able to enjoy the 14 kilometre trip to my campsite, instead of really having to work for it.

Once camp is set up, I can take the Adventure Island apart and strip it down to Adventure mode, (or kayak mode) I'll be able to head out in the morning using the mirage drive and begin down the Hailstorm Creek.

I'm excited about that for a couple of reasons as well. I know that Hailstorm Creek is a hangout for Beavers, but I also know that the splashing of kayak paddles usually keeps Beavers at a distance. What I found out last year is that the mirage drive boats don't scare beavers at all. You can get amazingly close to them. The other people camping around us using canoe's and kayaks were amazed at our videos. They almost never saw beavers, and we were able to get up close to them every evening.

Here's a video of me kayaking with beavers in another park last year.
[youtube]http://www.youtube.com/watch?v=bSuZN3LrAVA[/youtube]

The best thing about the mirage drive is that in this situation it allows you to keep your hands free to use a camera. I'll need that camera free as I enter Hailstorm Creek on the lookout for those moose!

But I'm not done using the versatility of the Adventure Island. Hailstorm Creek is a bit of a river, and a bit of a grassy wetland. Hobie advertises their mirage drive as being able to shed grasses better then a propellor and that's certainly true, but there are occasions where the drive or the mandatory rudder will catch underwater grass, and it loses some of it's efficiency. That's where I'll be able to pull the drive, twist and stow the rudder, and paddle into the grassy sections.

As you can see if you have a versatile enough boat, a voyage down Hailstorm Creek can go on for a long time.



When I'm done taking pictures on Hailstorm Creek, I still have the entire lake, and it's amazing shoreline to discover. I can sail my way over to Annie Bay on the East Arm, I can circle Islands, there's a week's worth of Adventures to be had on that lake, and I'm really excited to have a boat that fits my style of adventure PERFECTLY!

[EDIT: I've added the pictures for anyone who's interested in what it's like in Algonquin Park]

Where my journey will begin - Algonquin Outfitters. Apparently they rent Hobie Mirage boats. I don't know if they rent Adventure Islands or not.



A few pictures of Lake Opeongo




A campsite. There is a lot of variety, from sandy beaches, to large rock faces dropping into the water. This is just an example of a more rugged site.




A moose in Hailstorm Creek.



An open section of Hailstorm Creek.



A more grassy section of Hailstorm Creek.

This follow up video was added MUCH later Click Below to see the latest post, with video
http://www.hobiecat.com/forums/viewtopic.php?f=70&t=46319