---
Aloha! The Haka bench seat/sailing platform for the AI is a new take on an ancient idea. I have talked about it a bit and I thought you might like to see them in action.

Traditionally Haka were used by the Polynesians to transport supplies, fish or passengers on the outriggers of their sailing canoes. "Haka" is fairly esoteric Hawaiian term referring to a shelf, perch or storage rack. In the old days they served many purposes - to carry provisions, people, spears and nets for fishing and probably the day's catch.

They're still are used that way today.




Haka seen on the "modern" outrigger sailing canoes are usually made of canvas or netting, lashed across the Aka. The windward Haka forms a comfortable hammock for several passengers, and a place for the the co-navigator to handle the sheets. At speeds of 15-25mph in the open swells, it can be an exciting ride.

My personal interest in using a Haka bench on the AI and TI has been to explore better sailing positions, as an alternative to the Hobie tramps, which I love. And maybe, just maybe, to have a little more exciting ride.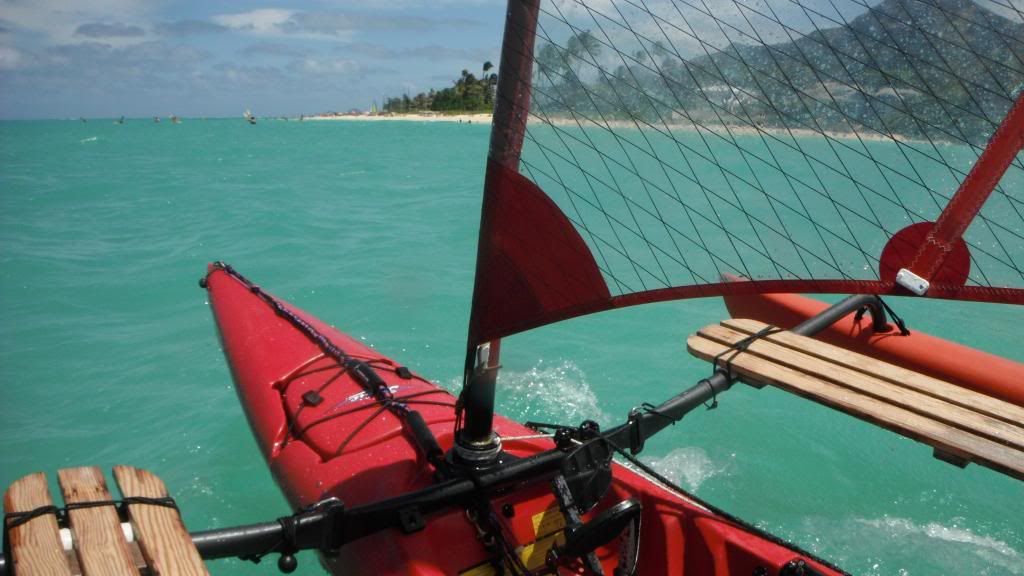 I find they work as well as tramps and have many advantages:
- A higher/dryer ride,
- Greater visibility - around and below the boat
- Greater ability to "hike out" and balance the boat in high wind
- The ability to paddle when needed
- More passenger seating
- They do not catch the wind
- They make a great resting place or fishing platform
- They add stability and strength to the extended Amas/Akas.
- As you would judge from their appearance, they are perfect for a picnic!




These are the first generation benches built by my friend Tom (AKA Batman). You can see a wider 4-board version on the Batboat thread. These are built from treated lumber but I am looking into composite materials, possibly marine decking. I mounted them to the Akas with simple padded PVC pipe halves and bungie-ball lashing. Takes about a minute to attach - without any tools.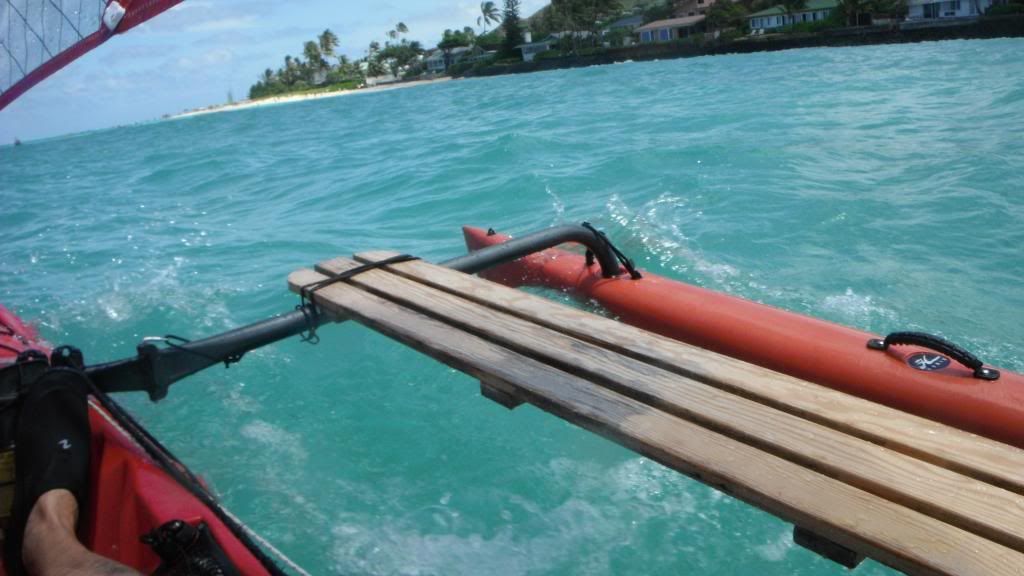 It looks and feels damn cool to be sitting out alongside the hull, riding in the same fashion as the hobie cats. You can see and be seen. You could even stand on these things while sailing, though I don't plan on doing this often. Reclining on them feels great too.




But the real pleasure comes in the "old school" sailing position. The ability to balance the hulls in high winds and quickly adjust fore/aft weight distribution is the best I have experienced so far. It's easy to keep the nose up or muscle a few more rpms out of the full sail.

As you can see, here I am passing a Hobie Cat.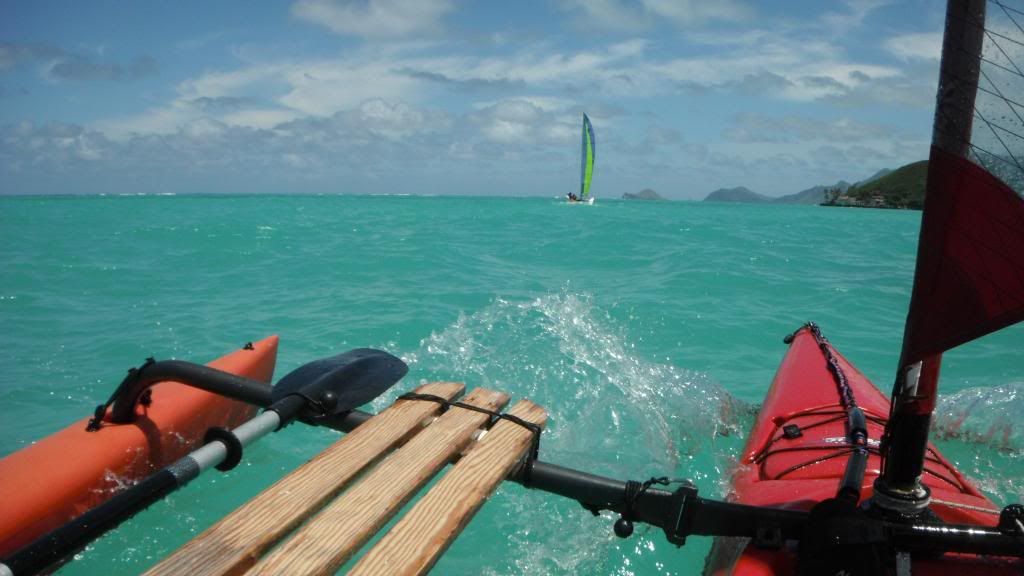 And heres a video, showing the nice dry ride.

[youtube]http://www.youtube.com/watch?v=ZtzpkqwSQ3c&feature=player_detailpage[/youtube]

So how did I steer? With my hand, my foot or tiller extention. All worked great, though the new up-down rudder is a bit twitchy,

Tacking from the benches is not as easy as from the cockpit, (using a little pedal assist). I got caught in irons a couple times in stiff wind and needed a quick pedal to get going again. I'll keep working on it.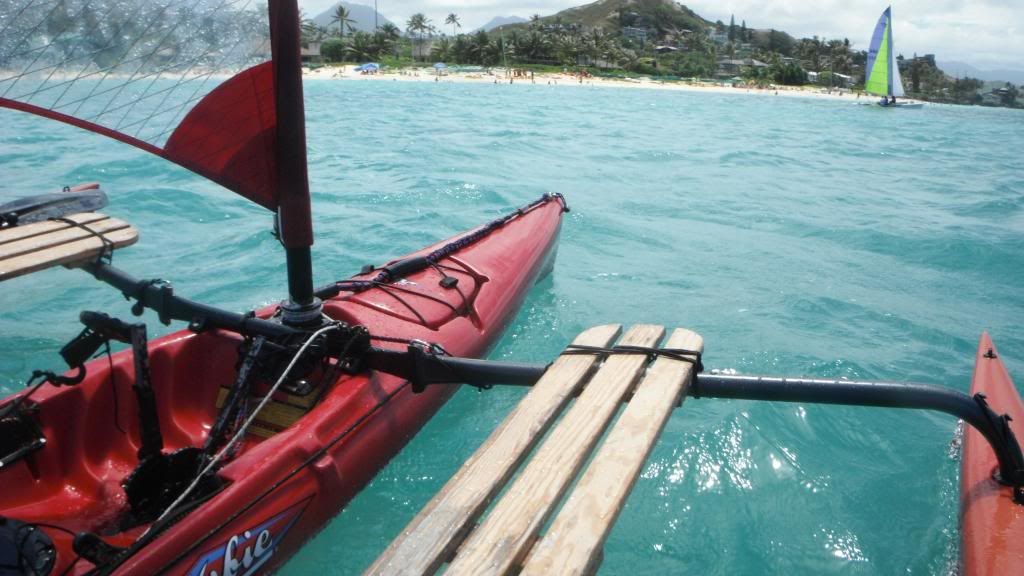 Launching and landing, I found it easy to slip between the bench and the hull to rig the boat or remove the drives, etc. The spacing of the slats is designed to accomodate the mirage drive and other gear. Virtually anything can be strapped to these benches, using cleats and straps. A 100+ lb tuna took a ride on someone's Haka recently.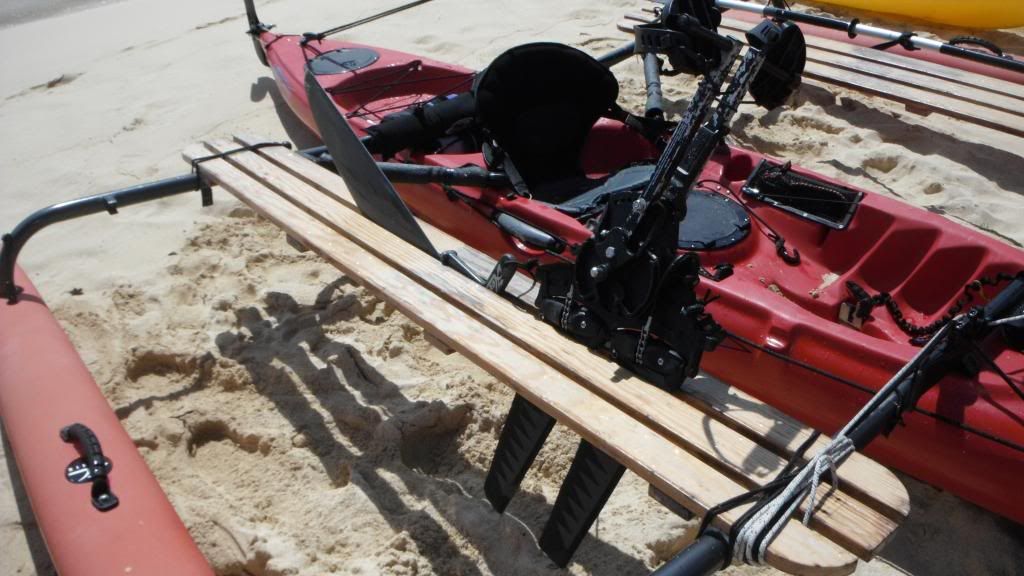 If you like, two Haka can be put on one side of the boat to create a wider bench or partybarge platform (more supermodels!)

I played in some rough surf this day and had no problems with the Hakas staying glued to the boat, even though I got pitched a few times and other items flew off. (Hey! Throw me that daggerboard will ya?!)

The benches could be removed quickly if needed. Instantly using a knife.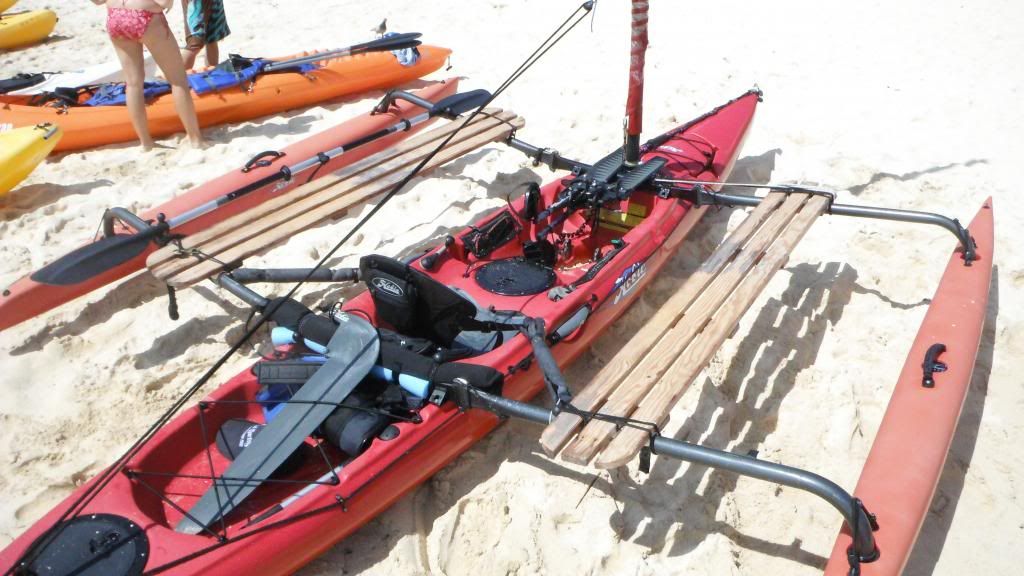 I'll try straight paddling and rudderless steering tests with them, next time I go out.

Can't wait.