---
Flamingo to Chokoloskee, Jan 10-16, 2011



We had a great group—4 AIs, 1 Ti, and 4 men and my wife, Nancy. Despite a hopeful forecast of 8-15 mph winds the first day, the trip began with no wind. Instead of sailing 19 mi to NW Cape, we pedaled 11 miles to East Cape Sable.







Leaving Flamingo with high hopes for adventure.

A penny for the boaters' thoughts?

Charlie Fast, in his new TI, looking for a bit of wind on Day 1.




No wind, but a nice sunset.

We are still 30 minutes to our fall-back destination—East Cape Sable.

Day 2 opens to fog. Bob Quirk and a couple AIs on East Cape Sable.
Charlie Fast and Rick Parks subdue catch of the day with a fog backdrop.
And then proudly display it.
Brown pelican tries to figure what the excitement is about.
A red egret is having a better day than we will.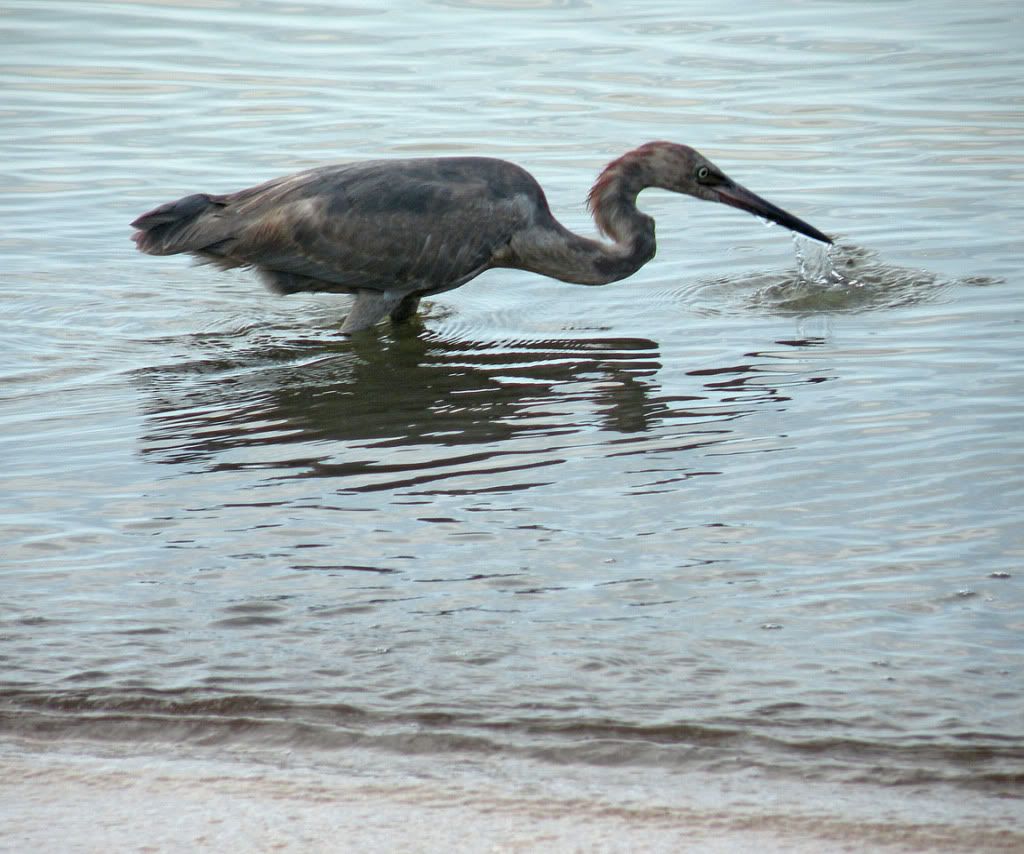 Fog continues to roll in as we prepare for day's sail.


The fog was so heavy, that Nancy actually got separated from everyone—she was the least experienced sailor. At one point she lost sight of every one. She has a small GPS, but she is used to following other sailors on a difficult day. When she radioed that she had lost visual contact, I headed back to look for her. Somehow, we found each other, and decided to call it a day. The 2 of us headed to shore to set up camp. The other 3 fellows were at Middle Cape, where they camped and waited. We had made ONLY 4 miles.



Nancy and our camp on the morning of Day 3.

Our 3 friends are on Mid Cape—the point on the left horizon.



Today (Day 3) the winds are less favorable and have increased. It is going to be another difficult day. I had planned to make 16 mi. After 2.5 hrs, we had made only 4 mi to NW Cape. The next leg to Graveyard was 12 mi with the wind on our nose and very rough seas. We would have made it after dark—no fun. So, we decided to spend the night at Northwest Cape, hoping for more favorable conditions on Day 4. So far, we have made 19 mi in 3 days. Bummer.



We camp on NW Cape.

Nancy looks over a nice line up of AIs and Charlie's dune TI.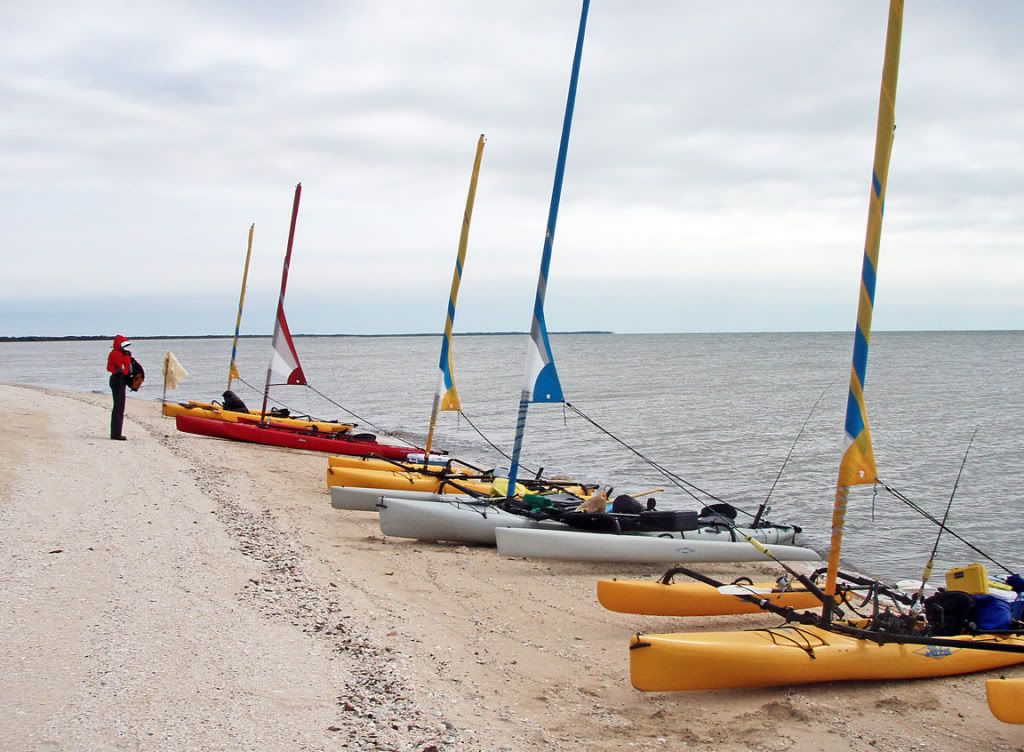 Bob Quirk, Charlie Fast, Nancy, Rick Parks (surreptitiously taking picture of me) on NW Cape.
This camp pet did more begging than Fido ever was allowed.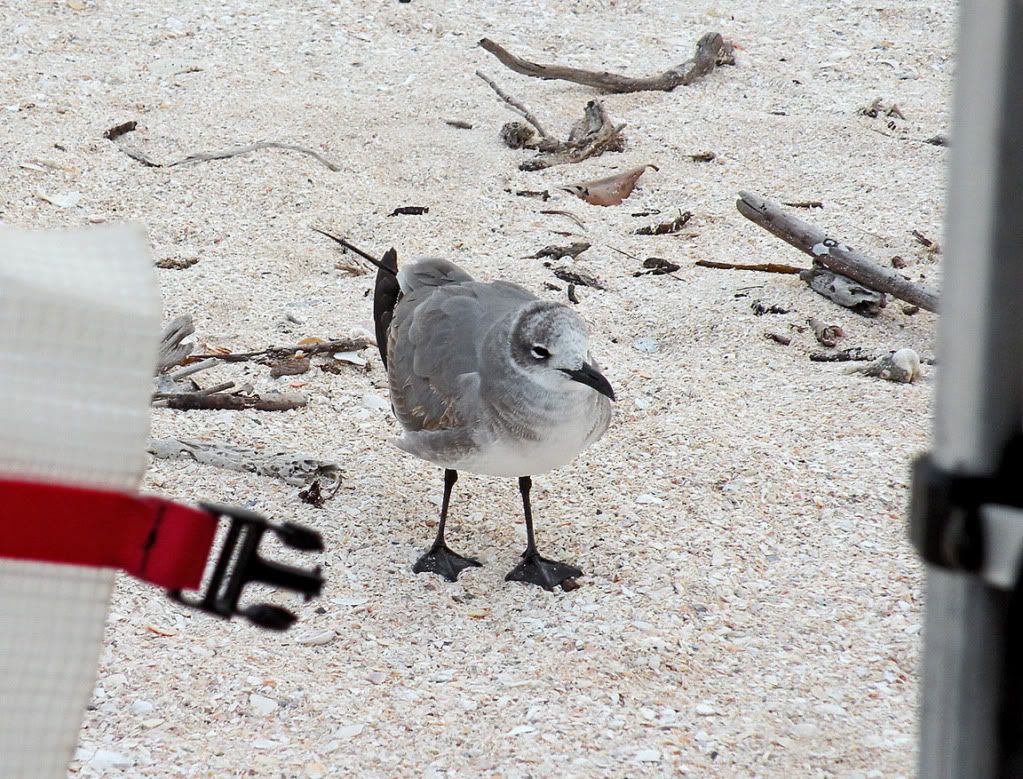 Day 4: Charlie adjusts his comforter as he chats with Rick at breakfast.

A "comforter" on NW Cape? That has got to be a first—TI sailors live a different life.



Day 4 opened to strong winds on our nose, and the forecast indicated no change for a day or 2. Charlie had a hard deadline at trip's end. In 11 Flamingo to Chokoloskee trips (8 by sea kayak, 3 by AI/Ti), I had never quit. Some people have always felt we were pushing our luck. I guess it caught up with us this year. If we hadn't had that first windless day, if the winds had been just a bit more favorable each day, and if we had not had the fog—if any one of those things had been different, the ending would have been different. As leader of the trip and with 20-20 hindsight, I wonder, maybe we

could

have made that last 12-mile leg to Graveyard on Day 3, Bob wanted to try for it, but….



Day 4: The decision is made—ABORT!

We are running before strong winds and on bumpy seas back to Flamingo. It took us 3 days to get to NW Cape; it will take us 4-5 hrs to return. Nancy has a half mile lead as we near East Cape Sable. She is definitely a downwind sailor. I'm about to get all wet.

Arrgh! Kayak Bob's spray skirts would solve this little problem.




Charlie had an unfortunate accident at East Cape Sable on the return.

He found a gravel bar and broke his TI rudder. It did not shear his rudder pin; but, it did shear off his rudder. He did a great job getting his rudderless boat 11 miles back to Flamingo. This picture of the rudder housing was taken at home. Hobie is furnishing him the new (the really new version) housing in time for his attempt at the WaterTribe Everglades Challenge in March.




While this trip was aborted, it is not done. Stay tuned….

Keith