---
A Trip to Pavilion-- WaterTribe EC2013, Haka Table, Choppers, Rough Waters, and a Good Time



This trip really started at the WaterTribe 2013 Everglades Challenge at Ft Desoto near St. Petersburg, FL. I drove there from Miami on Friday to take pictures and watch as people prepped their small boats and themselves for the 280-mile trek along coastal SW Florida down to Key Largo. It is called a "Challenge" but it has become an adventure race. Competitors have 8 days to finish the race, but most will finish in 4-6 days. It is a grueling undertaking, which requires the competitor finishing in 6 days to make about 47 mi/day. If you aim to finish in 5 days, you're doing 56 mi/day, and to finish in 4 days requires 70 mi/day. The fastest boat this year was a Core Sound 20 with father & son crew: 2 days, 2 min or about 140 mi/day. The Core Sound was designed for the Everglades Challenge. The fastest solo competitor was Iszatarock (aka Hal Link) in a cat. He completed the race in 2 days, 10 hrs. That is an amazing feat.



The Start Line about 6:45 am, Saturday, March 2, 2013




On Friday afternoon, you meet people. Here is Kiwibird (aka Kristen Greenaway, who became an American citizen shortly after the EC) and Seiche (aka Denny Thorley.)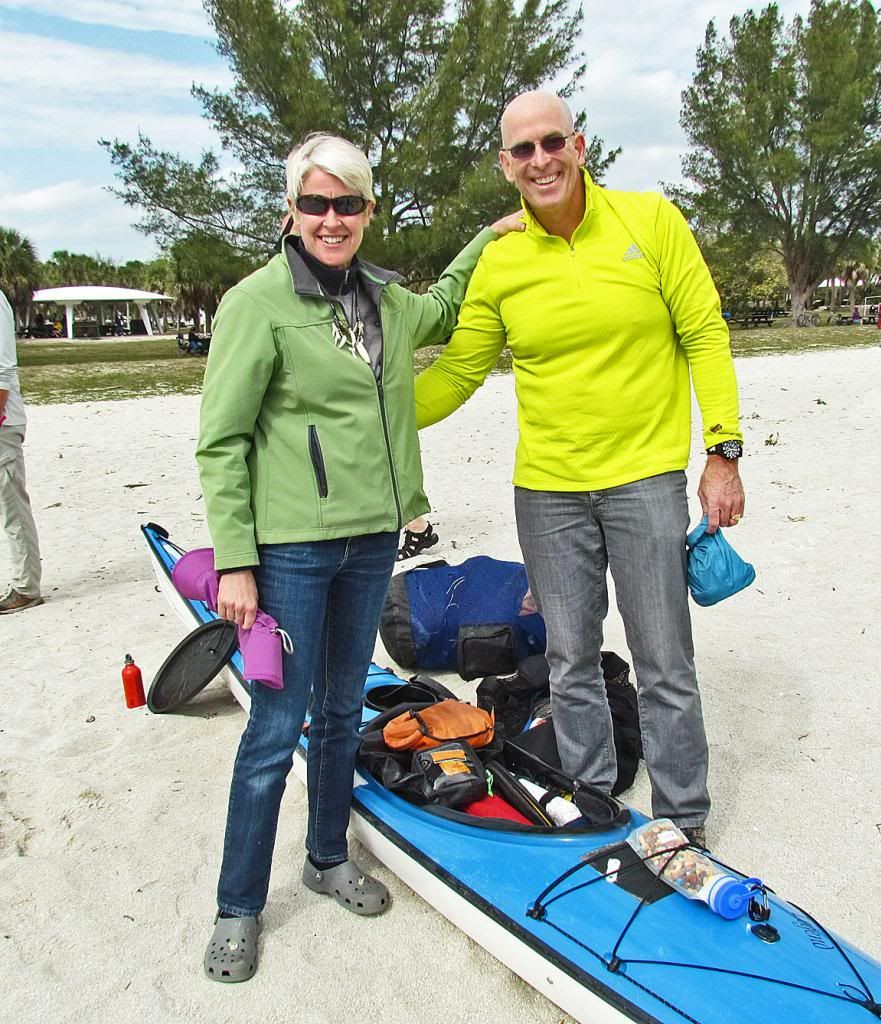 Josh Morgan standing by his Stellar SOT sea kayak.

Last year, he did his first EC in an AI. He finished just 4 hrs after Dogslife, one of the great competitors in the Everglades Challenge. Interestingly, this year Josh finished in 4 days, 10 hrs. That was 6 hrs after our Dogslife in his AI. Josh is a great kid.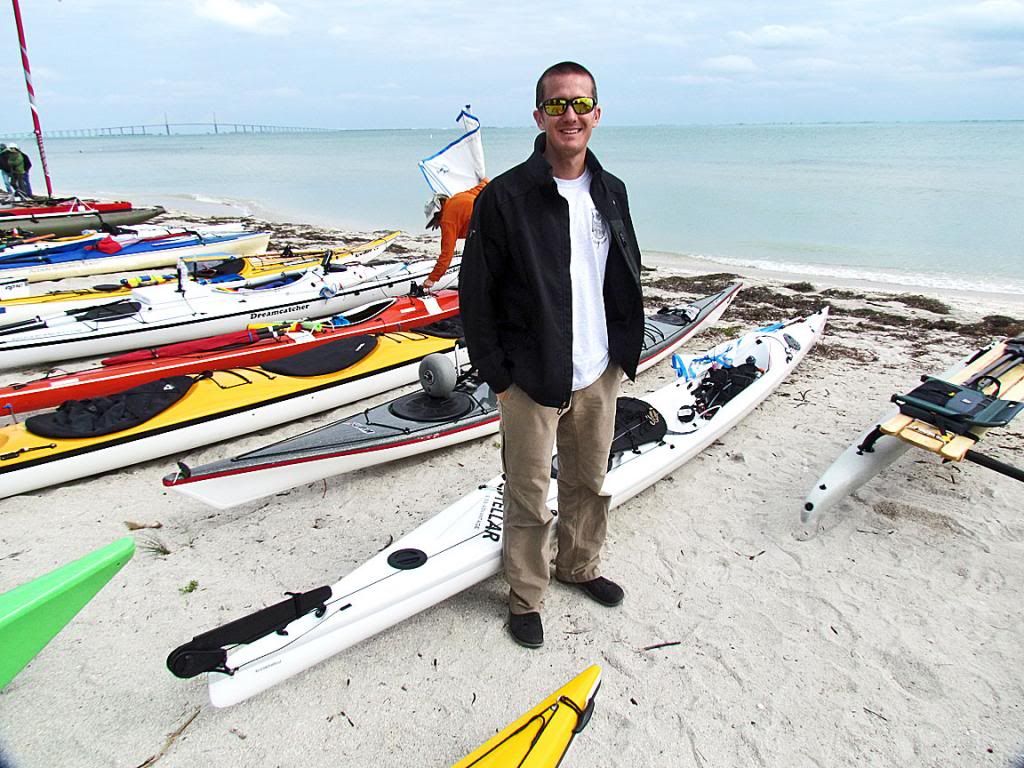 PenquinMan (aka Jim Czarnowski, Chief Engineer for AI/TIs at Hobie—I think) at the start line.

Jim is a neat guy and great PR for Hobie. I understand he took this boat through the Wilderness Waterway including Nightmare—that earned him a "Gator's Tooth," the ultimate prize for EC competitors.







Our Jim Quinlan, aka CaptnChaos, at launch.

Jim has written a very heartfelt and honest story of his EC2013: http://captnchaosec.blogspot.com/







Dogslife (aka Paul Kral) gave everyone a 10 minute head start before getting underway. Gotta get that flag flying properly.

He has posted an excellent video showing the EC at water level--scary at times. The video: http://www.youtube.com/watch?v=HjJGYVARfD4








This is Chief (aka Steve Isaac, organizer and revered leader of the WaterTribe).

After getting everyone off this morning, he has time to get under way. I don't know if he has posted his thoughts about the first time he has used an AI in his event. Unofficially, I've heard that he was never warm during his race to the finish in Key Largo. Dogslife has made the same comment. Chief's time was 5 days, 4 hrs, and 49 min--not bad for a Hobie AI first timer! Chief has made some interesting comments on a thread I started on the WaterTribe forum: http://watertribe.org/forums/topic/a-new-picture-story-w-a-slightly-different-view-of-ec2013







Three days later, I was getting a camping permit at the Everglades National Park headquarters in Everglades City. Who should I run into? Denny and Kristen.

Kristen has written a terrific report of her day-by-day EC2013. It is an excellent read and has some great pictures of traversing Nightmare at low tide. http://kiwibirdkayaker.blogspot.com/ The days are in descending order, so go to the bottom to start at the beginning. Note the Adventure Island behind Denny & Kristen--it may be Chief on his way to Checkpoint 2.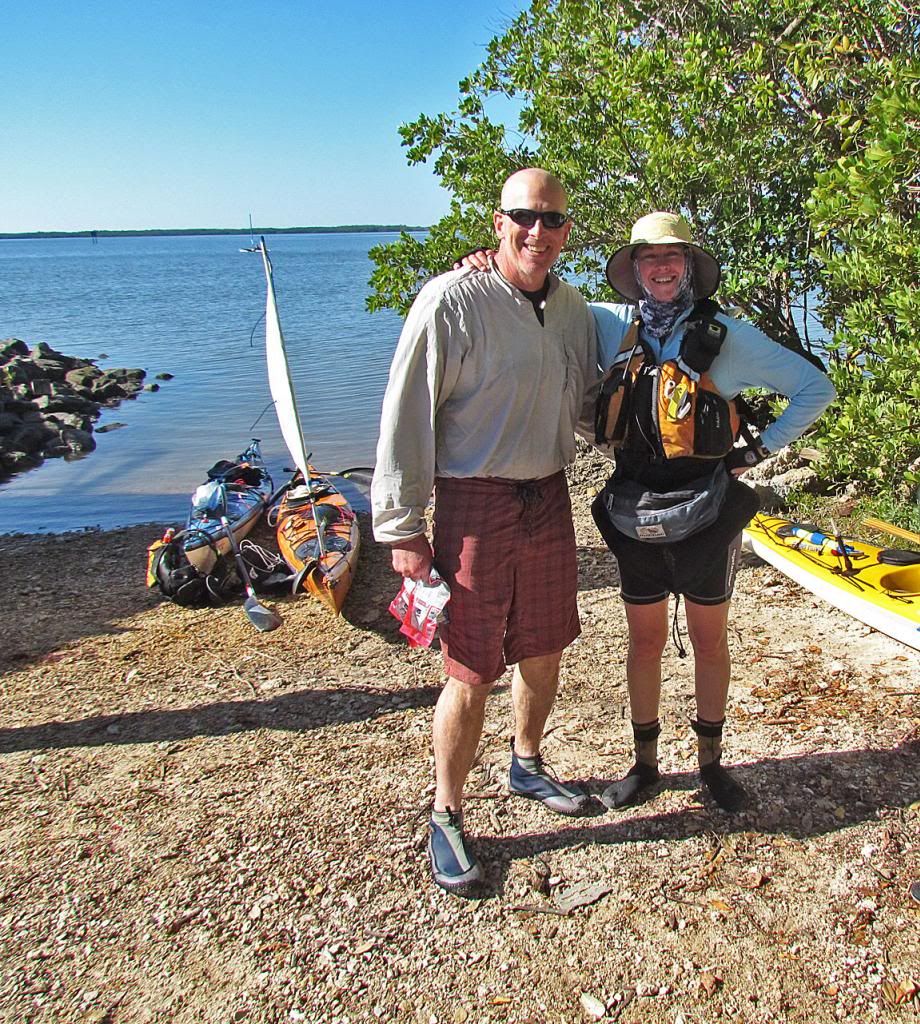 As I was launching my AI, Kristen passed by on her way to Checkpoint #2 (900' further along shore in Chokoloskee.)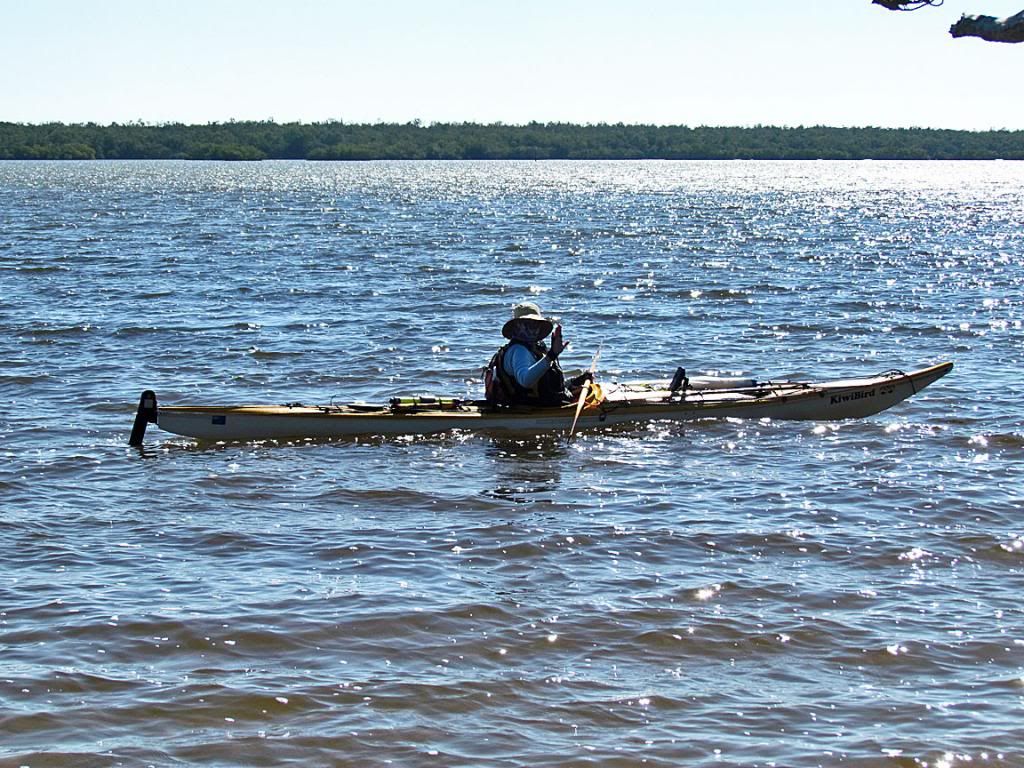 Kayaker Kneadingwater came by and asked if we were the Checkpoint. I pointed to our boats and said, "Do we look like WaterTribers?"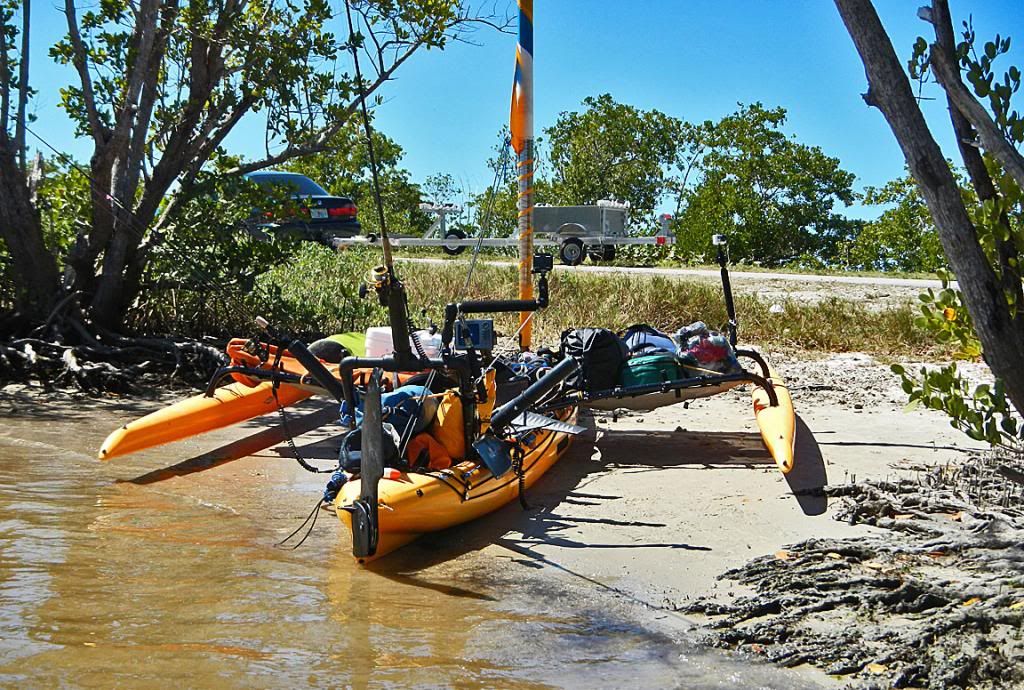 Once packed, Maria & Tom Sanders in their double and I headed out the passes to Pavilion Key. Osprey nest with a couple of expectant parents
Steve got this close up.
Steve and Maria, left, after leaving Chokoloskee, on Gulf of Mexico. To the right is a Hobie AI—a WT EC2013 competitor. It is 3:20 pm, Mar 5. I think the competitor could be WaterTribe's Chief.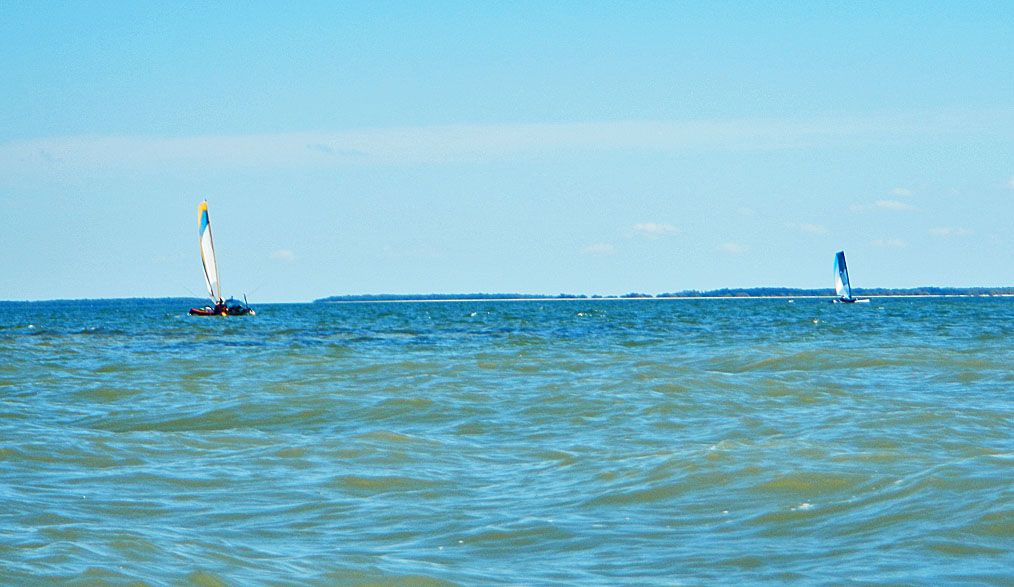 Maria and Steve in camp on Pavilion Key.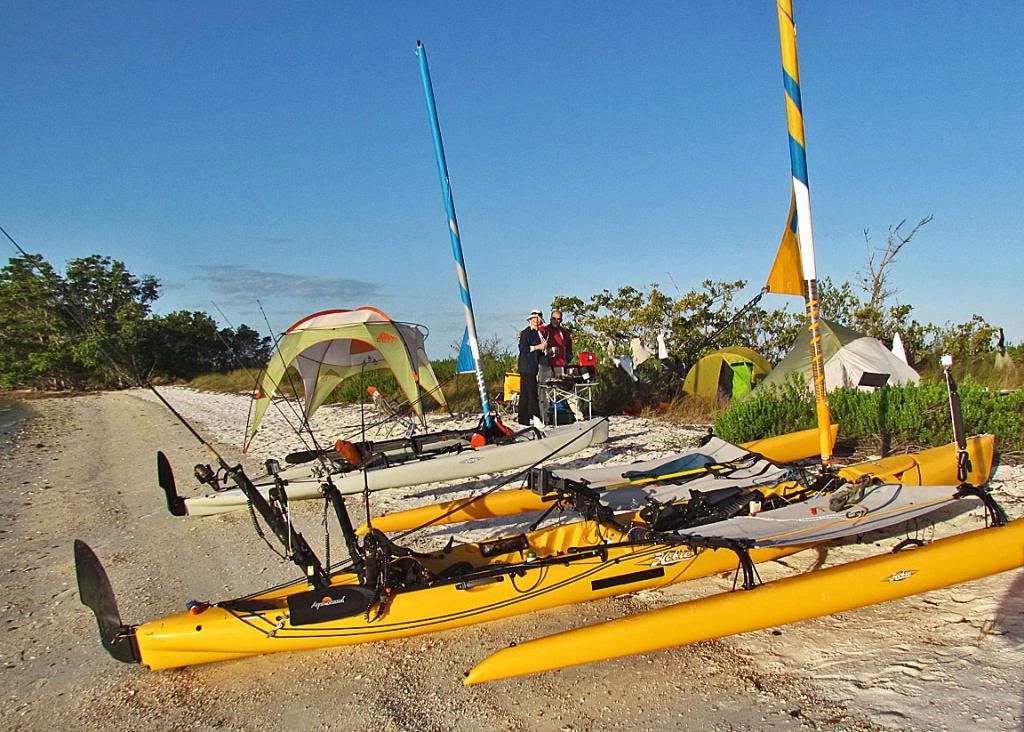 It is our Day 2 on Pavilion, but WeedWarrior and Machete, EC2013 competitors, are beginning their Day 5 as they head for Checkpoint #3, Flamingo.

It is about 65 miles. Somewhere on this leg or in Flamingo, they dropped out of the race. These fellows work for the Park Service controlling exotic and invasive plants and are right at home in this section of the EC. I don't know why they did not finish because they seemed pretty confident when I talked to them the evening before and as they were launching.


This Bald Eagle is an old friend also. He was sitting on the point of our spit as we went fishing.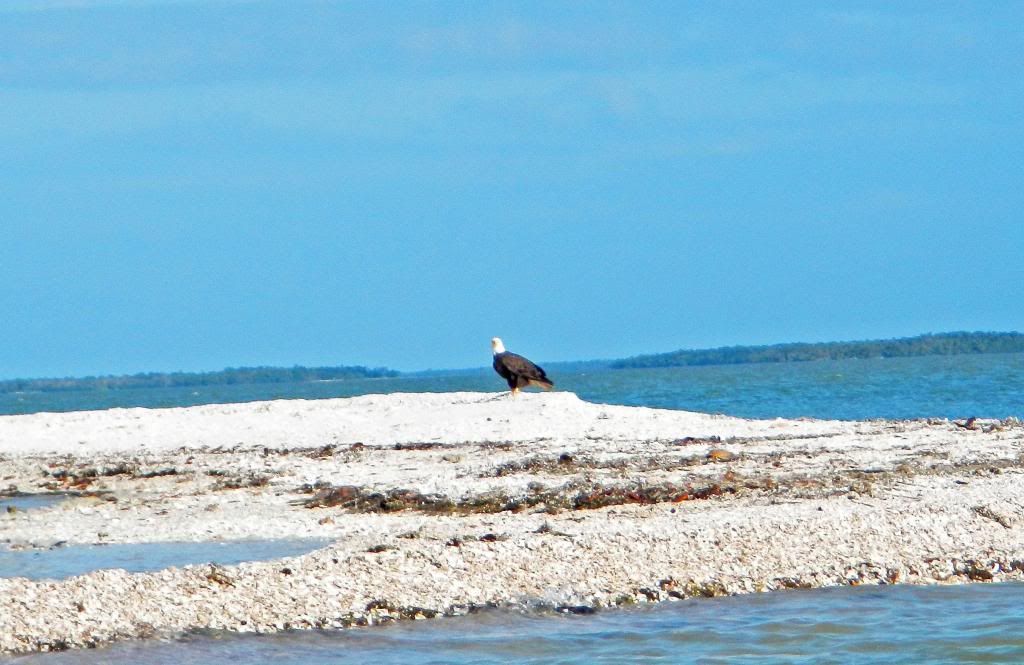 I had never seen him with a mate until this year when I was on my 7-day (aborted to 6) Flamingo to Chokoloskee trip.

As I neared an island just east of Pavilion, I spotted a Bald Eagle pair and their nest. I'm glad to know my old friend has a mate after all.


Boy, fishing was slow today. Winds were bad. I caught this Gafftop Sailfish. Only a mother could love this slimy, smelly fish. What a face!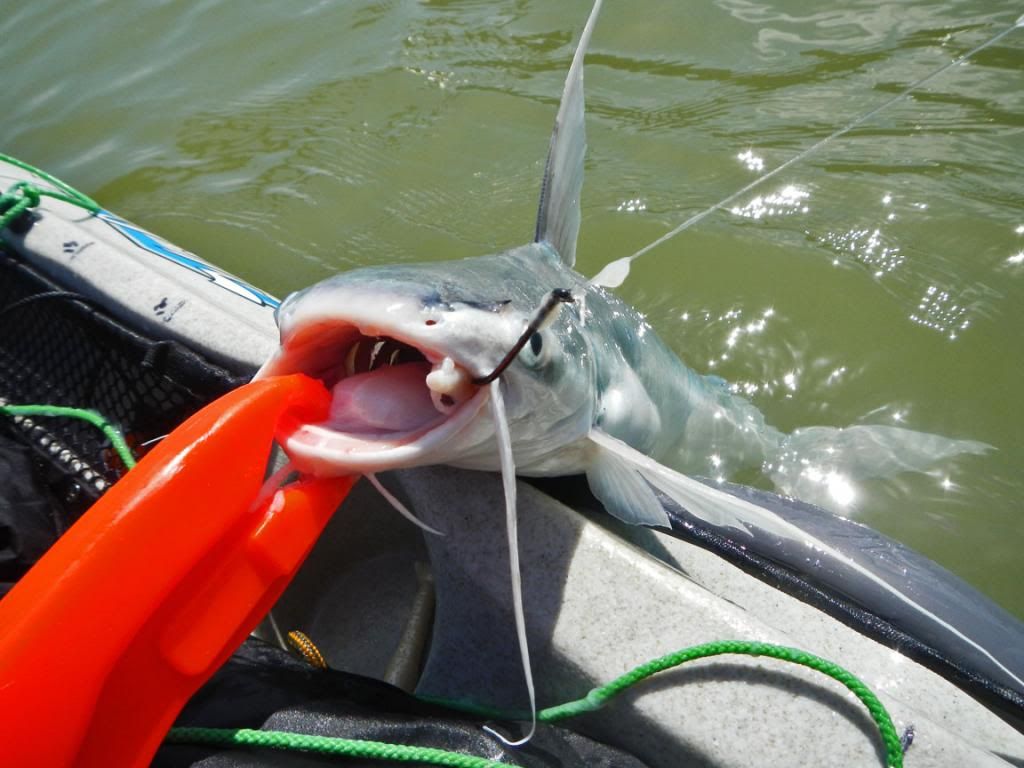 The seas on the west side of our spit were building. We wondered if our friends, Tom and Debbie Turner, would make it out.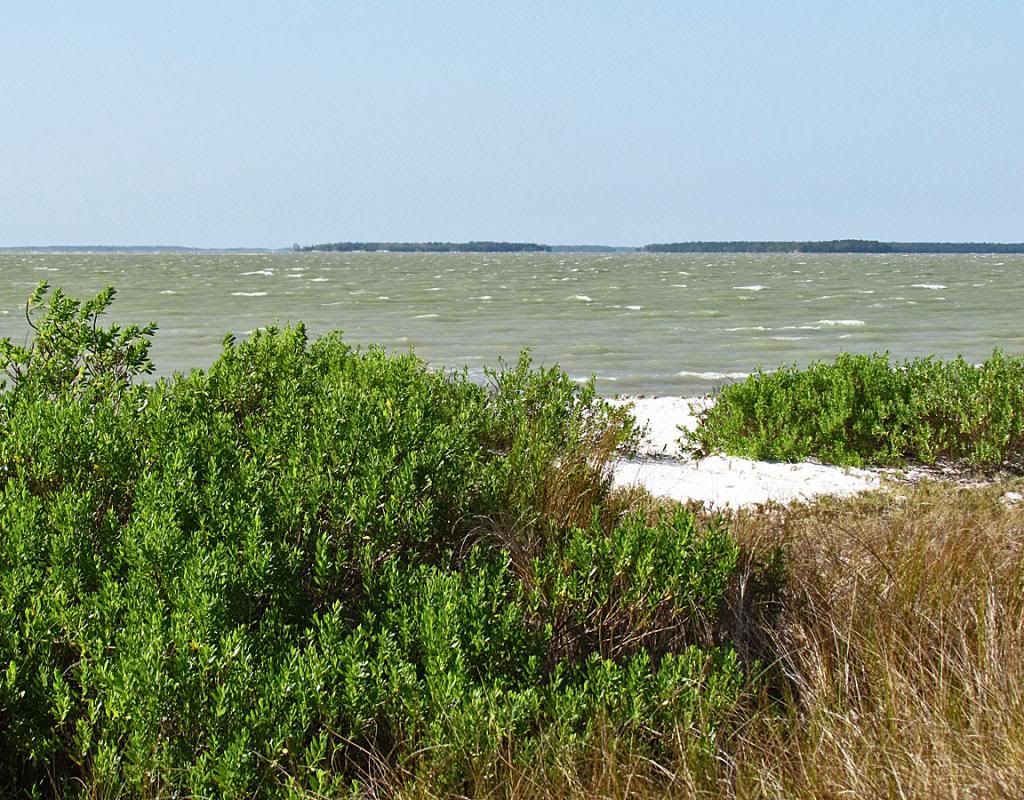 In front of our camp, the pelicans were having a bit of a feeding frenzy.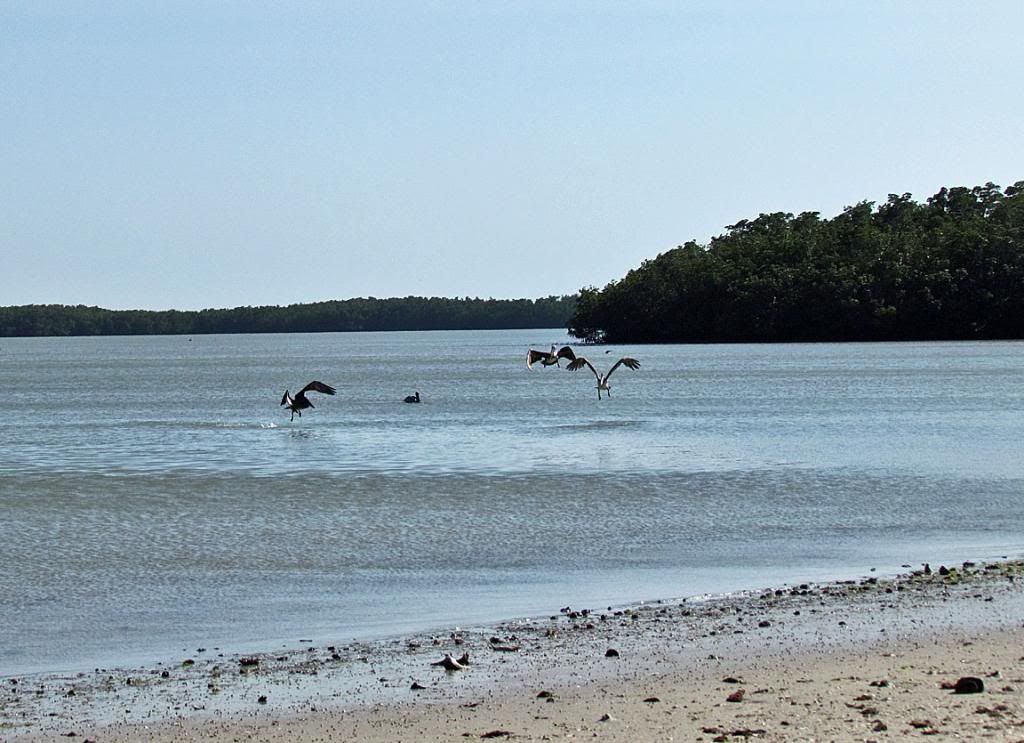 Steve got this picture of the pelicans in action.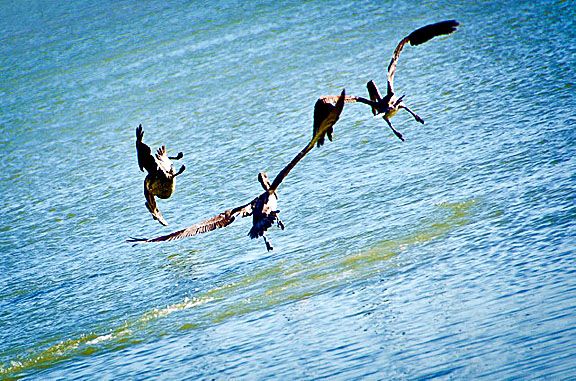 He also got these two shots of a Common Tern (Apparently the name comes from the fact that the bird is found all over the world.)

First, the attack
The recovery after the unsuccessful attack
The seas have really gotten rough, but we could see the sail of Tom & Debbie's Tandem in the distance.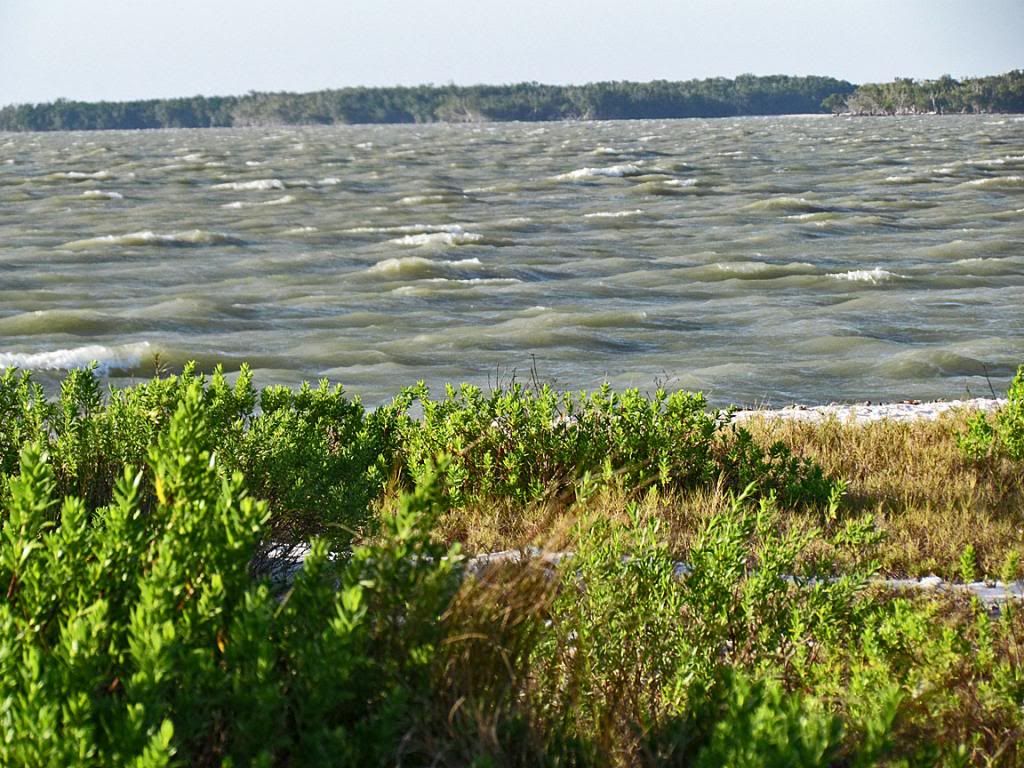 Nearing camp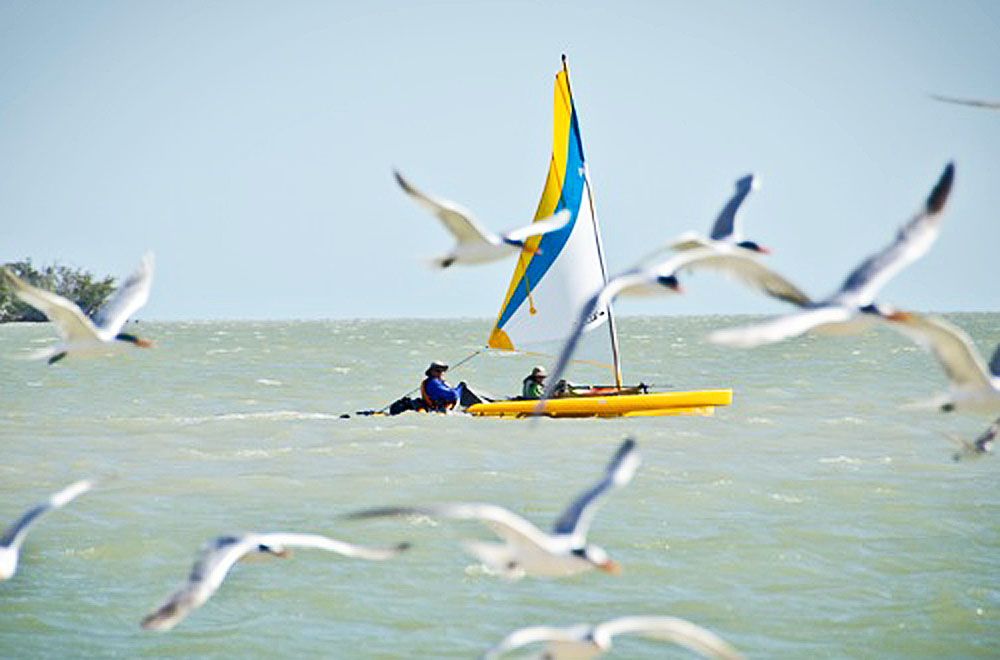 The landing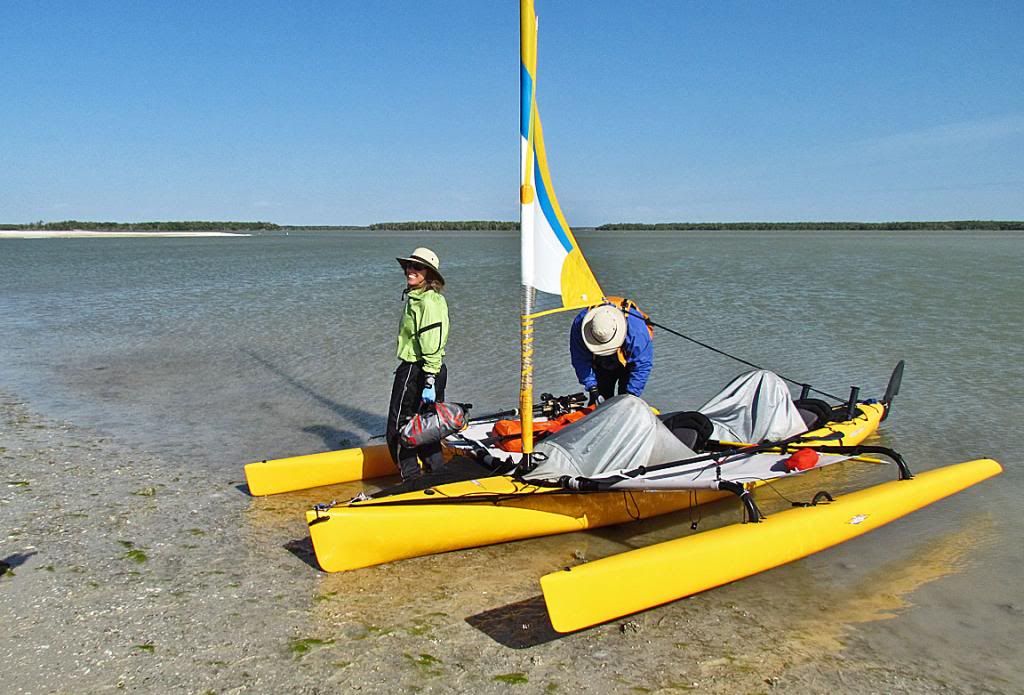 We were treated to a beautiful sunset. Steve captured the moment.





This is the first time I've ever seen a pack of helicopters over Pavilion.

Presumably, they are coming up from the Naval Air Base near Key West—about 90 mi SSW.


Steve demonstrates his new, "Neil Armstrong look-a-like" Kokatat dry suit as we head out fishing on Day 3.
Fishing was better today. Steve caught a nice redfish which he released because it was slightly undersized.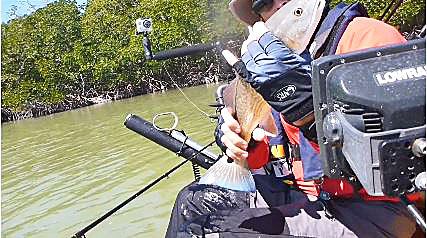 Afternoon visitor





Debbie helping clean fish for dinner. Isn't my haka table amazing? Here it as a fish cleaning station.

BTW, this trip was taken before my recent modification of my table to make it more stable. That modification is in a post just above this one.


Here, my haka table serves as the focal point of a great picture. Maria, Steve, Debbie, and Tom.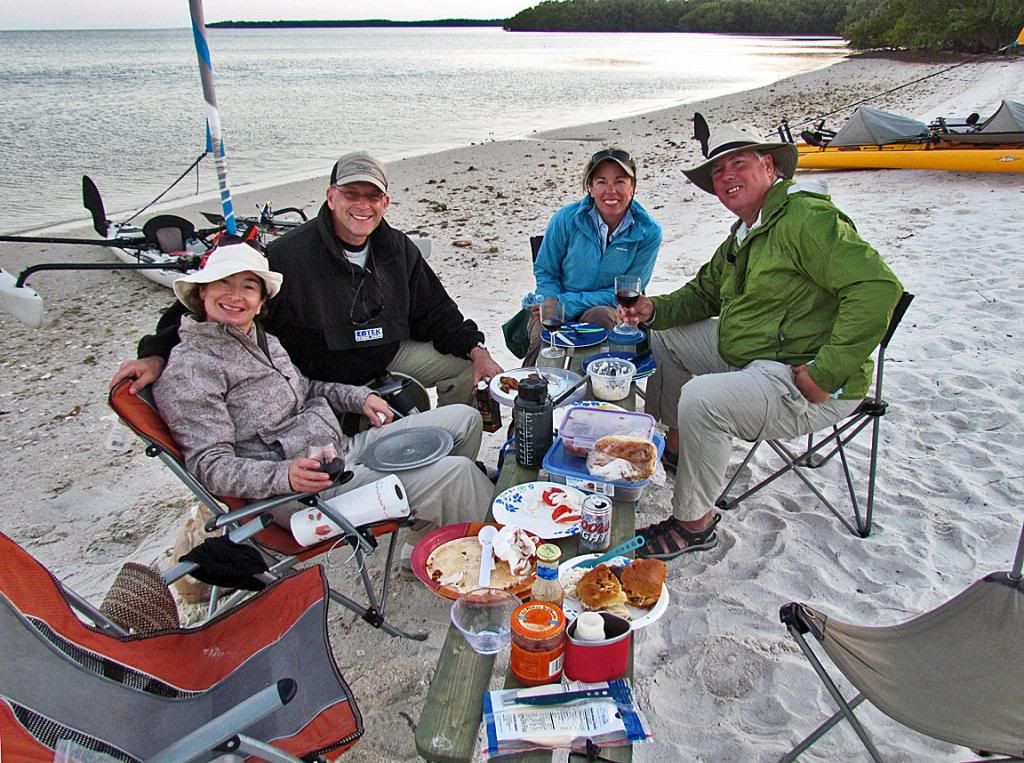 Tides coming in—Maria and Steve loaded and ready to return to Chokoloskee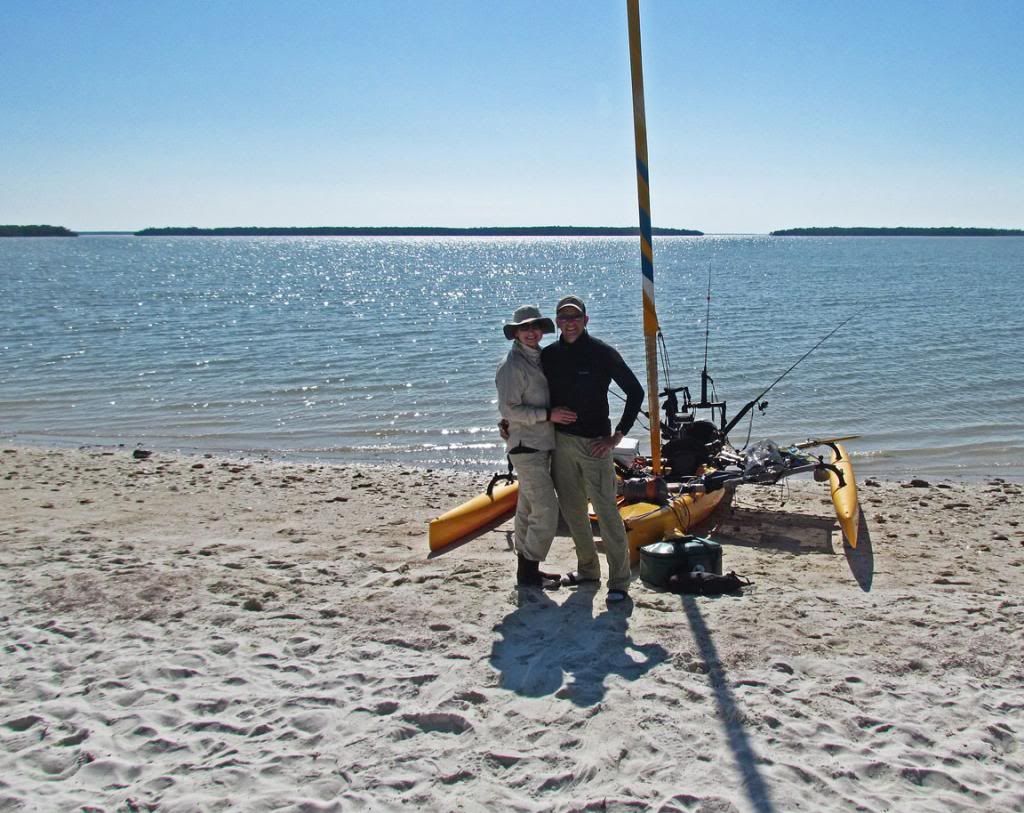 On our return to Chokoloskee, Debbie & Tom pass me with Maria & Steve in distance.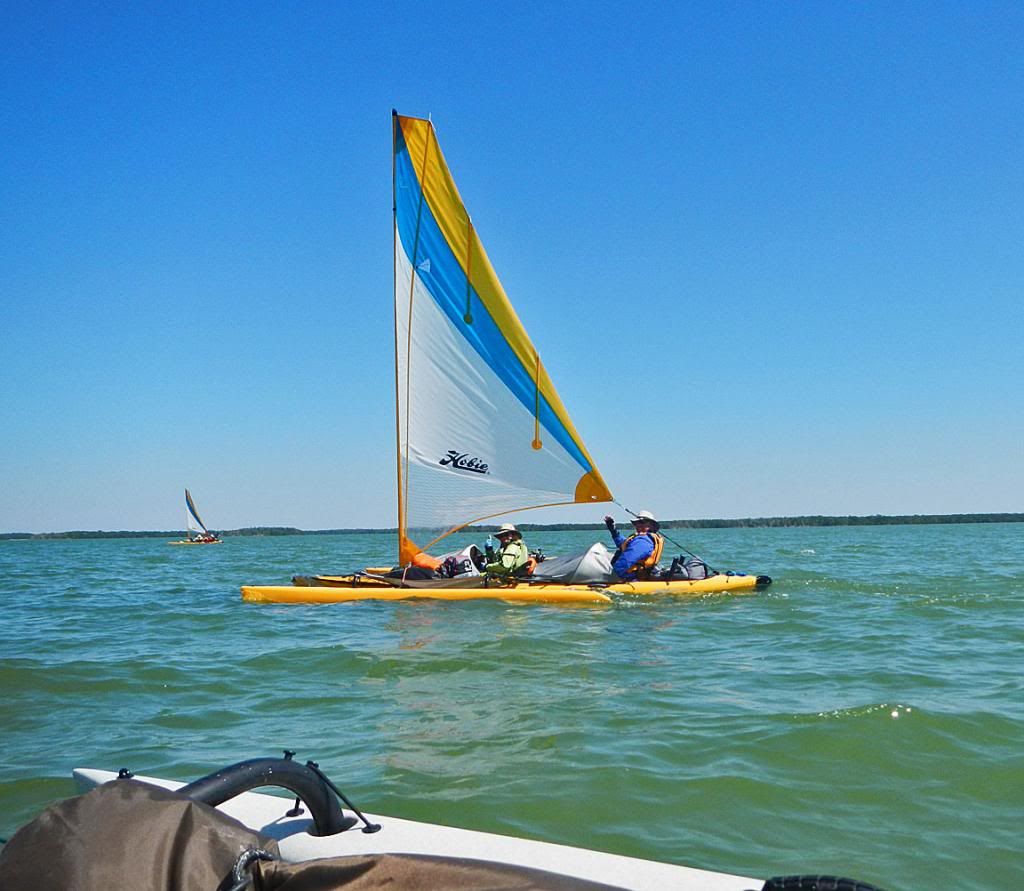 Pedaling through the pass
Steve got this interesting shot of Tom's tandem lined up with my AI as we near Chokoloskee.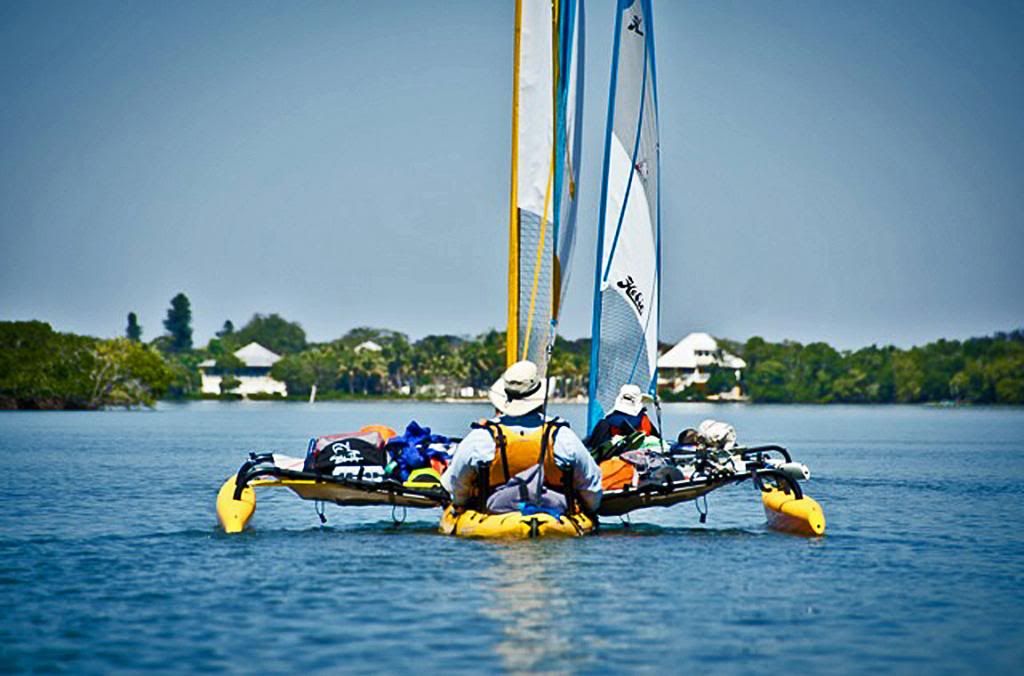 The picture makes it look like we are close to Chokoloskee, but, in fact, we are still a mile away. It was taken as we emerged from the pass.

We will take the shallow channel along the sandbar to our left to move to the edge of the oyster bars, and then work our way to the right along the bottom of the oyster bars. This will get us in position to go up the middle of the bay to our launch site.





Between the WaterTribe EC2013 activities, challenging weather, helicopters, my haka table, this was a pretty eventful trip. As usual, good food, good friends, and boats that performed flawlessly. What more can you ask?

Keith