---
A Fishing Trip to East Cape Sable, Mar 20-23, 2008



On March 20, Alex Oancea, Lou Greenwell, Rob Jordan and I began a 4-day trip from Flamingo in Everglades National Park to Ease Cape Sable.


Google Earth image of the SW corner of mainland Florida.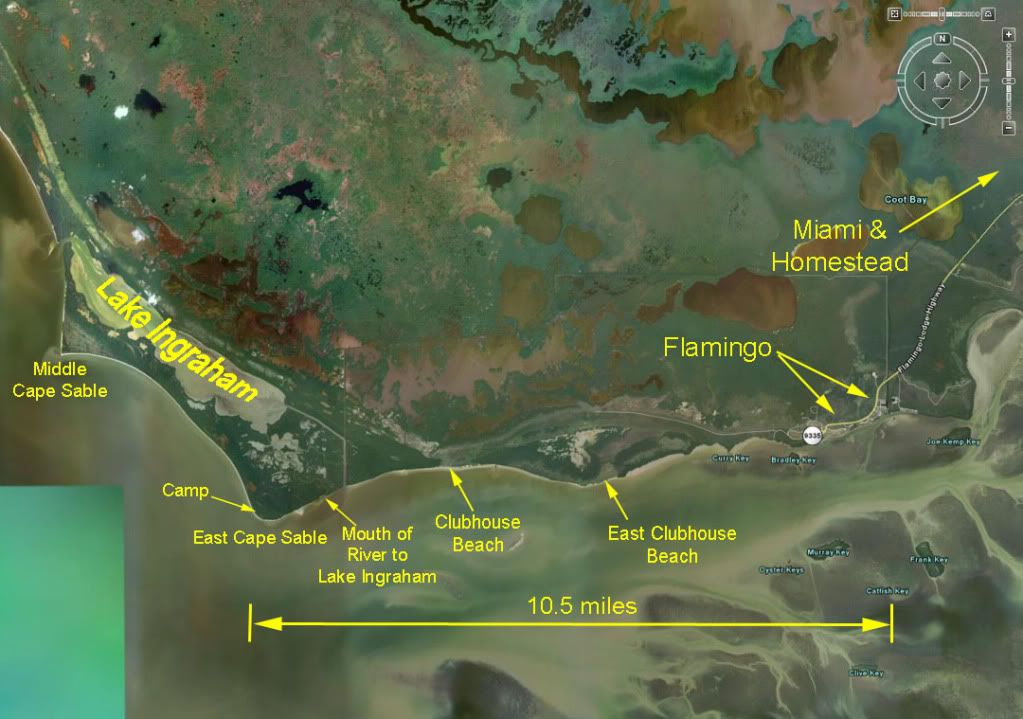 Flamingo ramps.

Ready for the trip to East Cape Sable: Alex (standing w/ camera), Rob (left) and Lou (right).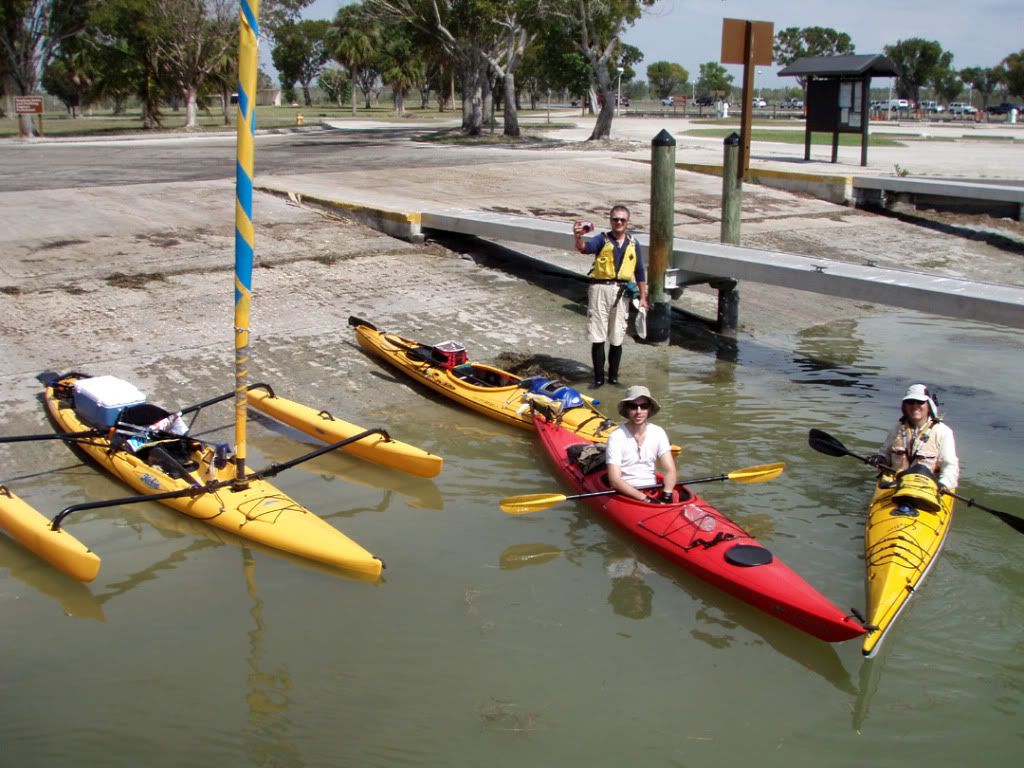 Outside of Flamingo Marina—college kids on spring break


It is a fair day for kayakers, light head winds and mild temperatures. I, on the other hand, appeared to be in for another slow sailing day. I was resigned to spend the night on East Clubhouse Beach, just 4 mi west of Flamingo.
Here I kill a little time to get a picture of a

Portuguese Man-of-War.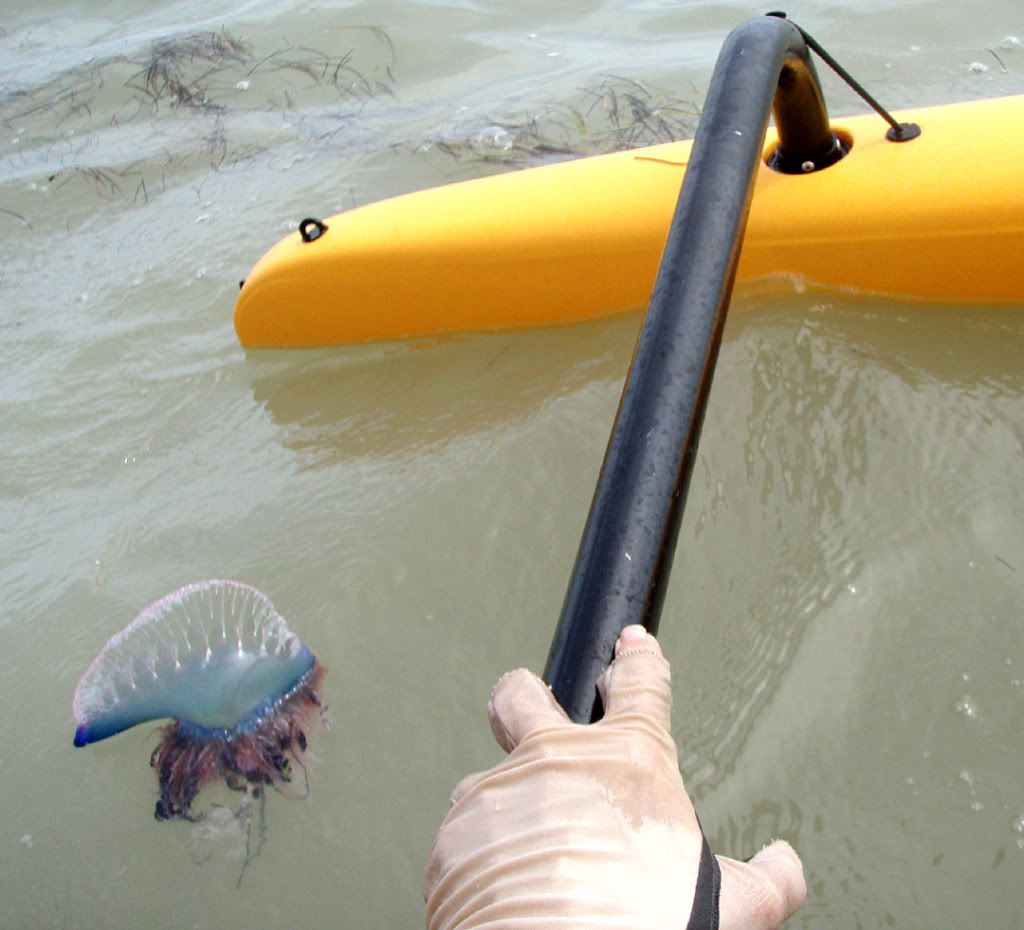 Alex got this beautiful picture from his kayak.


After fooling around with the polyps for 30 minutes, I realized the weather was worsening—

a squall line was moving through.

Although it did make it tougher on the kayakers, who were 5 mi ahead, it was good news for me. Winds picked up and were shifting to the NW. I decided to try for ECS. I estimated landing sometime between 7-8 pm. A GPS with a "Velocity made good" measurement is very helpful. VMG is the actual speed toward your destination, even when you are moving at an angle (tacking) to the direction you want to go.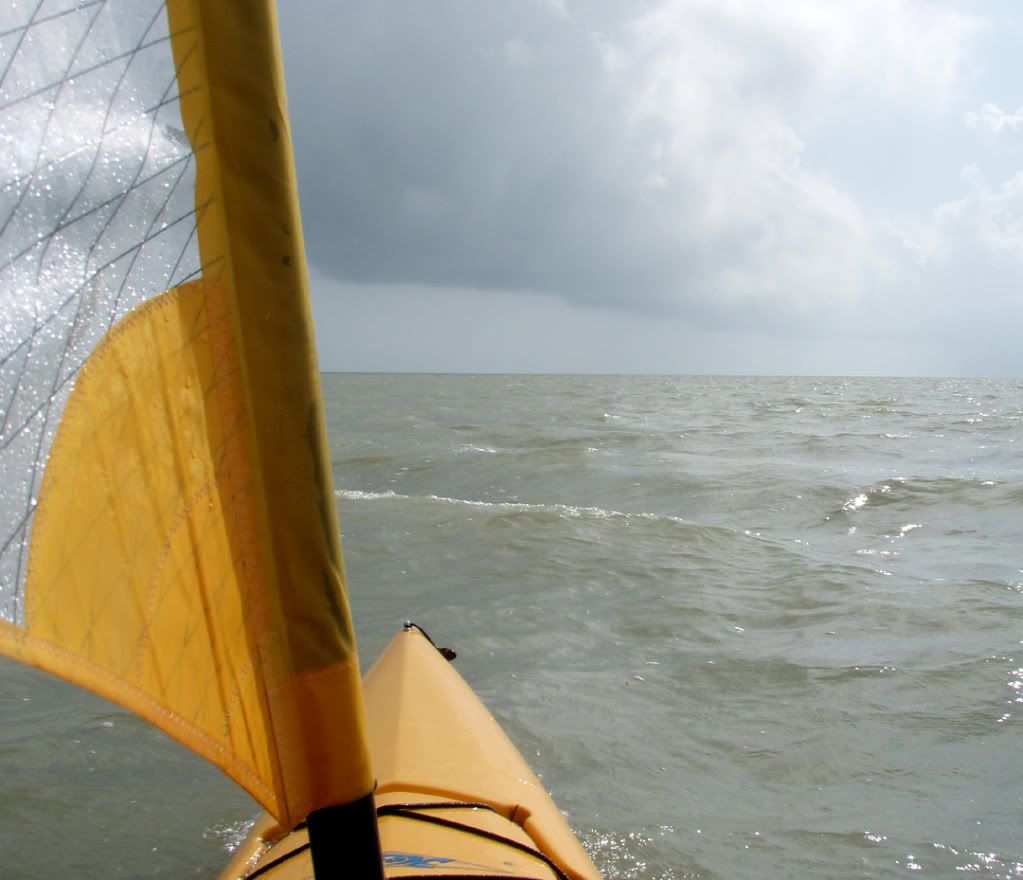 Nearing East Cape Sable at 6:15 pm. Key West is 58 miles over the horizon.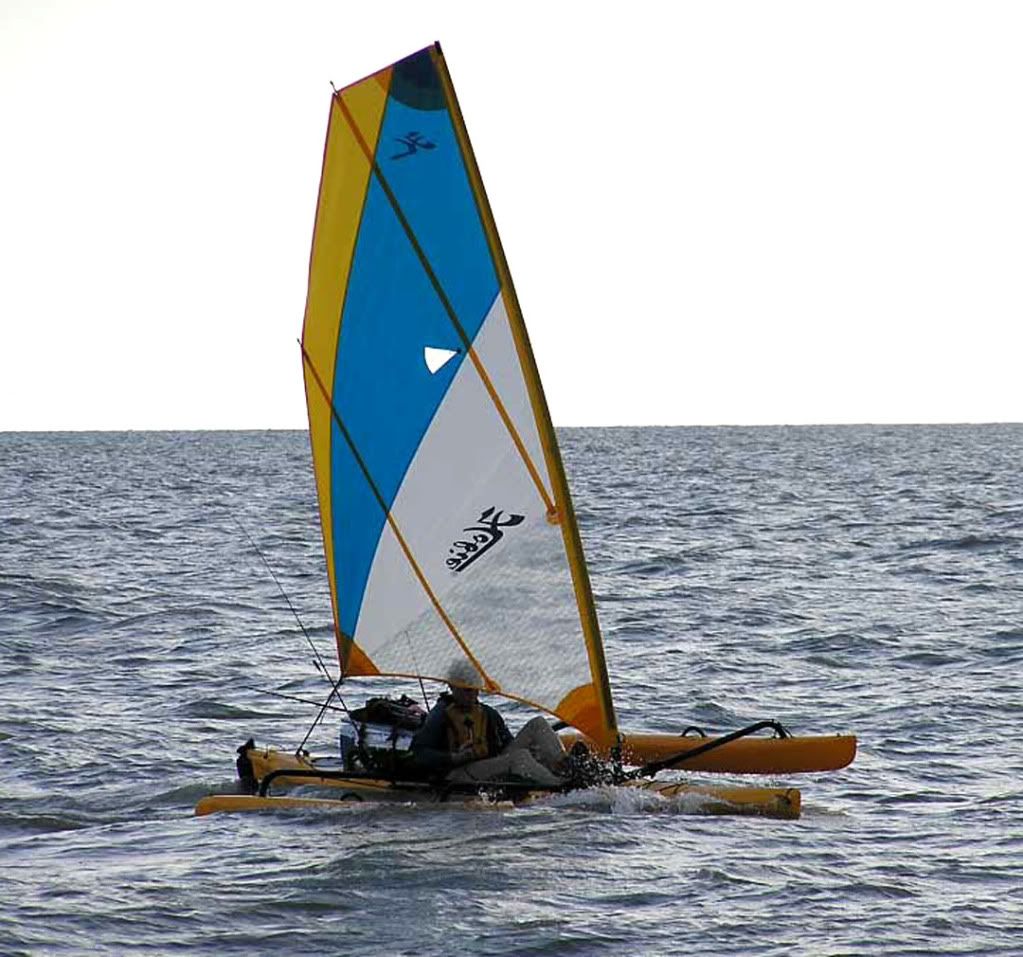 Coming around.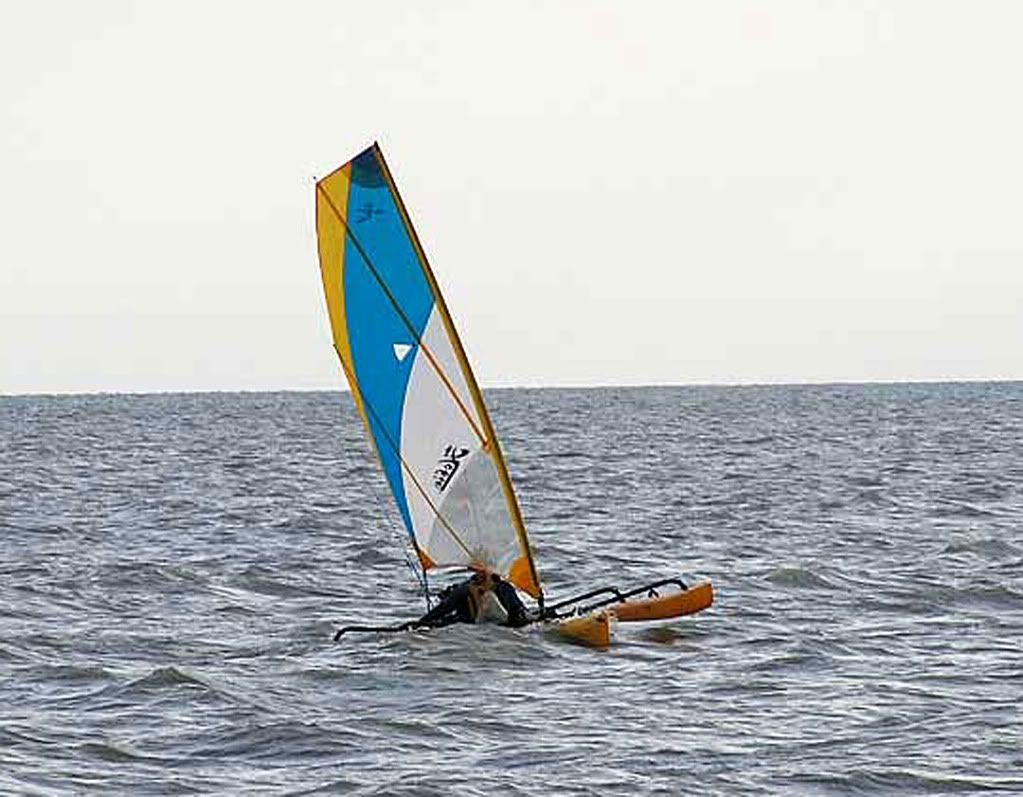 Coming in with sail 75% furled.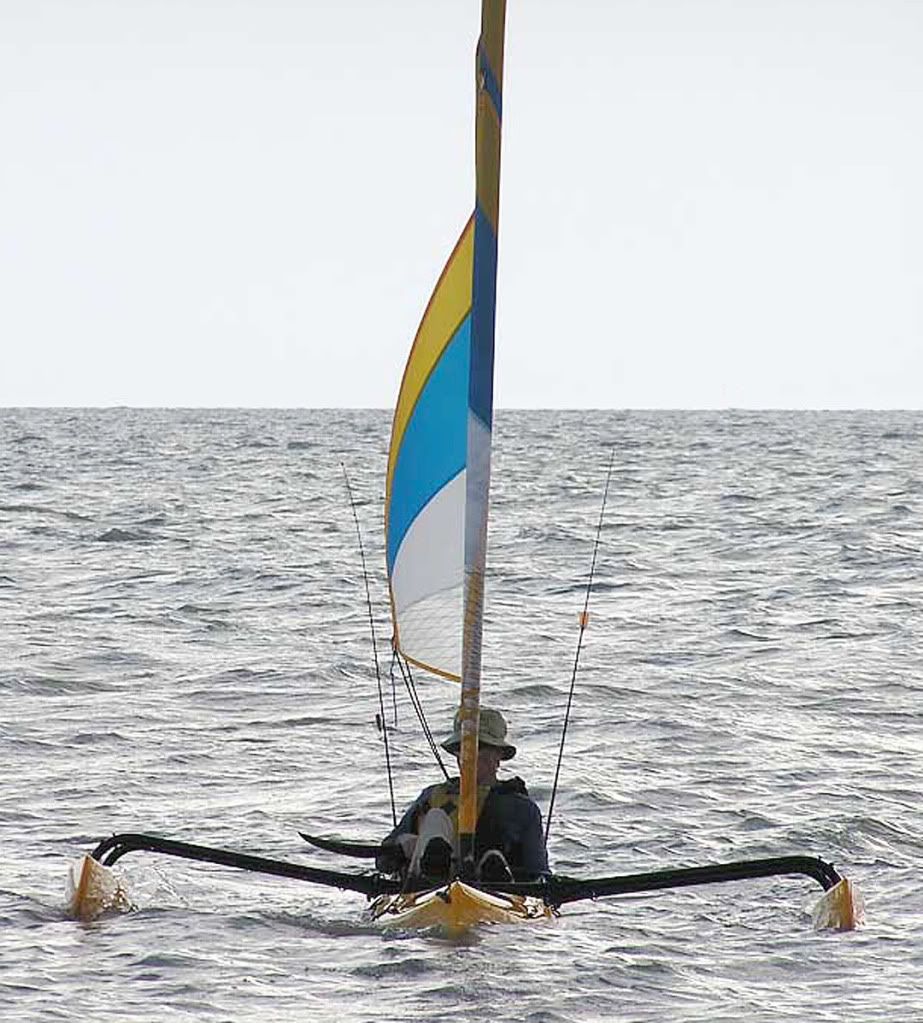 Removing the Mirage drive in preparation to land.
The Albatross has landed.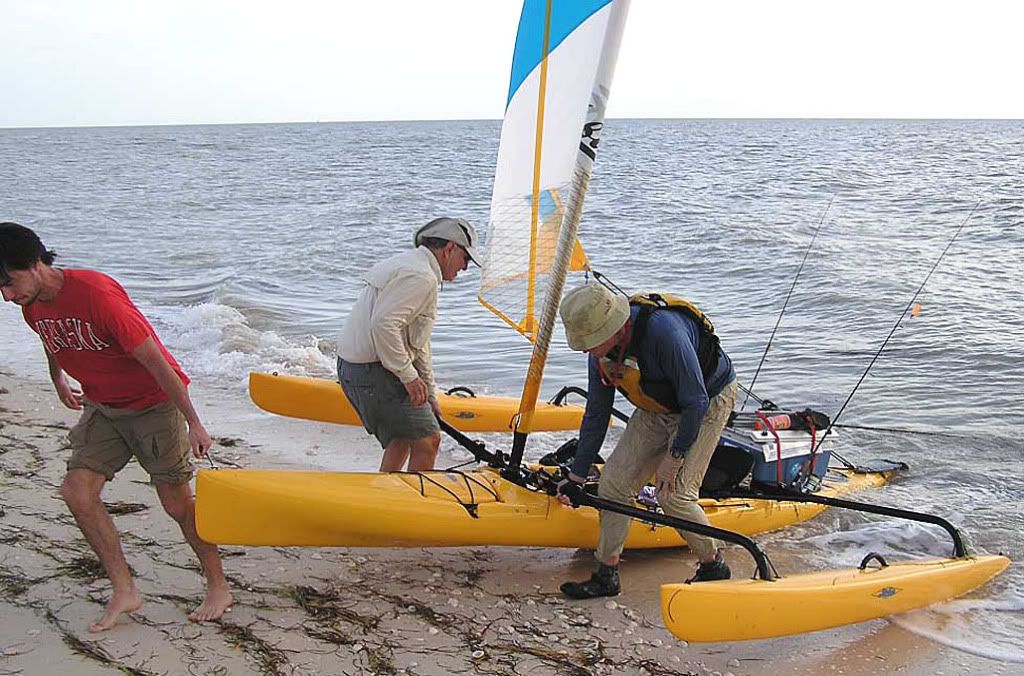 Lou gives a thumbs-up, while Rob looks on.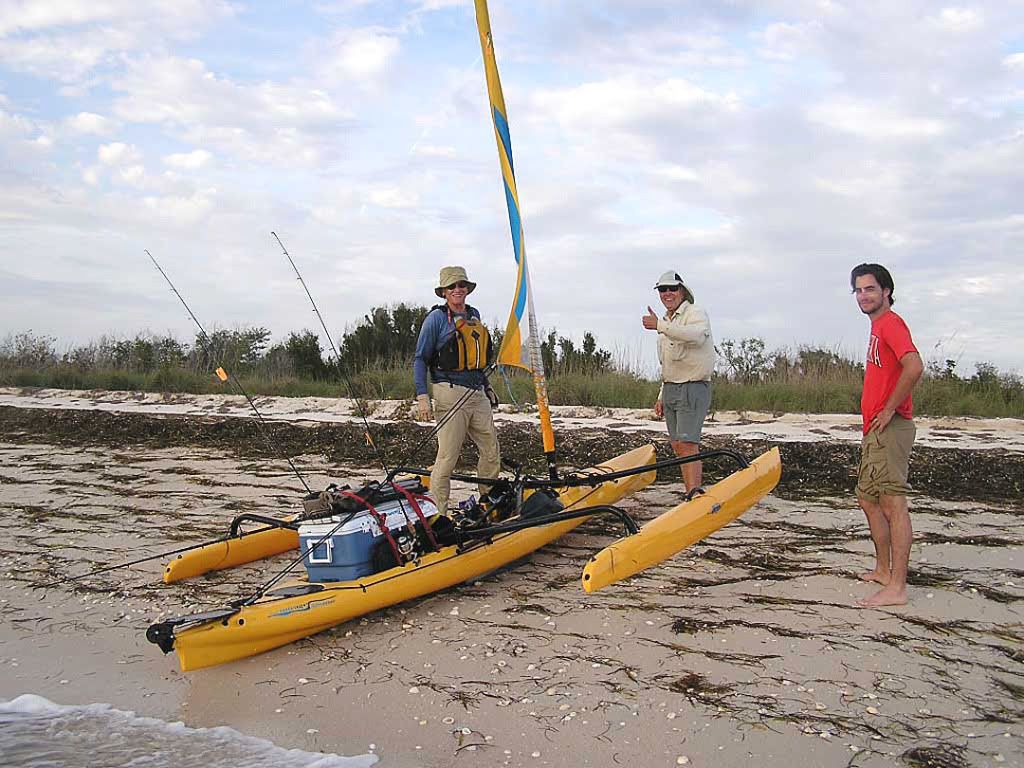 The author displays contribution to evening's fish sandwiches.

These are speckled sea trout—not related to Rocky Mountain Trout.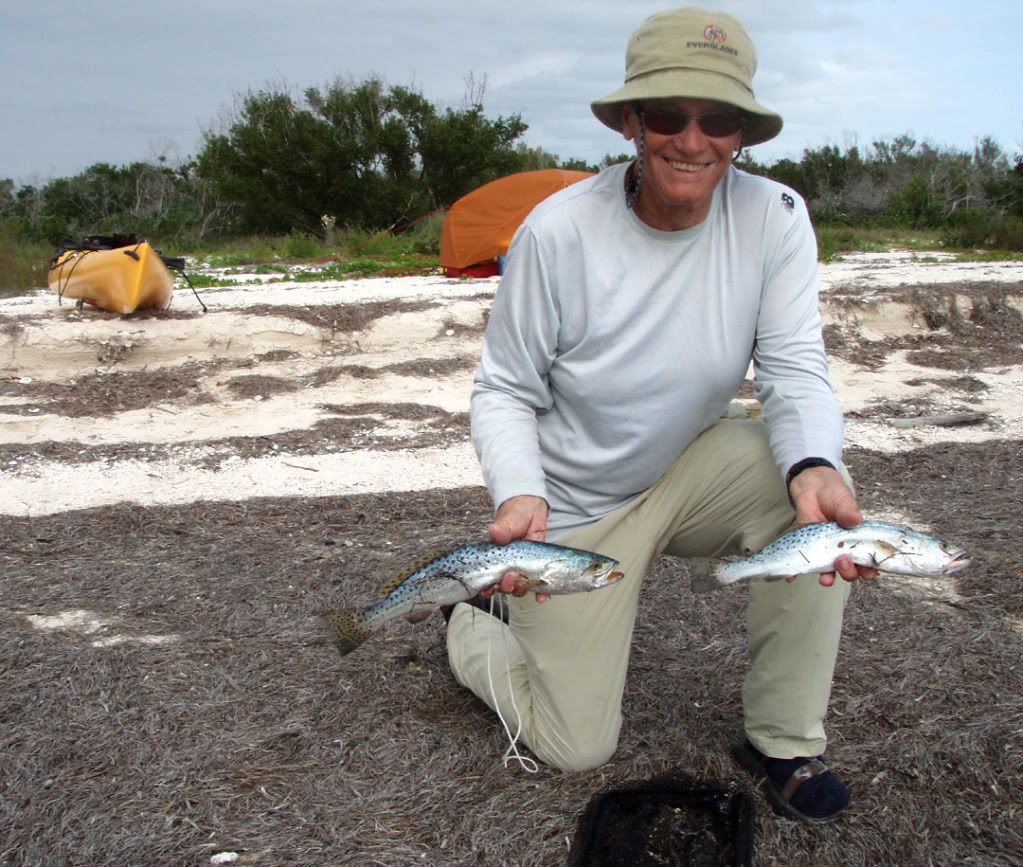 Lou provides entertainment by battling sharks.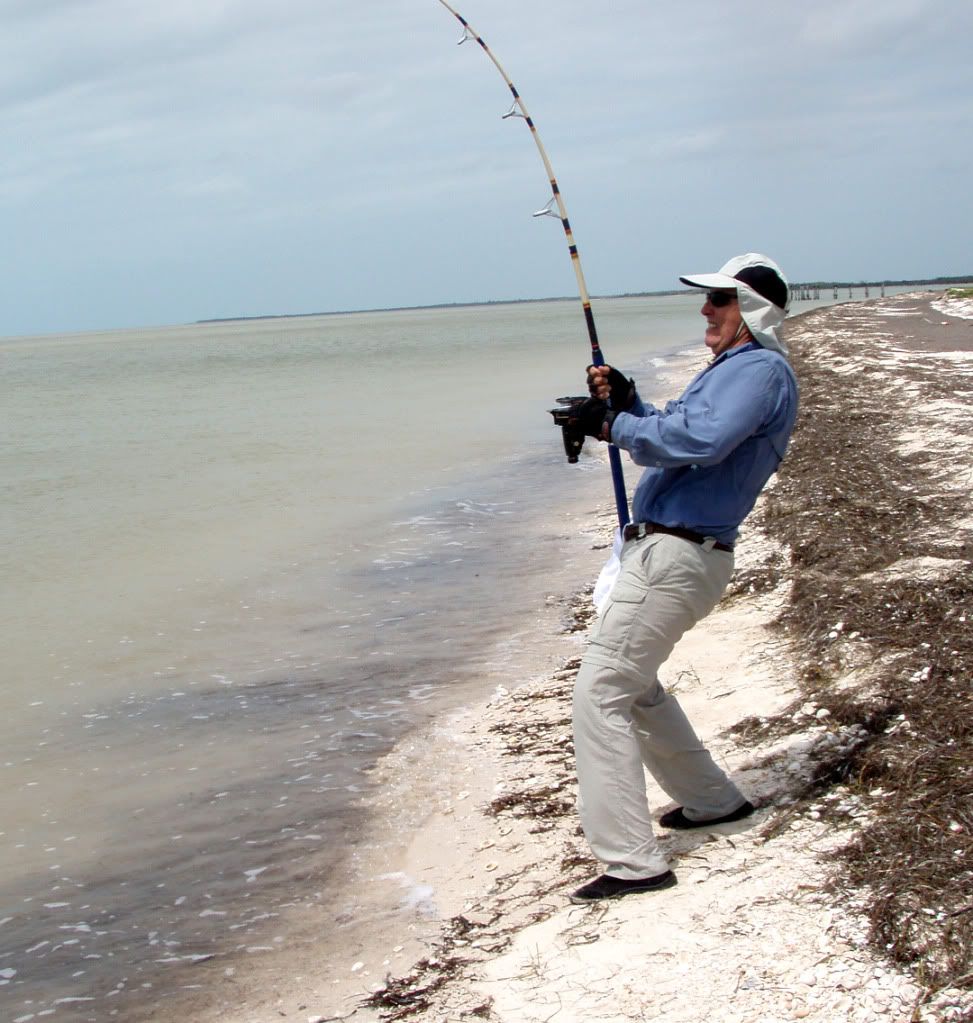 Lou lands a 5-ft Lemon Shark as Alex photographs action.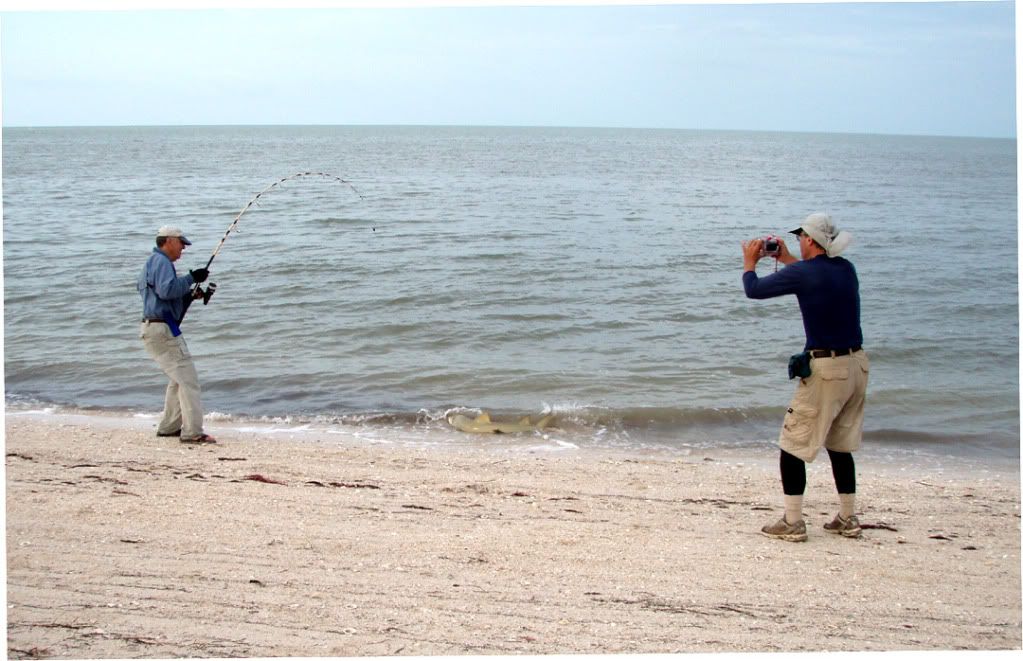 Other entertainment: photographing American crocodiles.

East Cape Sable is, sort of, the dating beach for crocodiles during the spring mating season.

This croc or his friends regularly swam past our camp.
Croc trail on beach.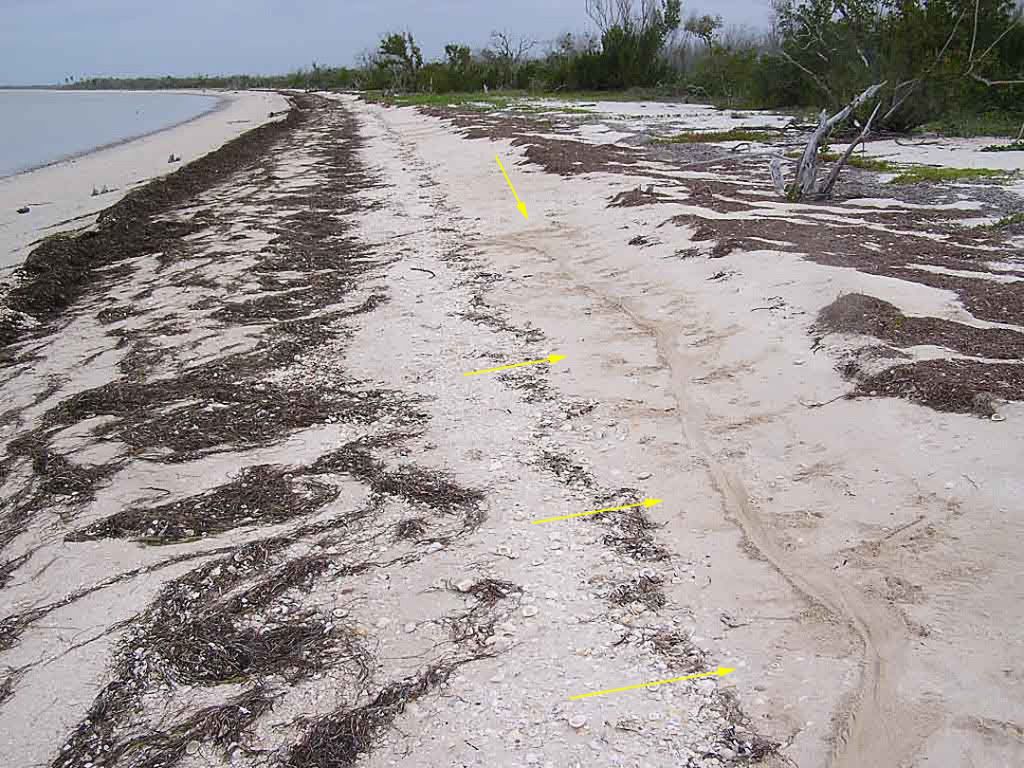 Day 2: Alex went up the river to Lake Ingraham.

Lake Ingraham at low tide resembles one gigantic mud wrestling ring. It can be quite intimidating because you have never seen any landscape like this.

DO NOT get stuck in the mud overnight because…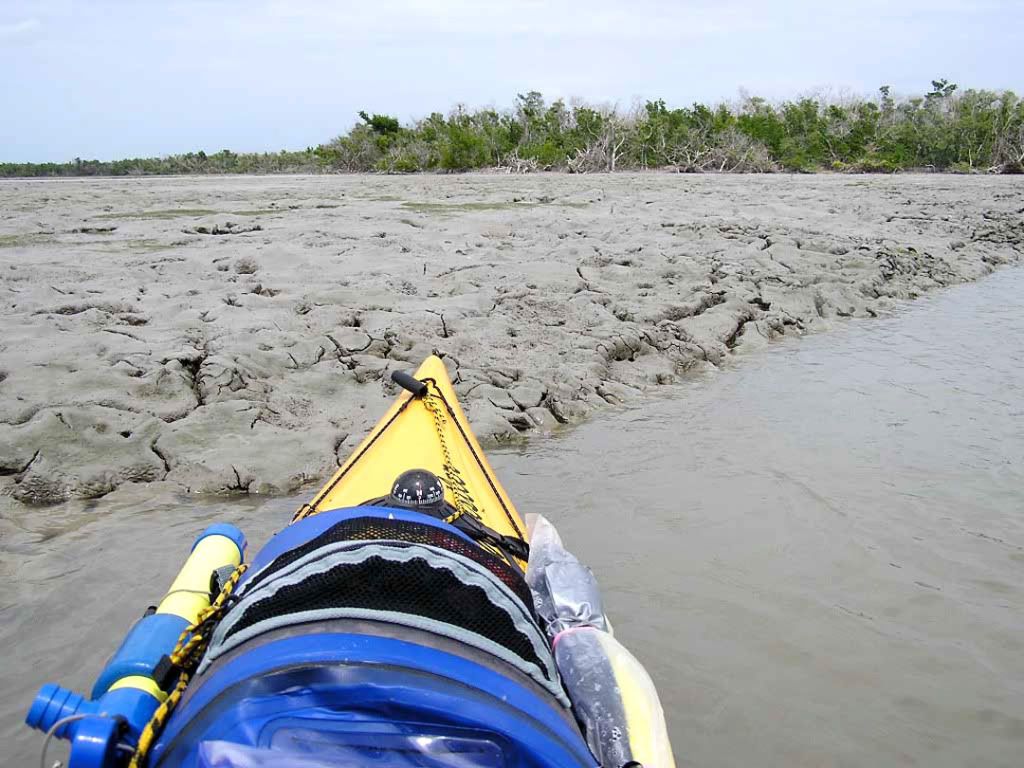 You may have an uninvited bedfellow.

A very large croc found along the way to Lake Ingraham.

Sleeping alligator—picture by author on a different trip. Note the interdigitated teeth on the croc above, which are absent in the alligator.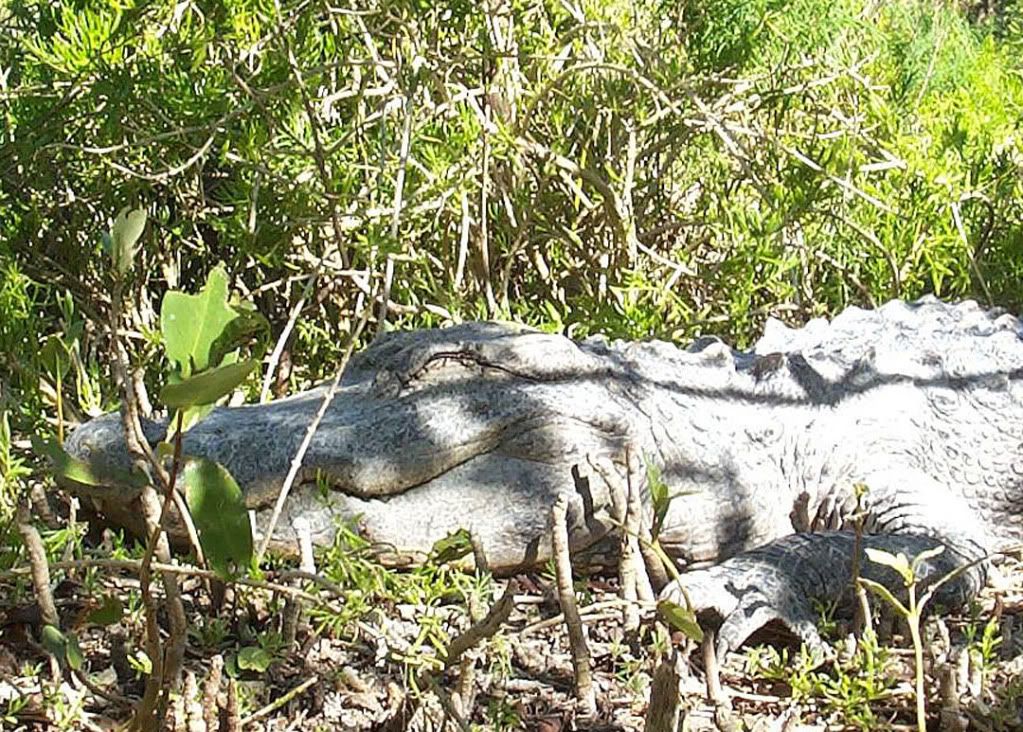 Rain, wind, and lightning storms were a daily weather diet. Forget about catching fish; although we did manage dinner and fishing entertainment as noted above.


A storm passing over from the northwest.

Middle Cape (4 mi distant) can be seen on the horizon at middle-left of picture. Note the pilings, which might have been part of a fishing camp before the area became a national park on Dec 6, 1947. One ranger thought the pilings were a vestige of a pre-1947 cattle grazing operation.

Day 3: A storm approaching from the southeast.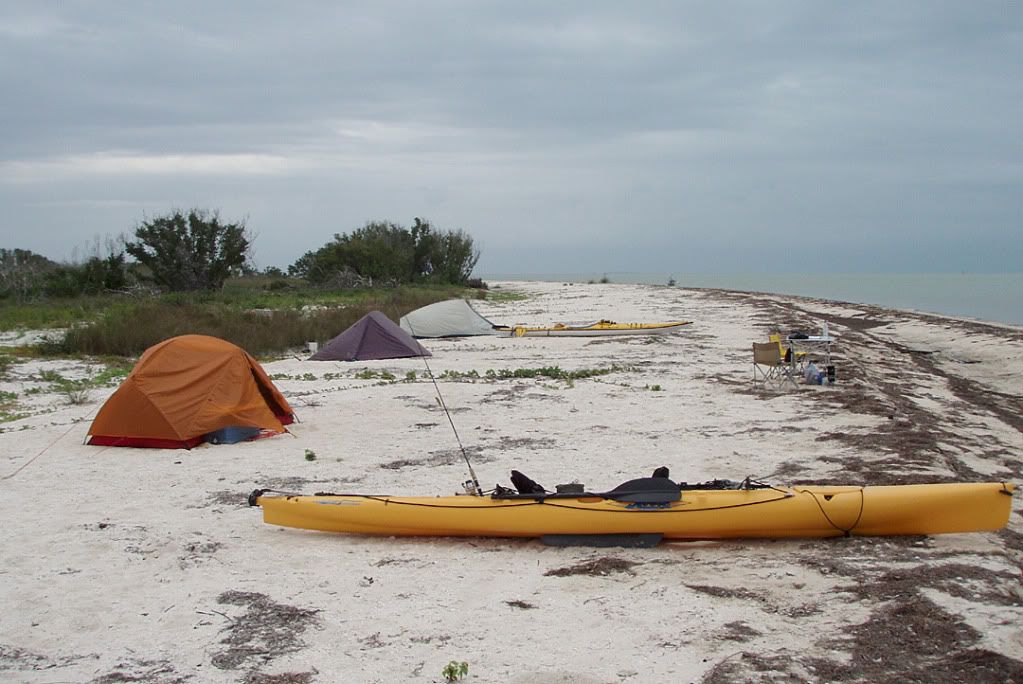 Day 4: Preparations to leave ECS.




Alex and Lou.

Rob had to go back to Flamingo on Day 3.

More beaches of East Cape Sable.




Marked channel into Flamingo Marina.

Storm clouds gathering over the interior of the Everglades.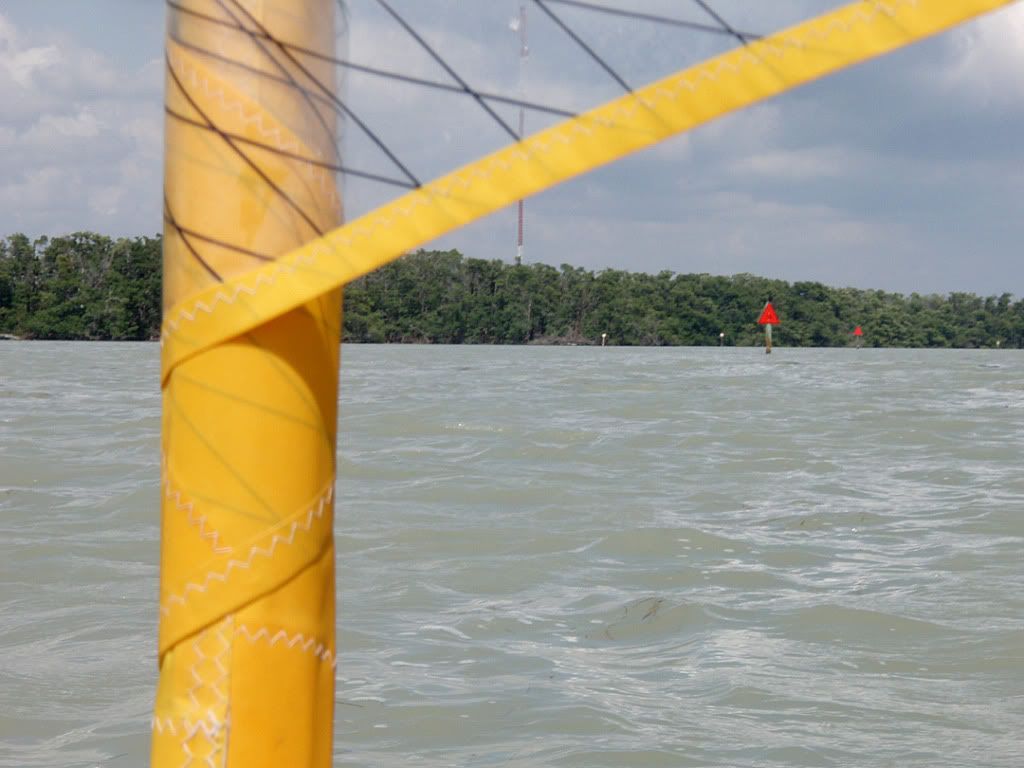 Flamingo Marina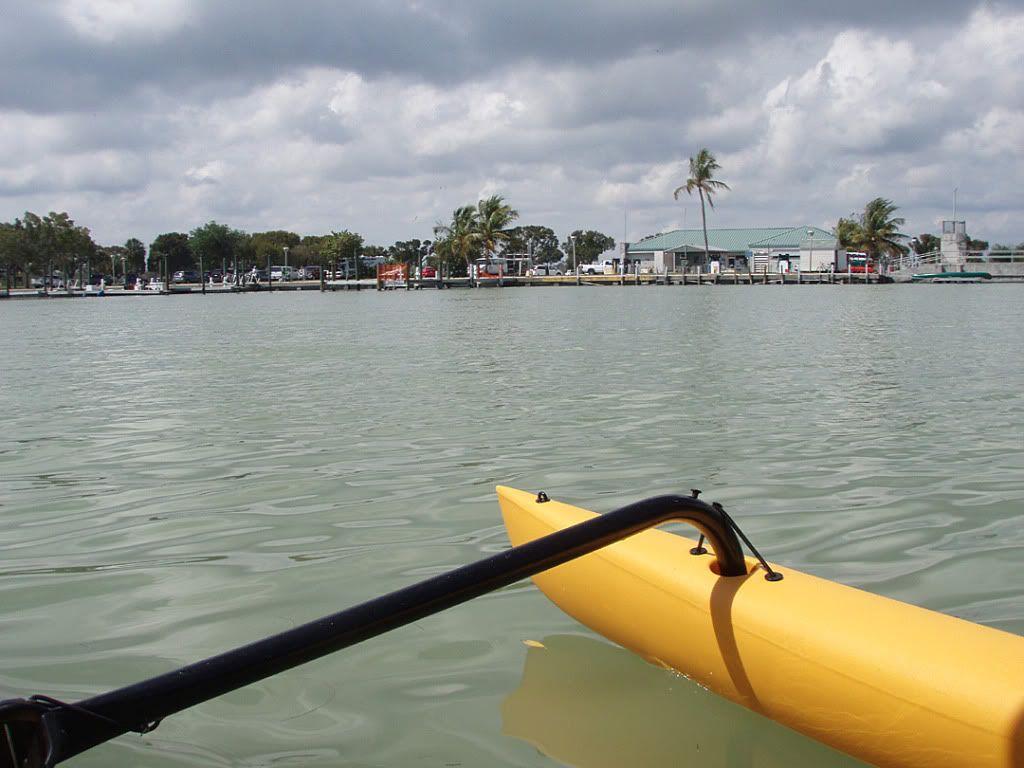 Flamingo Ranger Station





Concluding Comments.





The good:

My Adventure Island performed flawlessly. All electronic equipment (GPS, VHF, SPOT, cell phone, and camera) worked fine and survived trip. No mosquitoes. Moderate temperatures. Good entertainment between catching fish for dinner, crocs, and sharks. Alex returned from his day-long side trips. Good companions. Lots of laughs.



The bad:

Generally poor fishing due to continuously changing, stormy weather. Not shown anywhere in these pictures are the hordes of noseeums (biting mites) we encountered at ECS. Noseeums can turn a trip in south Florida to a trip in Hell. You must be prepared.

Pray for wind.

Your tent must have noseeum mesh. Position your tent door to have maximum exposure to the wind.

Pray for wind.

Have a head net handy (noseeum mesh). I carry a full noseeum mesh bug suit. Have a long-sleeve shirt and long-legged pants. Wear socks to tuck in your pants. Use your paddle gloves and tuck your sleeves into the cuffs. Spray exposed skin and scalp with 18-25% DEET.

Pray for wind.

Noseeums disappear about 10 am and return mid to late afternoon. Noseeums live in sand. They are always present on beaches, but they are minimal in the cooler months of Dec-Jan-Feb. Never duck for shelter from the wind. Instead,

pray—pray for wind.





Hull leakage:

Despite further tightening of screws and silicone caulking of suspected leaks, I had the usual gal or 2 of water in the hull at the end of Day 1. I had little water in the hull on the return trip which was under milder wind conditions. (Since writing these comments, I have concluded that, when all holes into the hull are sealed and screws are tightened, the final source of significant leakage is the Twist-n-Seal hatch covers. If these covers are cleaned and the black o-ring regularly lubricated with silicone grease and seated so the beveled edge properly seals, leakage can be minimized—about 1 quart in a typical day.)

Keith




Quote:

Because of this thread length, I have made a

Table of Contents

. This

Table

is on P. 22, http://www.hobiecat.com/forums/viewtopic.php?f=70&t=7276&start=315