---
As some of you can no doubt recall, I once got swept 6-7 miles out to sea after breaking a rudder line in my TI. I subesquently fitted external steering lines, but on a recent overnight trip offshore, broke two rudder pins, a problem which my external lines couldn't solve. Fortunately Rob Saunders "rescued" me by fitting a spare pin (twice).

So I have been searching for a truly redundant solution, and then Cavendish hit the nail on the head, with an emergency rudder! So I have knocked together a diagram of such a solution, as below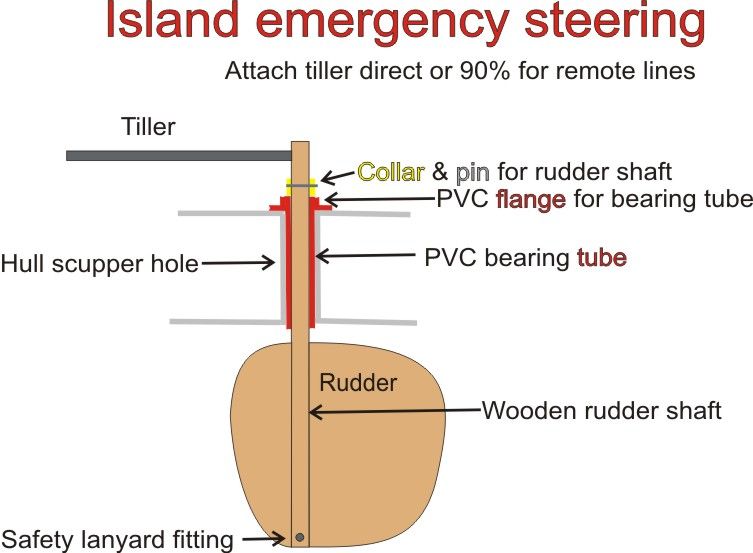 A few observations

As it would only be for emergency use, you could probably get away with having to bolt the rudder blade onto the shaft (using wing-nuts) and put up with the extra drag.
I reckon a safety lanyard on the bottom is good insurance for when you are inserting the rudder from below.
I included a PVC "bearing tube" with glued on PVC collar to avoid any possibility of wear to the scupper tube... Far less an issue to fit a new bearing tube...
The collar at the top of the rudder shaft hold the rudder up, and its bottom (and the rudder shaft itself) could be waxed etc for minimal friction.
The amount of rudder shaft protruding at the top is entirely optional, and I could even envisage two tiller mounting holes, one at right angles for steering by lines (see below) if solo in the front seat of a TI, or pointing directly forward for steering by hand (in an AI or back seat of a TI)
To hook up for remote steering, I would do what I have on my external setup (which will no longer be needed once I fit this emergency rudder system). A bungee cord leads back to a block, and then links to a line going forward to a clamcleat by the seat, for adjustable tension (eg rudder will swing full right unless tension applied to the other line). Another line goes forward to another cleat. So steering direction relies on the tension applied to the latter cord. Easier to demonstrate than describe.

I reckon something like this is a winner if you really want to minimise risk of really offshore trips, when reaching land is not a foregone conclusion.

Love to hear reactions please.