---
mmiller wrote:

... We list crew size simply as a guide for most likely use. ...



If the sticker is meant as nothing more than a guide it's a really, really bad idea to specify only two people because it will cause significant problems for your customers and it will unnecessarily restrict the use of the TI and AI. Coast Guard requirements (http://www.uscg.mil/d1/prevention/navinfo/navinfo/documents/b-boating_safety.pdf) exempt capacity plates on sailboats and kayaks, but if a capacity plate is present it's generally not permitted to remove it and local and state law officials will often enforce it. Federal law does not enforce the limits imposed by capacity plates but State and local laws can and often do.

I've been boating for over 30 years in three states and have been stopped many times on the dock and on the water by local and state law enforcement, never for anything more than very minor issues or inspections. In my experience they

always

take note of the boat's capacity plate and whatever it says is what they enforce. If the sticker lists a total of two people, there better not be more than two people on board or your day of boating is probably over. They never look at the "or", the weight limit is taken as a secondary value for the total weight of the crew and gear. I don't blame law enforcement for this, they need to use something to determine the boat's safe capacity limits and the boat manufacturer's capacity plate is all they usually have to go by. It's the responsibility of the boat manufacturer to get it right.

Hobie's ads often show additional passengers on the tramps or in the boat (often children but also adults) indicating that they clearly sanction, suggest, and encourage such use: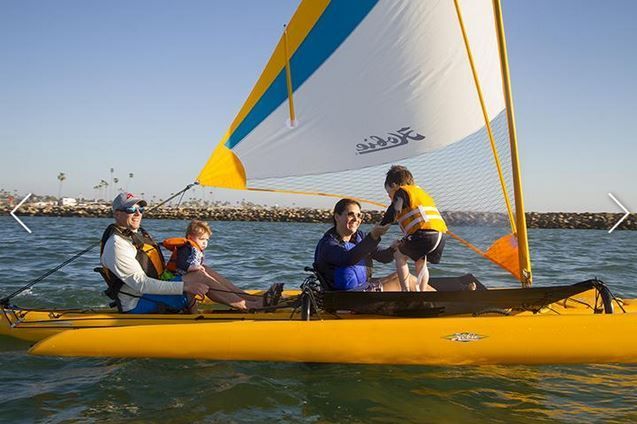 (Above photo from the 2015 Hobie TI web site)



This is fine since the boat can hold up to 600 pounds. So why then does Hobie list only two people on their capacity plate leaving their customers open to unnecessary restrictions by law enforcement??? If the sticker simply said 4 people or 600 pounds maximum there would be no problems when we're stopped.

So Hobie, which is it? Can the boat handle more than two people or not? If yes then

please

list 3 or 4 people on the capacity plate. If not then you should never show more than 1 or 2 people in photos depicting the use of an AI or a TI respectively because that is clearly misleading as to the suggested use of the boat. What if a family of two parents and two children pays $6,200 for a new TI based upon the above photo only to find out that law enforcement sends them back home at the dock? Hobie either needs to apply a capacity plate with the actual acceptable crew capacity or properly depict the suggested use of the boat, they cannot be contradictory. It has to be either one or the other, you cannot have both.