Serial # 316527 – C-4
Price: $660
Like the Circa 71, the C-4 is a progressive take on the fish design. Towards the latter half of the 70s, significant wave-riding designs began to develop. Foremost was the shaping of Ben Aipa, and the progressive "rubberman" surfing of Larry Bertlemann. Aipa had designed a unique single fin with a swallow tail, named the "Sting". Most notable was the Sting's rail "bump" halfway, or close to the board's tail section. This bump allowed the board to break the water, as if it were a fin, and add greater bite to its turning radius. In the C-4, we've added four bumps along with a quad fin setup. With these pivot points the C-4 packs a greater punch than the Circa 71. Rip, shred, tear, and lacerate!
5-Fin-Airbrush: T&B mango w/ darker rails; diamond tail 5 Fin: shaper Gary Larson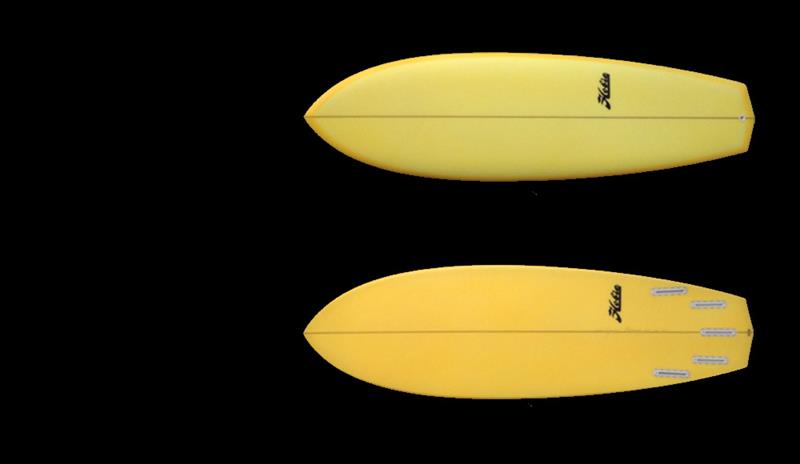 Specifications (Range)
Length: 5'11
Width: 21
Thickness: 2 1/2
Options
Stringer(s): 1/8 Redwood
Top Glass: 6oz + 4oz
Bottom Glass: 4oz
Fins: Custom
Buy This Board
To purchase this board or to inquire about making a custom board please either fill out the form below or contact us at (949) 481-6381 and a Hobie Surfboards representative will be happy to walk you through the process.
* This information is used only for sales inquiry purposes.