Serial # 317990 – Uncle Buck
Price: $1135
Just for a moment, remember why you started surfing: the water, the energy, the fun, the freedom of flying, unencumbered by…, whatever was left on the beach. That's the Uncle Buck, fun, freedom, and passion; and you, drunk with joy and lusting for the next wave. When ridden, the Uncle Buck exhibits a commanding presence. Its flat entry rocker makes it a wave catcher. So much so, your wave count becomes an orgy with gluttony, like going on a three day bender. The front third of the hull is a spectacle of delight with its deep linear, blended concave, offering up the thrills of flight, while the pinched 50/50 rails provide unparalleled fusion with the wave face. Built with classic weight foam, a distinctive T-Band stringer, and volan fiberglass, the Uncle Buck promises lasting devotion.
Tint: T&B clear plus blue & red hotcoat deck panels / Shaper: Michael Arenal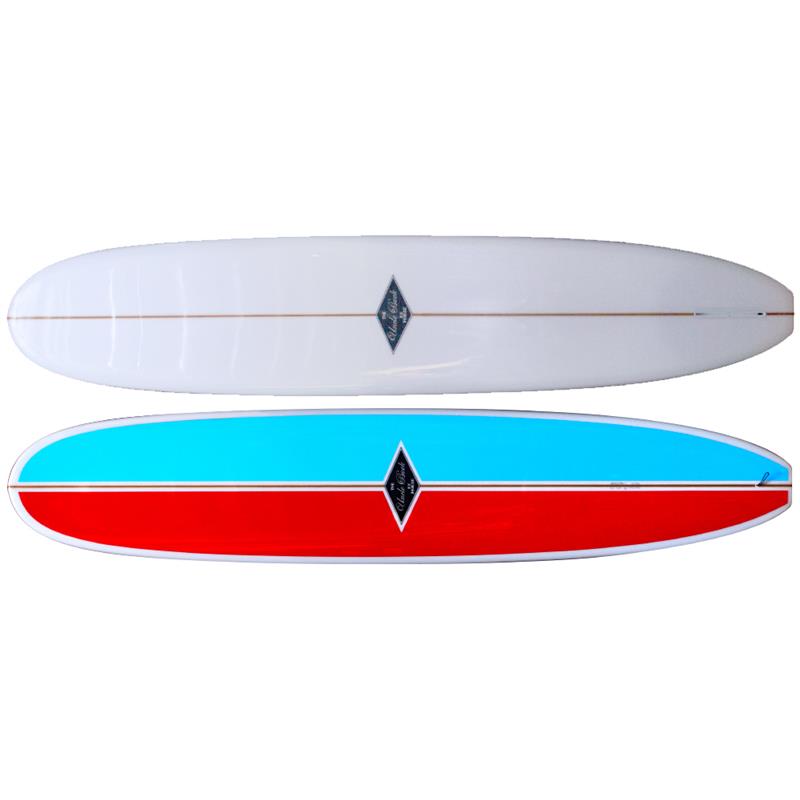 Specifications (Range)

Length: 9'8"
Width: 23 1/2"
Thickness: 3 1/8"
Options

Stringer(s): T Band 1/8" Bass + 3/16" Cedar + 1/8" Bass
Top Glass: 6oz + 6oz
Bottom Glass: 6oz
Fins: Long box - White
Buy This Board
To purchase this board or to inquire about making a custom board please either fill out the form below or contact us at (949) 481-6381 and a Hobie Surfboards representative will be happy to walk you through the process.
* This information is used only for sales inquiry purposes.