Serial # 318071 – Corky 64
Price: $1495
Hobie Surfboards has hosted many of surfing's greats, from Phil Edwards, Mickey Munoz, Mike Hynson, Joyce Hoffman, and Gary Propper, to honorable mentions Linda Benson, Bill Hamilton, Joey Cabell, Renny Yater, Butch Van Artsdalen, Eddie Akiau, Dick Brewer, Mike Diffenderfer, Del Cannon, and Terry Martin. But it was Charles "Corky" Carroll, the flamboyant, hot-dogging goofy-foot who captured, captivated, and messaged the spotlight. Former SURFER editor Jim Kempton said of Corky, "…he's been cheered and booed, reviled, honored, laughed at, accused and credited with everything from defiling the name of surfing to inventing the career pro surfer." "I thought Corky was one of the best surfers at the time. Really high performance. He was really important to us," related Hobie, and paid him $400.00 per month just to surf, announcing the era of the professional surfer -- another Hobie first. Most would agree, Corky, with his uninhibited charm, wit, and razzle-dazzle boggie was the most dedicated competitor of his era, having won or placed in every major surfing completion from 1963 to 1972. The Corky 64, with its distinctive appearance of a redwood center stringer and stringer offsets consisting of (the rainbow's your palate) a high-density foam T-banded with balsa wood is a gem. Think of it like this: a nose-riding friendly Phil Edwards model; as fast as a Phil, but with a bit more tail rocker for those extended, full trim, total involvement noserides.
Tint: T&B volan plus volan deck and tail patches / Shaper: Gary Larson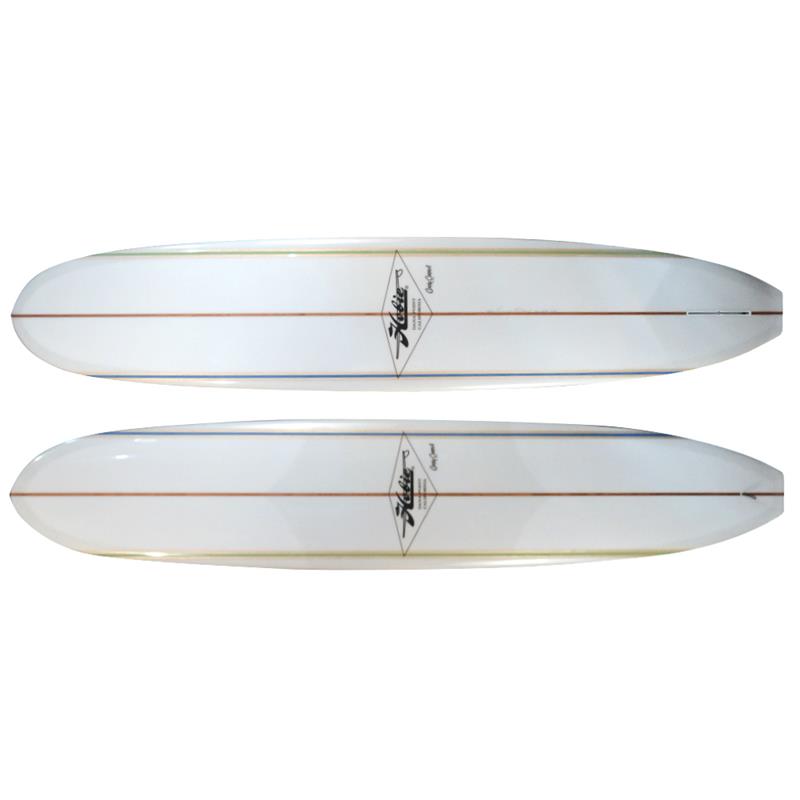 Specifications (Range)

Length: 9'8"
Width: 22 1/2"
Thickness: 3 3/16"
Options

Stringer(s): 3/8" RW + (1) T-Band 3/8" Balsa + 3/8" Blue Foam + 3/8" Balsa 8" out (Right Side Deck View) + (1) T-
Top Glass: Custom
Bottom Glass: Custom
Fins: Long box - White
Buy This Board
To purchase this board or to inquire about making a custom board please either fill out the form below or contact us at (949) 481-6381 and a Hobie Surfboards representative will be happy to walk you through the process.
* This information is used only for sales inquiry purposes.