Serial # 318369 – Floppy Disk
Price: $870
Trippin' forward into the past. The renaissance of the riding everything maxim just keeps getting better. The forms and fantasies, along with the historic styles – think Bertlemann and Buttons – in stark contrast to today's more austere forms and utility of the high-pro shortboard – lend to a creativity sorely needed in today's prosaic view. Like an old friend found again, this six-foot, two-inch, single-fin breeds familiarity and joy. Inspired by a treasured, time-worn, sunburned and broken, '70s rider, it lives up to the creativity and impact of the time, along with a few modern twists; a melody-blending of eras. Like the original it's a volume packed board, featuring a beak-nose and soft entry rocker for paddle ease and early wave entry, along with a flat, Brewer-like deck and full rail. The bottom, from nose to midway is flat, flowing into a double concave and spiral-vee off the tail. A groovy reenactment of a special board and a special time.
Tint: B&R olive tint plus double black deck pin-lines / Shaper: Michael Arenal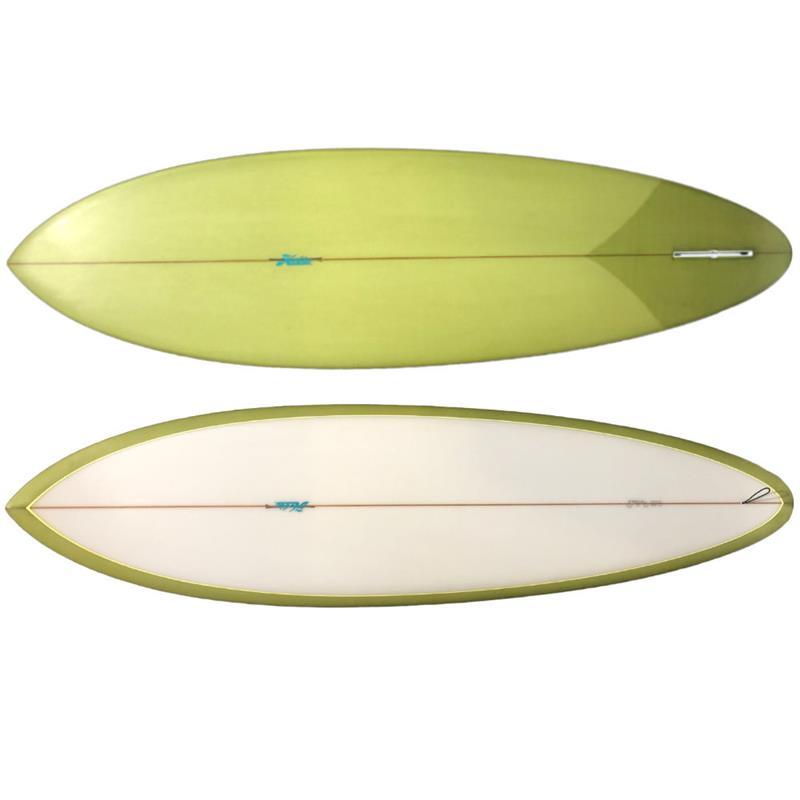 Specifications (Range)

Length: 6'8"
Width: 21 1/4"
Thickness: 3"
Options

Stringer(s): 3/16" DW
Top Glass: 6oz + 4oz
Bottom Glass: 6oz
Fins: Long box - Black
Buy This Board
To purchase this board or to inquire about making a custom board please either fill out the form below or contact us at (949) 481-6381 and a Hobie Surfboards representative will be happy to walk you through the process.
* This information is used only for sales inquiry purposes.