Serial # 318388 – Harmony
Price: $1295
The Makala/SEEA surfboard is a uniquely American design with an Australian twist, like a flamin' hot Bloody Mary -- spicy! The MS/SEEA rocker comes from the Hobie classic, Uncle Buck and is infused with the Aussie blueprint of a pulled-in nose and the curviness of that lands late 60's longboards. Hobie shaper Michael Arenal says of this U.S./Aussie fusion, "the combination of balanced foil and flat bottom with the 50/50 rail creates a stable predicable [ride.]" Perfect for nose-riding. The board carries a balanced volume from nose to tail, while the softly blended nose concave smoothly transitions into a flat bottom (think speed) that rolls into 50/50 rails nose to tail. The centered wide-point eliminates the wild, bucking bronco feel of the traditional hippy, wide-point behind center surfboard while maintaining the sensuous appeal of the outline. There's only 50 of these special edition MS/SEEA, HOBIE SURFBOARDS being made, order yours today.
Tint: B&R white opaque w/ vintage fabric deck patch (8+6oz/8 oz) / Shaper: Michael Arenal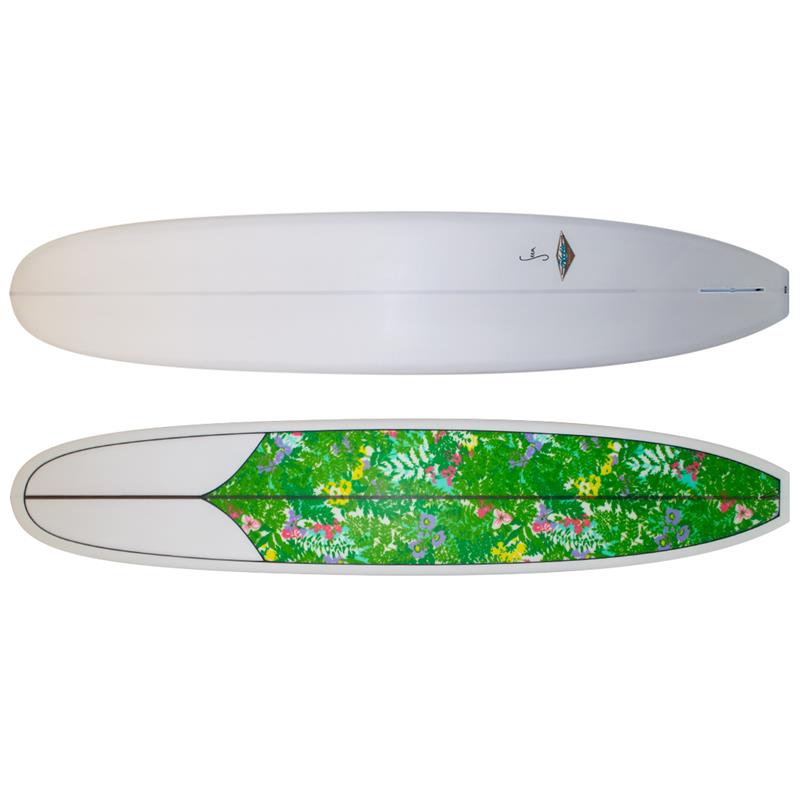 Specifications (Range)

Length: 9'6"
Width: 23"
Thickness: 2 15/16"
Options

Stringer(s): 1/2" DW
Top Glass: Custom
Bottom Glass: Custom
Fins: Long box - White
Buy This Board
To purchase this board or to inquire about making a custom board please either fill out the form below or contact us at (949) 481-6381 and a Hobie Surfboards representative will be happy to walk you through the process.
* This information is used only for sales inquiry purposes.