Serial # 318735 – Maki-V
Price: $1125
Long before surfing was a mainstream sport, and just another corporate venture, it was an art; a declaration of a way of life, and a liberating means of self-expression. Surfing was regarded as physical form of jazz, rebellious yet graceful, strangely poetic. The Hobie Surfboards MAKI-V is a return to those unrestrained times. The MAKI-V is a modern translation of the Aussie design genius, Bob McTavish's ground breaking "Plastic Machine." The MAKI-V's design incorporates a flattish, rolled entry rocker running into a compact speed zone and turning position under foot, producing spontaneous acceleration. The "panel vee" and hard rail in the tail efficiently transfers your down-the-line momentum, created from the speed zone, into vision-blurring turns with maximum maneuverability.
Tint: B&R Flower Power tint w/ black pin-line / Shaper: Michael Arenal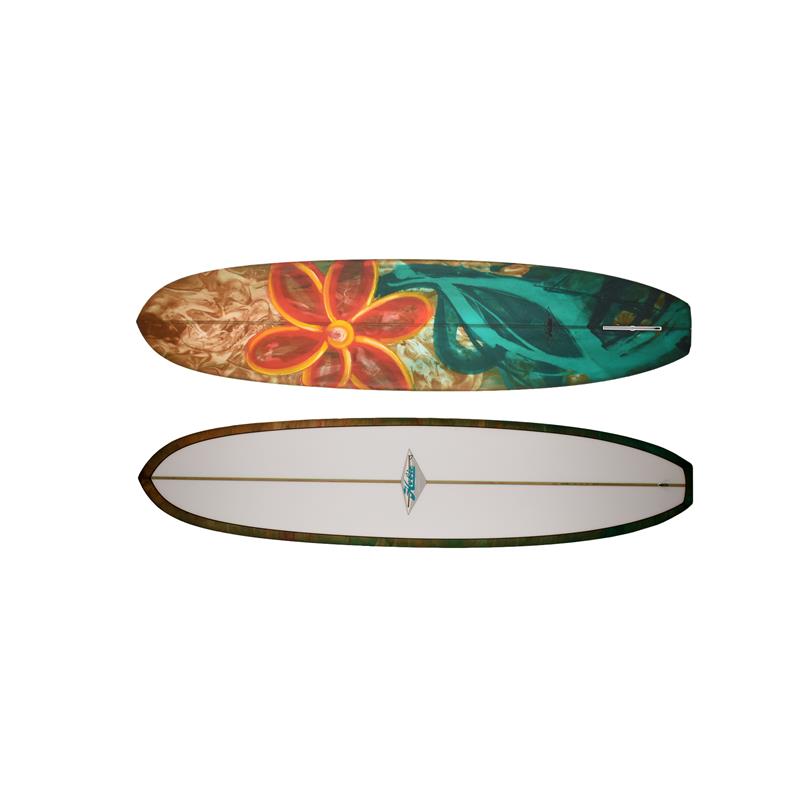 Specifications (Range)

Length: 8'0"
Width: 22 1/2"
Thickness: 3 1/16"
Options

Stringer(s): T Band 1/8" Grey Foam + 1/4" CD + 1/8" Light Green Foam
Top Glass: 6oz + 6oz
Bottom Glass: 6oz
Fins: Long box - White
Buy This Board
To purchase this board or to inquire about making a custom board please either fill out the form below or contact us at (949) 481-6381 and a Hobie Surfboards representative will be happy to walk you through the process.
* This information is used only for sales inquiry purposes.