Serial # 318012 – Honolulu
Price: $1050
In the early sixties, Dick Metz and Hobie Alter partnered to form a Hobie Surfboards presence on the Hawaiian Islands. The Honolulu Store, as it would be named, became a legitimate rest-stop for surfers on their island pilgrimage. Having surfed Hawaii, both Metz and Hobie understood that Hawaiian conditions were unique and apart from any other place on earth. Only through experience in the steep drops and fast sections of select reef breaks could one prepare for what lies in the abbeys of big surf. The Honolulu Model is our modern take on the late sixties designs that would have populated Ala Moana, Chun's Reef, or Haleiwa. Its slender outline and thumb tail design provides ultimate speed and mid-board reactance. Plus, with such modern advancements as vee and hard-edges, the Honolulu can put you where you want to be on the wave face. Do you want to noseride deep in the pocket? You can! Do hard bottom turns or cutbacks excite you? Do it! The Honolulu is your single-fin wizardry, ready for your next electrifying journey!
Tint: T&B clear plus volan patches / Shaper: Michael Arenal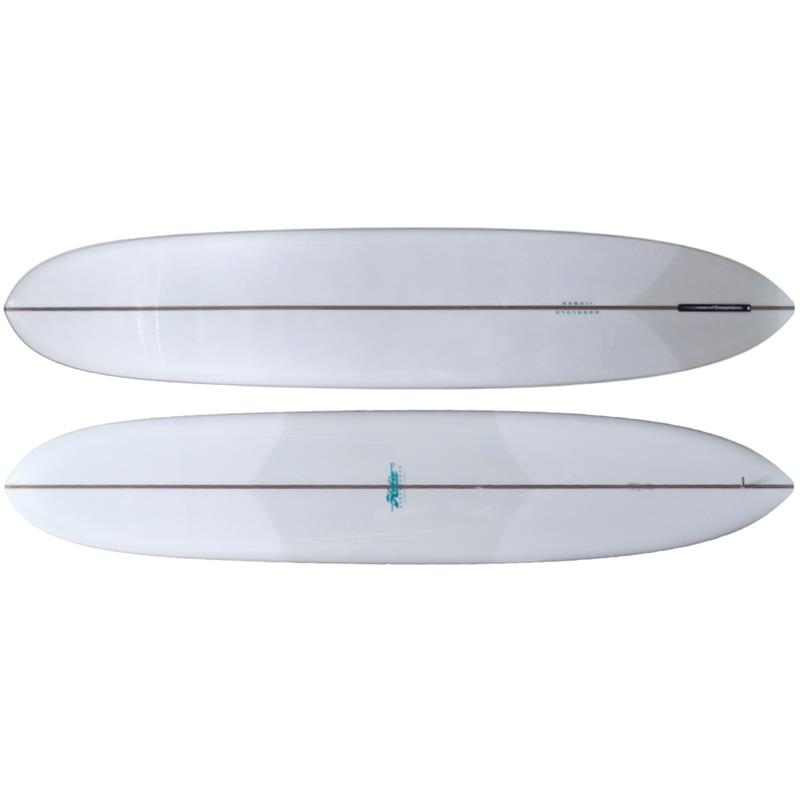 Specifications (Range)

Longitud: 9'6"
Ancho: 22 1/2"
Grosor: 3"
Options

Stringer(s): T Band 1/8" CD + 3/16" Grey Foam + 1/8" CD
Top Glass: 6oz + 6oz
Bottom Glass: 6oz
Fins: Long box - Black
Buy This Board
To purchase this board or to inquire about making a custom board please either fill out the form below or contact us at (949) 481-6381 and a Hobie Surfboards representative will be happy to walk you through the process.
* This information is used only for sales inquiry purposes.