OCEANSIDE, Calif. (November 13, 2020) - There will be more on the line than the ultimate event title at the prestigious Hobie Bass Open Series (B.O.S.) Anchored by Power-Pole: 2nd Annual Tournament of Champions (T.O.C.) when an elite fleet of kayak anglers swarm Knoxville's famous Tennessee River bass waters this coming weekend. Also at stake will be Hobie's highly coveted Angler of the Year (A.O.Y.) Championship, which – in addition to recognition for superior performance throughout the season series – comes with significant cash and product prize packages, plus a heaping serving of personal pride.
"It's an award these kayak anglers take very seriously," says B.O.S. Tournament Director, A.J. McWhorter," and you can bet those in the running will battle it out through the final seconds of the T.O.C. to try and come out on top. Several anglers have been locked in a close race all season long for the A.O.Y. points lead, but it's still anybody's game heading into the final event of the year. Anglers have been competing for the 48 guaranteed spots in the T.O.C. since the opening B.O.S. event on Lake Seminole back in February, but the A.O.Y. honors are going to have a nail-biter finish as many of the top names in kayak bass fishing remain in the hunt."
Hobie's Angler of the Year standings are based on the culmination of points earned from an angler's top three B.O.S. open event finishes during the current season, plus their T.O.C. performance. The Top 100 anglers in each of the season's nine open tournaments receive points starting at 100 for first place and decreasing by a point for each additional place (i.e., 99 points for second place, 98 points for third, etc.). Extra points are awarded for catching the largest limit or biggest bass of the day for an angler's counted events. Any ties for A.O.Y. honors will be broken by the angler with the highest finish in the T.O.C.
This year's A.O.Y. prize package includes $5,000 cash plus a fully rigged, custom-colored, orange and black B.O.S. camo Hobie Mirage 360 Pro Angler 14. This super package is worth over $6,500 and comes outfitted with a Power Pole, Lowrance Unit on a Scotty base, and Dakota Lithium batteries. The second-place finisher will receive $3,000 plus a prize package, while third place will earn $2,000 and a prize package. The top A.O.Y. finisher also receives an invitation to the Hobie Worlds 10.
Leading A.O.Y. scoring heading into the T.O.C. are an all-star cast in kayak-fishing history. Jody Queen, the reigning T.O.C. champion, who has already qualified for Hobie Worlds 9 and 10, is in the top slot with 298 points while Rus Snyders (297.6) and Drew Gregory (294.1) are seeded second and third. Closely following this formidable threesome are Cody Milton, one of the top anglers in the country, former Kayak Bass Fishing National Champion Kurt Smits, Eric Siddiqi and Ron Champion. All have scored between 285 and 282 points.
"If you look down the leader board," says McWhorter, there's a ton of anglers breathing down the necks of the leaders. Jaxton Orr, Guillermo Gonzalez and Jason Broach all have more than 274 points and remain within striking distance with a top-shelf performance. Anyone in the top ten is still clearly in the game."
For Queen, 55, a full-time professional kayak bass angler, a second T.O.C. crown combined with A.O.Y. honors would be especially sweet. "The B.O.S. series is so competitive," he says. "Nobody gets a free pass here. Mike Iaconelli entered the Susquehanna event back in August and finished 12! Imagine that."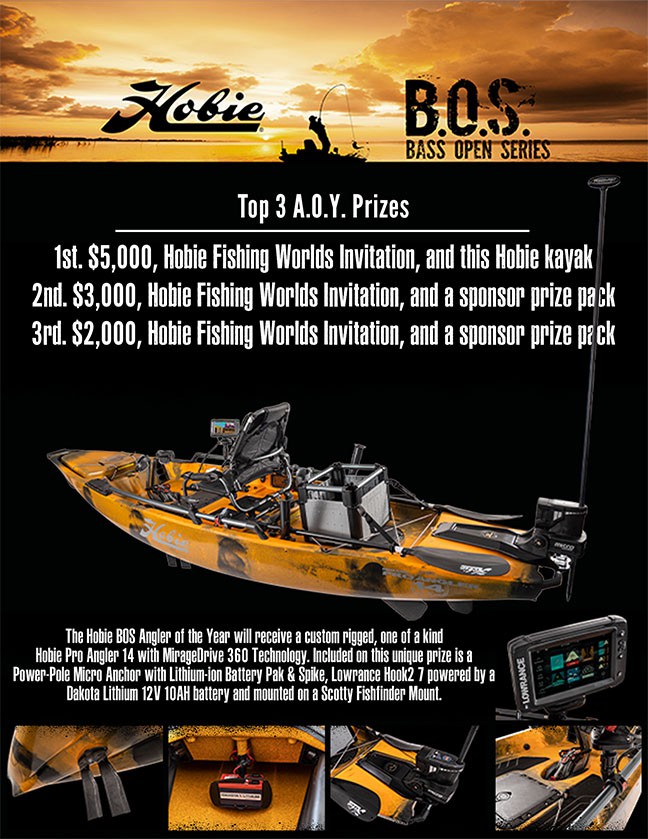 Queen, it should be noted, won both the Susquehanna (112 anglers) and Kentucky Lake (129 anglers) events, and finished third at Lake Dardanelle, to amass his leading A.O.Y. point total. It was in that last event that he managed to edge out Snyders for third place in the tournament and position himself at the top of the field heading into this weekend's final match.
Holding down the second spot in the A.O.Y. standings, Snyders strung together victories at the Lake Fork (155 anglers) and Mississippi River (84 anglers) events, and a fourth-place finish at Lake Dardanelle, to fend off the hard-charging Gregory. The latter conquered the field at Lake Dardanelle and finished fourth at both the Susquehanna River and Coosa River events to secure his third place A.O.Y. standing.
While all three A.O.Y. point leaders have a way of making things look easy on the water, each had to overcome stiff competition and concerns to persevere and finish atop the field. On Kentucky Lake, Queen managed to scratch out a win on Day 2 after putting down his soft plastics and switching to a Z-Man JackHammer™ ChatterBait® with about an hour to go in the tournament. That resulted in two additional fish – one that measured 18" and the other stretching the tape to 19.25" to seal the last-minute victory. For Snyders, the Lake Fork event – the largest field ever assembled for a B.O.S. competition – was stacked with heavy hitters, and featured a significant number of local anglers who were intimately familiar with the lake. At Lake Dardanelle, Gregory needed a lunker in the last hour-and-a-half of competition and responded with a 21-inch brute. That fish, he recalled, exploded on his Whopper Plopper after a smaller bass shook it free while being retrieved."
"Some days it helps to have a little luck on your side," admits Gregory. "That lunker lifted me into first place for the event and also scored as big bass for the day, so here I am among the top three in the A.O.Y. standings, ready and rearing to go."
As far as game plans for attacking Knoxville's famed waters which contain a mix of largemouths, smallmouths and spotted bass, Queen hopes to establish a jig or spinnerbait smallmouth pattern because those are his favorite bass to target. If he can't get the bronzebacks going, he'll switch over to lake fishing for largemouths and target weed beds with a Z-Man JackHammer™ ChatterBait® or Z-Man Mag FattyZ™. "I figure it is going to take 85" to 86" of bass each day to get the T.O.C. win and wrap up A.O.Y honors, so I plan to go at it real hard right from the start."
Snyders, on the other hand, intends to keep an open mind heading into the competition. "I've struggled a bit during a few practice sessions there in recent weeks, so I'm planning to be prepared for anything. It's been hot leading up to the T.O.C., which has dulled the bite, but there are a couple days of rain in the forecast and cooler weather is on the horizon. I'm hoping that changes things up. Either way, I'll be ready. I'm bringing a full arsenal to make it happen."
Gregory, meanwhile, plans to concentrate his efforts targeting smallmouth bass in the river stretches. "I'm going river bassing. That's my strong suit," he states. "There's three rivers within the boundaries for this event, the French, the Broad and the Tennessee. I'm hoping there are enough quality smallmouths in at least one of them to compete with the largemouths of Lake Fort Loudon and Lake Tellico. I'll throw the new Z-Man ChatterBait® WillowVibe™. It has a smaller profile and tighter wobble than other chatterbaits because its blade is shaped like a willow leaf. I think a small lure and tight action might be just what the smallies will want this time of year in that cool, clear water. I might throw a spinnerbait as well. Either way, I'll be fishing seriously but keeping it fun."
The 2020 Hobie Bass Open Series (B.O.S.) Anchored by Power-Pole 2nd Annual Tournament of Champions (T.O.C) is the final stop on Hobie's celebrated kayak bass fishing tour. To make the cut, anglers had to compete in at least one of nine two-day Hobie Bass Open Series (B.O.S.) Anchored by Power-Pole: open events and/or the single-day B.O.S. Shootout, scheduled for November 13. These events, spread across the country, allow the 50 top anglers in the series based on accumulated A.O.Y. points to showcase their skills, compete for the toughest and most highly prized title in kayak bass fishing, and gain the final qualifying spot for the Hobie Fishing Worlds 10..
Total T.O.C. payout this year will be $61,000, dispersed through the top 10 anglers (or 20% of the field), including a whopping $30,000 for the first-place finisher. There's also a $1,000 bounty for Bassin' Big Bass honors, plus the A.O.Y. prizes to be awarded. All T.O.C. qualifiers will enjoy three complimentary meals and the comforts of the Farragut Community Center as their tournament headquarters. The first-class accommodations are central to everything in the Knoxville area, which provides a magnificent surrounding for family and friends to relax and enjoy the great outdoors following the competition.
Questions?
For more information on the Hobie B.O.S. Anchored by Power-Pole, or to view standings during and after the tournament, go to: https://tourneyx.com/app/tourney/hobie-bos-tournament-of-champions.
To view Hobie B.O.S. Anchored by Power-Pole Angler of the Year standings during and after the T.O.C. tournament visit: https://www.facebook.com/groups/HobieBOS/
Email us at [email protected].
Join the conversation on Facebook.
About the Hobie Bass Open Series
The Hobie Bass Open Series (B.O.S.) aims to provide a simplified, open-to-anyone format and an elite feel for kayak anglers across the country. This series is all about providing a platform for the anglers. As participation in each event increases, payouts will grow, the Tournament of Champions (TOC) will grow, and opportunities for the anglers will only increase. Coverage of the events will set a standard and continue to solidify our sport's legitimacy in the competitive fishing world to a broader audience. Are you ready to be a B.O.S. Angler? Learn more at hobiebos.com.
About Visit Knoxville
The Visit Knoxville Sports Commission, established under Visit Knoxville in 2016, is responsible for bringing tournaments and sporting events to Knoxville and Knox County. The Visit Knoxville Sports Commission has had the honor of hosting top-tier events including the Sports ETA Symposium, USA Cycling Pro Road National Championships, USA Swimming TYR Pro Swim Series, and the largest BASSMASTER Classic in B.A.S.S. history. Visit Knoxville, a 501c3 organization, is the official Convention and Visitors Bureau for Knoxville and Knox County. For more information, click here.
Our Sponsors
---