When it comes to kayak fishing, it's great to have a bucket list. That could be a new destination, a new species or a different way to target fish. Sometimes it's all three! Catching a sturgeon from my kayak has topped my bucket list for years and I couldn't finish the year without catching one.
My adventure would take me south to Portland, Oregon's industrial waterfront. The Willamette River is a tributary connected to the Columbia River and is home to some of the largest sturgeon in the world.
Though sturgeon can be found in this stretch of the river throughout the year, a larger population of fish congregate in this area in the winter months when the water is warmer than the main river and the food is a-plenty.
I would meet up with a group of 20 kayak anglers for the annual "Sturgeon Slay Ride." I was lucky to learn the ropes from a fellow Hobie Fishing Team Member – Robert Perea; also known as "The Sturgeon General."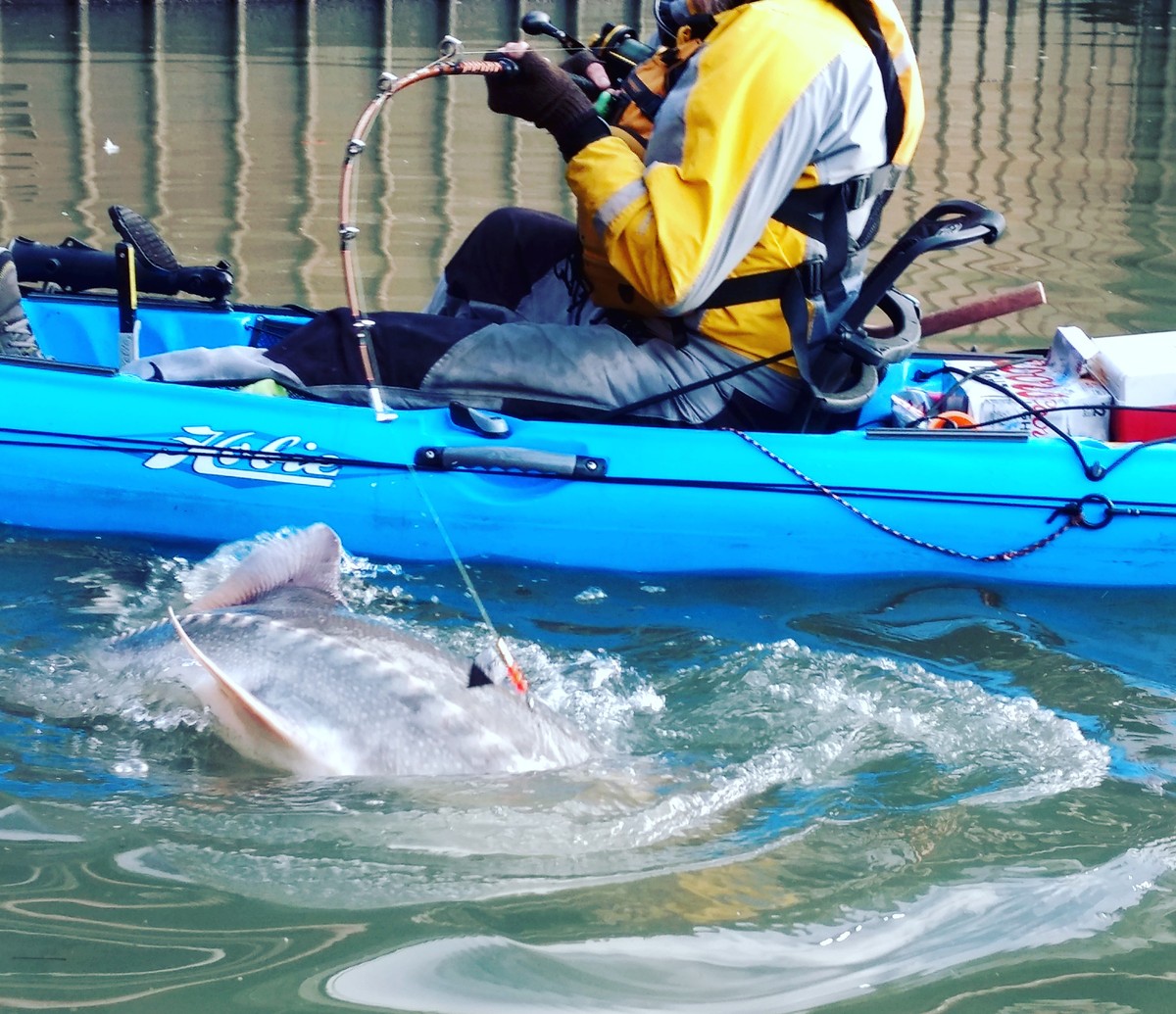 Robert has been fishing for these river monsters for a few years and he's been a great teacher to people new to the fishery. He was kind enough give me few pointers in effort to help me land my first sturgeon.
A few things worth mentioning before hitting the water. Always practice safety. That includes wearing PFD, dry suit and immersion gear. Always go with a buddy or preferably someone who has experience in this fishery. There's a good chance you may hook into a large fish and it's always good to have an extra set of hands – especially when your arms are fried from the fight…
In this stretch of the Columbia, the fishery is catch and release only using single barbless 5/0 hooks tied to a heavy Dakron leader. With little current, a 3- to 6-ounce sliding cannonball weight is enough to keep your bait still on the bottom.
You'll need a heavy weight rod with a soft tip to feel the bite and to bring them off the bottom. A level wind reel with a good drag and at least 60-pound braided line is a must. The bait can be what ever left over herring, squid or fish you have sitting in your freezer.
Double check your drag to make sure it's not over-tightened but not too loose. Lower your bait and allow it to sit on the bottom. It can be a waiting game but sturgeon have a rather subtle bite. Don't be surprised if you you feel a few fish rub against your line. The bite is often several small pecks at your bait before they pick it up. Wait for the fish to take the bait, set the hook and then hang on for a ride! Your Hobie MirageDrive 180 will become your best friend when these fish want to pull you directly into a floating barge. Put the drive into reverse, backing the fish away from any structure.
There's a good reason locals have nicknamed this area "Jurassic Park." Sturgeon are true dinosaurs and deserve to be admired and protected. Use caution when bringing smaller fish on board. Besides potentially harming the fish, there's a good chance your hands will get cut up on the fish's scutes (sharp teeth-like armor running down the sides of the fish). It's illegal to bring oversized sturgeon out of the water. It can be hard on the fish. Once the fish has tired, grab it by the inside of its mouth to remove the hook. This is a good time to snap a quick photo with the fish still in the water, allowing for a safe release.
After about six hours of fishing our day would come to an end. I would land 6 fish total, with my largest being over 7 feet long. Everyone in our group caught at least one fish – if not several. We left with smiles, sore arms and memories we won't forget.
Check back weekly for new videos and stories by the Hobie Fishing Top Guns.
---