Growing up with Cape Fear only fifteen minutes from my house I always heard two things from my dad about it, "It's dangerous, don't go there," and how fun the shad run is during the spring. It wasn't until I was an adult that I was able to experience the thrill of shad fishing. I now look forward to this run of 2-to 5-pound fish more than I do 20- to 40-pound ocean dwellers later in the year.
It's not just the shad that get my attention on the river in the spring. Striped, white, hybrid and largemouth bass are closely following to move up and spawn. In addition, catfish are moving up and eating everything they can get a hold of.
There are many species of shad. The two that will actually bite a lure and are common to our area are the American (also known as a white shad) and the hickory shad. While the two look very similar, the American is the larger. The easiest determining feature is the bottom lip sticks out farther on a hickory, whereas the top overlaps the bottom on an American. Hickory shad are commonly referred to as a poor man's Tarpon because of their acrobatic displays once hooked up, while white shad prefer to use their larger body profile to dig deep and pull with the current of the river.
The Cape Fear River has three locks and dams between Wilmington and Fayetteville and each has its own characteristics. The one closest to the ocean is a stair-step rock arch dam, while the other two are spillover dams.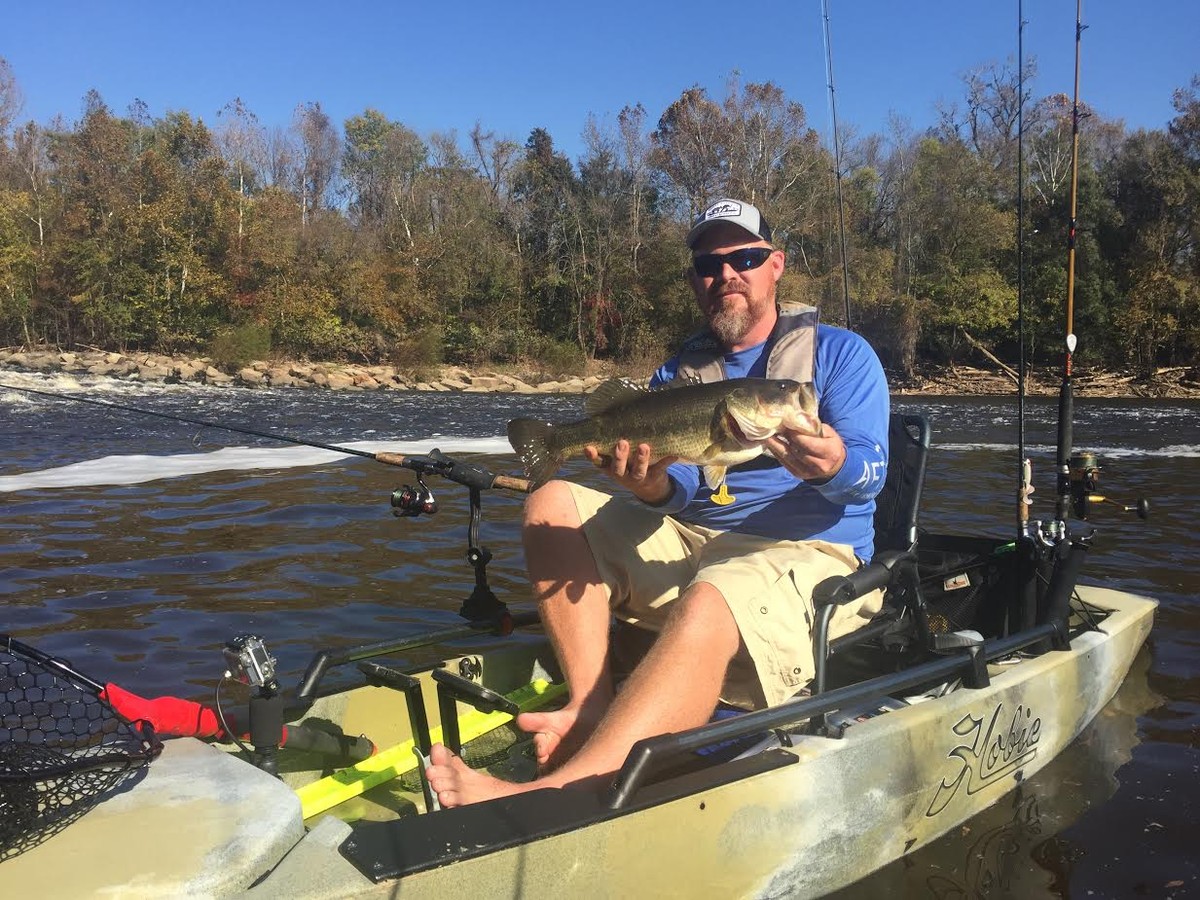 As the fish migrate upstream for their yearly spawning rituals they become slowed down by the dams and stage in strong numbers. The U.S. Army Corps of Engineers counts on the rock arches as a ladder for the fish to make their way over Lock and Dam Number 1 and locks them through at the two dams upstream. Each dam has a boat ramp less than 100 yards away from some of the best fishing southeast North Carolina has to offer throughout the spring.
When targeting the shad I like to use a 1000 series spinning reel with 6-pound mono or braid and a 7-foot light action rod. I usually tie a tandem rig of 2-inch chartreuse curly tail grubs or shad darts on a 12-pound test leader. For any of the bass species I opt for a 7-foot medium action rod and a 3000 series spinning reel spooled up with 15-pound braid. Lures of choice for these can range from 3- to 6-inch bucktails, swimbaits and curlytails with jig heads ranging from 3/8 to ¾-ounce.
On a normal day the river is running at an average of 3,000 cubic feet per second. Most boats fishing the area will anchor up but I usually like to move around and fish different areas till I find a pocket holding fish. The only time I may anchor up is if there are numerous boats in the area and I start drifting around while unhooking fish. The Hobie MirageDrive is the perfect tool for this type of fishing. I can maintain a slow pedal for several hours while staying in a prime location and on fish all day long. I like to focus on current seams, breaks and funnels coming off the dam.
Most times I will put my shad outfit in a rod holder with the line only a few feet behind the kayak while I'm casting a large swimbait. It's nothing to hook up a fish and turn around to find the shad rod doubled over with two fish on it.
Late in the season the catfish will move in and I may get a random one on my lures while targeting some of the bass species. After I catch a couple like that, I will usually put a strip of shad on a jig head and fish it like an artificial lure. It's common to catch multiple catfish in the range of 5- to 15 pounds in a matter of an hour.
This can be some of the most productive fishing in North Carolina, with nearly triple digit days not uncommon. As an added bonus, the state does shock surveys and tags some of the striper and shad with yellow ($5 reward) and red ($100 reward) tags. This fishery can be a blast for a youngster all the way up to the most seasoned angler.
Check back weekly for new videos and stories by the Hobie Fishing Top Guns.
---