OCEANSIDE, Calif. (June 9, 2020) - Kayak tournament anglers get ready: the Hobie Bass Open Series (B.O.S.) is back on track and headed for Kentucky Lake, in Calvert City, KY. It's time to string up those rods, organize your gear and ensure the hooks on your favorite bass lures are needle sharp - but you'll have to register and get on top of things in a hurry because the next stage in this premier kayak tournament series is slated for June 13 and 14.
"We're excited to be on the road again," says Hobie B.O.S. Tournament Director, A.J. McWhorter. "Kentucky Lake has provided some great catches in the past and seems like the perfect place to restart the series. Spanning over 160,000 acres, with more than 2,000 miles of shoreline, it's one of the largest impoundments in the USA. That means there will be plenty of room for anglers to spread out and practice safe social distancing. It's ideal given today's health considerations. We can't wait to crown a new event champion, three qualifiers for the Hobie Tournament of Champions (TOC), plus an angler for the Hobie Worlds 10 – kayak fishing's most prestigious international competition. Most importantly, we want to get back to hosting competitive tournaments for our amazing anglers."
Indeed, the logistics of the Kentucky Lake event will be different this year due to the threat of coronavirus. For the safety of everyone involved, the tournament will be run digitally with no official meetings, weigh-ins, award ceremonies or other gatherings. Anglers will be asked to avoid large groups after hours and to respect the precautions being taken both within the tournament and local community that allow the event to happen. Competitors will also have to sign a mandatory COVID-19 waiver. Anglers can sign-up and view complete rules here.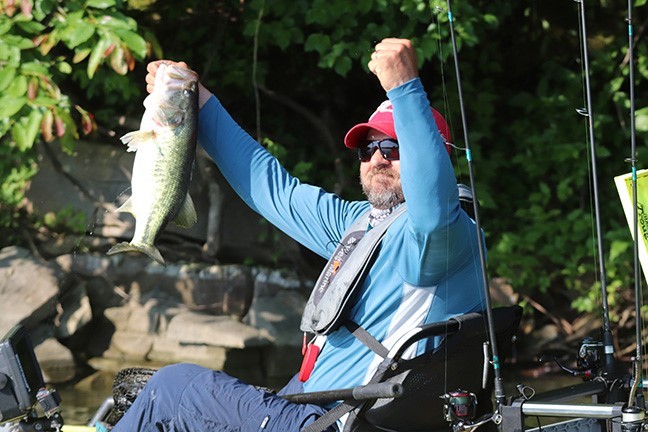 "We expect the Kentucky Lake event to be a model for how tournament series events will be run during for the remainder of the pandemic, and we are counting on staff, volunteers and our anglers to showcase that we can safely offer these events across the country while working within our format," states McWhorter.
As to the bass fishing possibilities on Kentucky Lake, they are abundant for both bigmouths and bronzebacks, so competitors should come prepared to make some choices. The lake has significant deep water, ledges, shallow flats, weed lines, rocky stretches, shoreline brush, timber and solid structure to explore. With spring transitioning into summer, most bass should be easing into post-spawn patterns.
One frequent Hobie BOS competitor that can't wait to get back out on Kentucky Lake is Kristine Fischer of Weeping Water, NE. The St. Croix pro-staffer won last year's event with a breakthrough performance in which she also qualified for the Hobie TOC and Hobie Fishing Worlds - and then went on to a tremendous summer season in which she took second place at Hobie B.O.S. Lake St. Clair, tenth place at Hobie B.O.S. Lake Guntersville, plus two first-place finishes in other national kayak fishing events.
"Being the current champion does add a little pressure to this tourney," reveals Fischer. "I'd really like to defend my title, so you can bet I'm feeling the adrenaline. Just like last year, I'll head out on my Hobie Pro Angler 14 and work hard to figure out the fish. It will be tough to repeat with such a talented field, but this is a lake where I've enjoyed a lot of success so I can't wait to get started."
Fischer points out this year's event is being held a month later than last year, and she expects that may cause her to shift focus when it comes to targeting bass. Last year, she worked shallow while pursuing a shad spawn pattern. This year, however, Fischer believes the fish will be transitioning to deeper water, so she'll work more ledges. That approach helped her finish third here in 2017.
"I'm going to split my practice time between shallow water and the ledges because it's that time of year when any bite can come into play," reveals Fischer. "In the shallows, I think swim jigs might play well as the sun gets up in the sky. I'll also throw some buzz baits or other topwater lures. For deeper water, I like Scrounger Heads and heavy Bobble Heads with big creature baits, or a large Maximus worm – oversized worms are killer on this lake."
2017 Kentucky Lake B.O.S. winner, Jay Wallen of Pikeville, KY, agrees with Fischer that this year's winning bag is likely to come from deeper water. "I fully expect it to be an offshore bite," he says. "The past two years saw good shallow-water action at these B.O.S. events, but we're a month later, the spawn should be mostly done, and my gut is telling me to get off the bank. Right now, I'll bet those bass are looking for current, cooler water, oxygen and baitfish. That means they'll set up on river ledges where the current can carry food right to them. That means they won't have to expend much energy to eat."
Wallen, who also fishes from a Hobie Pro Angler 14, recommends throwing deep diving crankbaits and digging them into shell beds that line the river channel edges where there is a lot of current. In waters with little or no current, he prefers a Carolina rig crawled along the bottom. Generally, he'll fish north of the 68/80 bridge, although he'll allow that there are plenty of bass south of the crossing as well.
"This will be an interesting event," predicts, Wallen, "and not just because of the fish. Everyone wants to win here because it means you are going to the Hobie TOC and Hobie Worlds 10, so it's really competitive. Then again, the beauty of our sport is that most of us get along. We want to see each other do well. Hobie does a terrific job of encouraging that spirit. The whole series is about the anglers and getting them exposure while keeping things fun. That mantra is reflected in the schedule, the way participants are treated, and the coverage of the series. In my opinion, it's the most elite tournament kayak anglers have right now – and yet it welcomes anybody to fish. This year will be a little strange with the Covid-19 rules in place, of course, but it's a great start on the comeback trail."
Elena Blevins, Executive Director of Kentucky Lake Convention & Visitors Bureau, is also happy to see the Hobie B.O.S. get the green light for Kentucky Lake. "We always love having the tournament here and are very much looking forward to having the kayak fishing community return to our waters. The lake has been fishing great this spring, so we anticipate some awesome catches and a truly fun experience. All of our launch ramps, hotels and resorts are open and accepting reservations. All we ask is that you come, be patient, and abide by the CDC and tournament guidelines.
"I trust all the competitors to stick to the protocols," says Fischer. "We are all rearing to go and just so happy to get the opportunity to once again fish and compete. The hospitality of the Kentucky Lake communities is unparalleled. I'm thrilled to be coming back. The people are great, there's incredible wildlife to see along the shoreline, and this event is always first class. This entire area is just a joy to fish every single year."
Questions?
Email us at [email protected].
Sign up at hobiebos.com.
Join the conversation on Facebook.
About the Hobie Bass Open Series
The Hobie Bass Open Series (B.O.S.) aims to provide a simplified, open-to-anyone format and an elite feel for kayak anglers across the country. This series is all about providing a platform for the anglers. As participation in each event increases, payouts will grow, the Tournament of Champions (TOC) will grow, and opportunities for the anglers will only increase. Coverage of the events will set a standard and continue to solidify our sport's legitimacy in the competitive fishing world to a broader audience. Are you ready to be a B.O.S. Angler? Learn more at hobiebos.com.
---