Everyone has their favorite lure, that one bait that they KNOW will bring on a bite. They are called "confidence" or "go-to" baits and mine happens to be the lipless crankbait. Not just for largemouth any more; my lipless crankbaits have produced both largemouth and smallmouth bass, plus stripers, catfish and crappie in the last year alone.
I have fished a variety of brands of lipless cranks, including the very popular Luckycraft LV-500, but my two favorites by far are the Spro Aruku Shad 75 and the Strike King Redeye Shad. Both baits have a tight wobble, super sharp hooks, great finishes and are LOUD in the water. Here are a few of the presentations that I use throughout the year with this versatile bait. I pair these lures up with a Lew's TP-1 7-foot 3-inch medium heavy, moderate action rod and a Shimano Caenan reel loaded with 15-pound Trilene 100% Fluorocarbon line.
Pause for the cause.
The most common retrieve that I use throughout the year is a varied speed start-stop pattern. By playing with how fast you retrieve and how long you pause, you will find the fishes' happy place and the pattern should stay consistent through the day. During the warmer months, I will hunt down shad balls on the surface and cast over them to retrieve right through, letting the bait pause and fall below it where bigger fish are lurking. It's that pause, that look of a struggling bait that drives many species to strike.
Mowing the lawn.
Spring and summer bring sunshine and weed growth, a perfect cover for bass and other species. As the water temperature rises, I will cast over weed patches and burn the lure just over the tops of the weeds. Snagging the weeds on every other cast is part of the game, so get used to ripping your lure out when it snags. This does two things; one, it clears the weeds off your exposed hooks and two, it can actually entice a bite as the lure looks like it is fleeing. This technique has provided some of the biggest catches of my spring and summer months.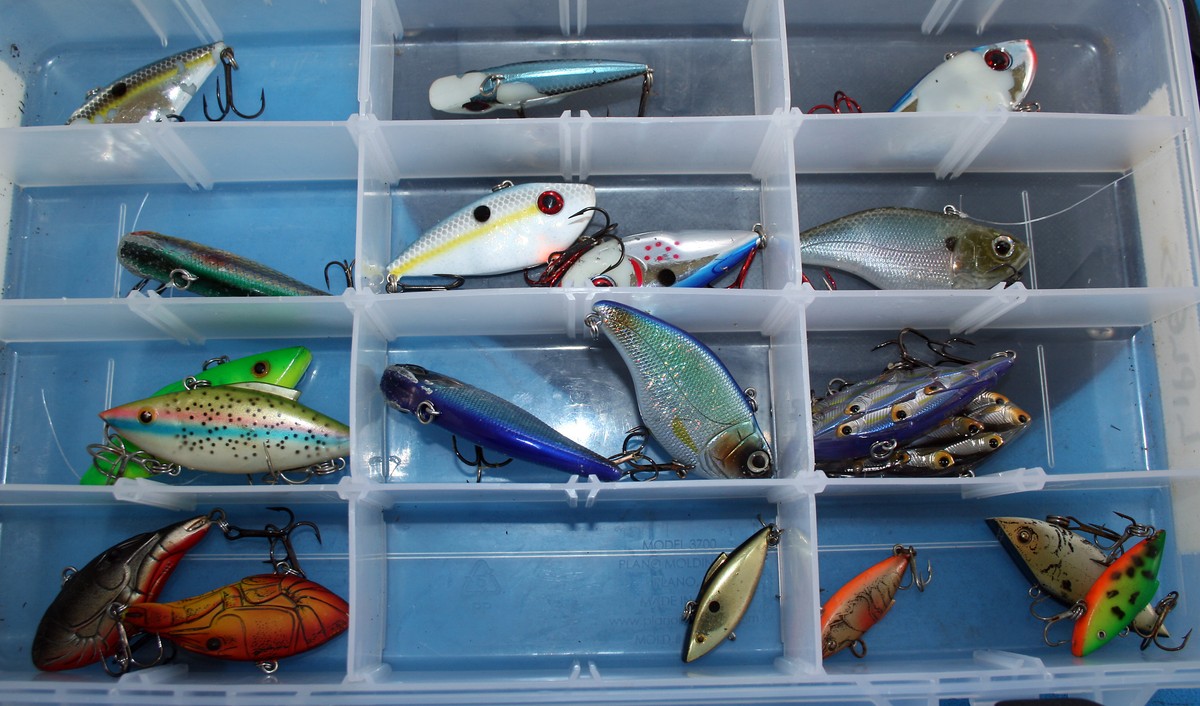 Give 'em a little lift in winter.
When winter kicks in with dropping water temps, presentations may slow down but that doesn't mean lipless crankbaits won't produce. One of the better techniques I've used in winter is a simple rod lift. Make a long cast and let your lure sink ALL the way to the bottom. Reel your line tight and then just lift your rod tip slowly from 3:00 to 12:00. Let it sink back down and repeat the lift. Your lure is basically struggling along the bottom right into any monsters hunkered down for the winter.
Vertically jig without a jig.
Vertically jigging a lipless crank in freshwater is much like the jigging techniques I use in saltwater for lingcod and rockfish. Most of the time I've either located the fish on a deep baitball or some kind of structure change on my graph. Plant yourself on top of the mark, drop straight to the bottom and then wind up a couple cranks. Then it's just a methodical series of rapid jigs and falls of the lure. This technique brought up a monster 38-inch striper last November (nice one, Matt Mayes!) and I've used it on catfish as well.
Check back weekly for new videos and stories by the Hobie Fishing Top Guns.
---