There really is nothing quite like the anticipation of opening day of a season. In Northwest Florida along the Gulf coast, there is no greater build up than the months, weeks, and days leading up to the beginning of red snapper season. As winter comes to an end and spring begins, we anxiously await the announcement of the season's approved dates.
This year, I made the decision to do my best to make this a memorable season not only for myself, but for everyone I was fortunate enough to fish with.
Just like in prior years, this year started with preparations months in advance of the announcement dates. I embraced the ritual of gathering gear for maintenance, spooling reels, organizing tackle, preparing the kayaks, and catching bait. I spent hours trolling in new areas while staring at the depth finder, which paid off greatly when I found new spots that were loaded with fish. I stayed busy making phone calls and planning trips, all while hoping and praying the weather would cooperate.
Due to the nature of offshore kayak fishing for red snapper, weather plays a huge role in not only the length of the trip, but also whether the trip can even happen. Once the season has begun, studying the weather is a primary ritual. When the weather is favorable, it's time to get out there and get after them!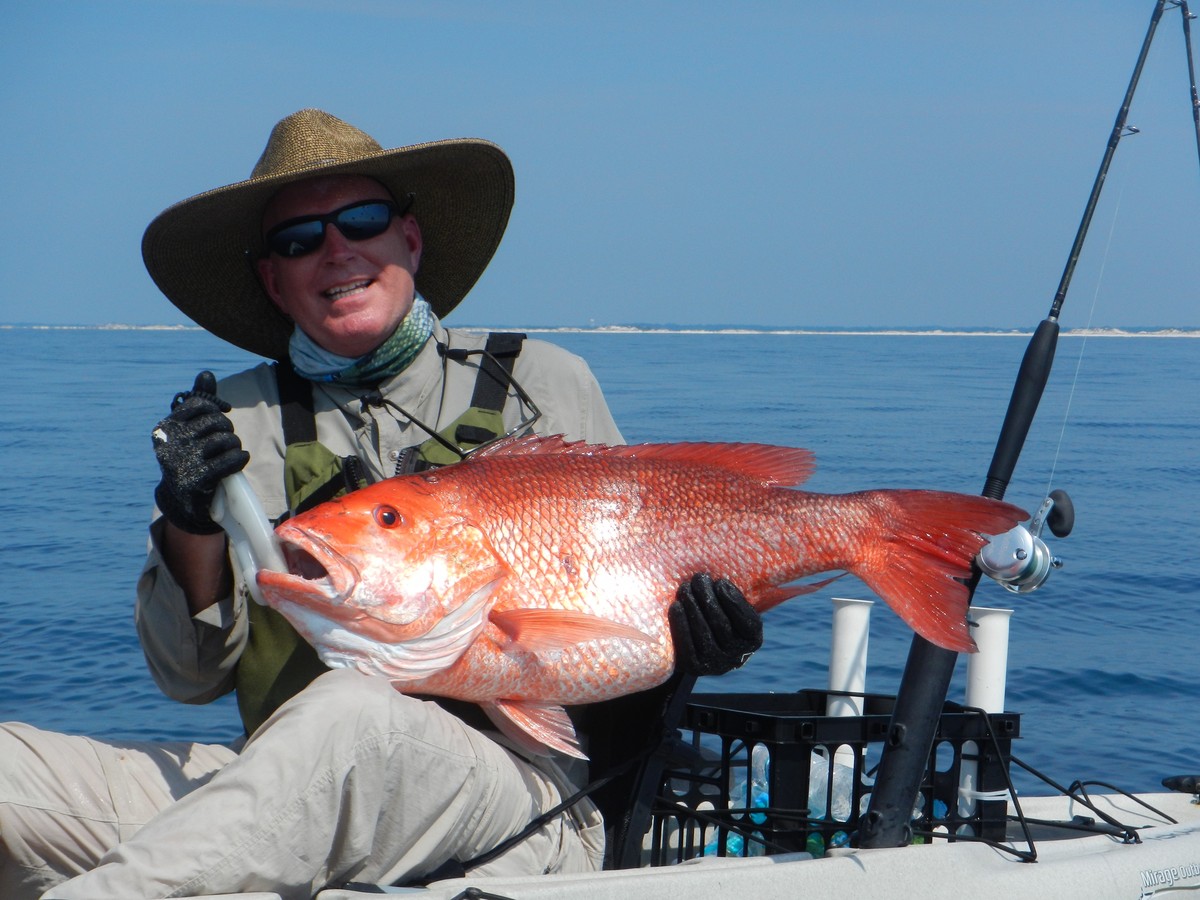 Opening day this year we were greeted with a beautiful sunrise and near perfect conditions. I was fishing a shared group trip with fellow team member Brandon Barton. Our group included a couple guys from Birmingham, Alabama that have become good friends over the years and their 14-year-old nephew. To say it was a great success would be an understatement. The red snapper bite was nothing less than incredible!
The guys were able to catch their 3-man limit that included our 14-year-old angler landing not one, but two really nice snappers which were his first fish caught from a kayak. Watching this 14-year-old do battle and catch his two-fish limit of red snapper from an Mirage® Outback on his first kayak fishing trip was one of the many highlights this season.
This year, a 78-day season was approved and we are now two-thirds of the way done. The first phase was 50 days and ended on July 10th. Thus far, my schedule and the weather have allowed me nearly 20 days on the water targeting red snapper. I have witnessed 16 fish that measured over 30 inches caught from Hobie® kayaks! We have caught them in every part of the water column, using every technique I know.
The biggest fish, which was well over 20 pounds and 33 ½ inches long, snapped the rod in 2 places. Luckily I was right beside my angler holding onto his kayak and we both used our MirageDrives® and were able to pedal the kayaks away from the reef and bring the fish up. Landing this fish was a miracle considering its size and half the battle was fought with less than half the rod. This is a fish I will never forget.
I love kayak fishing for these amazing fish and sharing that passion with others inspires me daily. I feel that every day on the water is a blessing. When the trip ends with a couple of beautiful red snappers in the kayak, that's a huge bonus.
The second phase of our red snapper season kicked off Friday September 2nd for the Labor Day weekend and remains open Fridays, Saturdays and Sundays through October. With a tropical storm spinning in the Gulf, the high seas and strong winds kept us from venturing out offshore for the second opening weekend. By Monday the surf had dropped enough to safely launch and I was ready to get out there.
After punching through the surf we realized the current was very strong and ripping down the beach to the west. We quickly caught bait, dropped lines back and started to troll. Over the next hour the winds continued to increase and I realized there was no way we would be able to target red snapper. We battled the current and wind for another hour and decided to call the trip early. On the way in we were rewarded with a 33-pound king mackerel, which was a great bonus.
These are some of the experiences that have made this a season to remember, and with September finally here, I look forward to being out on the water as often as possible.
Check back weekly for new videos and stories by the 2016 Hobie Fishing Top Guns.
---