When it comes to sight casting tarpon at night in the panhandle of Florida it doesn't get any better than Marty Mood. I have fished beside Marty from Texas to Australia and one of those adventures took us to South Florida to tarpon fish with Ross Gallagher. Ross taught us his techniques for catching large tarpon at night fishing with large soft plastics and Marty has been able to take that knowledge and perfect it in the panhandle.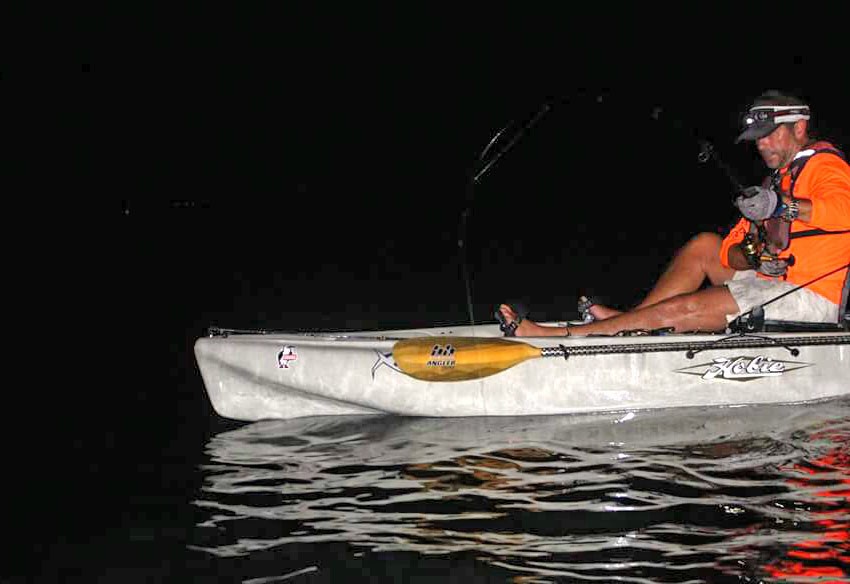 I meet up with Marty at the launch as he is unloading the gear for the night. We are using 8-foot heavy St. Croix Avid rods matched with a Penn Clash 6000 spooled with 65-pound braid and 80-pound fluorocarbon leader. The lure of choice is a Hogy 8-inch HDUV paddle tail on a 10/0 ¾-ounce Barbarian jighead. Marty is fishing out of the Hobie Mirage Pro Angler 14 and I am heading out in a Hobie Mirage Outback. Both kayaks are great for what we are about to do.
We pedal our MirageDrives a short distance to the first spot and I am told to be ready. Marty has already spotted one and is telling me where to cast. I blind cast to his instructions and nothing. We stay in the area for a while but the fish never gives us a second chance. As we pedal off to the next spot Marty tells me I have to stand to be able to see what I am casting at. I have fished this area many times before and see large bull reds swimming with no problem while sitting comfortably on my seat but he is the guide.
When we arrive at the next spot I stand. Immediately he starts to direct me to a tarpon heading my way. No questions now at what I am looking at as this massive silhouette is swimming directly towards me in the shadows. He calmly gives me instructions to cast beyond the tarpon not to spook it and rip the bait back just stopping as it intersects with the fish. Sounds easy enough unless you are standing wondering if this massive fish is about to snatch you out of your kayak.
My cast is way off the mark and as I rip it back I lose sight of the fish. I tell Marty it dove on us and as I'm about to pull the bait out it hits the Hogy beside the boat making a massive commotion but missing the hook set. Okay I have this down now! I just have to control my excitement and get the job done. This is more like hunting, stalking your prey and it works best if we work as a team spotting for each other.
We move through several spots when I see a solid tarpon swimming towards Marty. He has been refraining from casting trying to get me on one. I tell him to take the shot and show me how it's done. With a quick motion Marty has made the cast and there is a huge explosion. Fish on! Just watching someone fight a tarpon is exciting. I grab the camera and try to keep up as Marty puts the heat to this fish.
Time passes. As we think it's just about to give up this tarpon wants the last laugh and leaps out of the water into Marty's lap. I am trying not to laugh as it could be a serious situation harming Marty and the fish but hearing and watching this commotion go down is gold! It is only a few seconds that feel like forever but Marty is able to remove the tarpon form his kayak and continue the fight. The tarpon and Marty both seem to be alright and after a few more minutes and some good laughs Marty has the tarpon landed. We snap a few pictures and release it quickly.
We regroup and head back on the hunt trying to get me hooked up. The next place we pedal up to there is a tarpon headed my way. Marty puts me on the alert as I make the cast. I watch it turn and immediately feel the power of this fish as it sky-rockets through the air. I do my best Jose Wejebe impression trying to make sure I have a good hook set as it continues to make jumps. Now the fun begins.
It's one thing to find them, another to get hooked up, and whole different ordeal to actually land one. The fish and I go back and forth for close to an hour. Every time I think I am getting the upper hand it proves me wrong. After watching one jump in for a quick ride on Marty's PA I keep a watchful eye on mine. I definitely don't want this one in the kayak with me. It finally gives up. I'm glad as my back and arms are burning. We snap a few quick pictures, thank it for the fight, and let swim off for another day. These beautiful fish are amazing to watch and fight. I look forward to going after them again.
Check back weekly for new videos and stories by the 2016 Hobie Fishing Top Guns.
---